Groupon (NASDAQ:GRPN) will report 2Q14 results on Tuesday with consensus earnings expectations of $0.01 (-50% y/y) on $762m (+25% y/y) in revenue.
The stock has greatly underperformed the NASDAQ composite over the past six months (down 40% vs. the +6% for the NASDAQ) as investors are skeptical of its turnaround story and write off Groupon as another overly hyped internet name. Despite the share weakness, I believe that the turnaround story is on track driven by international expansion and margin expansion. While North America local billing is expected to be flat y/y in the upcoming Q, solid execution and the transition from push to pull model is likely to accelerate growth to reach double digit by year-end.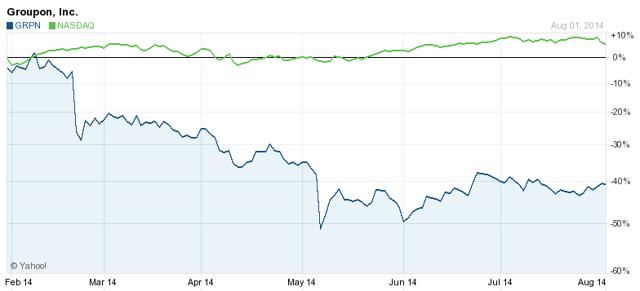 North America turning the corner? Soon…
North America billing remained weak in Q1 with 1% growth in billings, well under the 3% expected of the consensus. As the company transition from its traditional pushed to pulled approach, billings in North America could remain weak so a flat y/y growth in the June quarter seems to be reasonable. However, growth could accelerate once again in the 2H via both organic recovery and M&A.
The organic recovery will come from offering GRPN's users a broader selection of deals and moving towards the pull model. My recent checks on GRPN websites involving 5 major cities (New York, LA, Chicago, Toronto, Vancouver) suggest that deal count has been ramping up nicely and that the increase in getaways and goods is a good way to attract and encourage users to frequently check the main site for any ongoing deals which is accretive to the pull-model.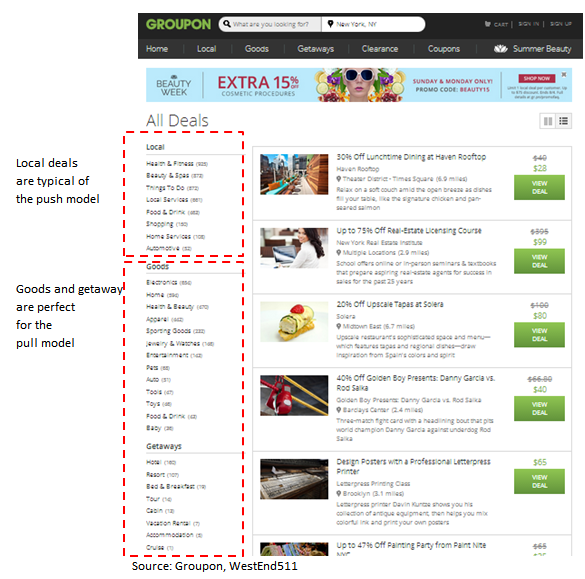 M&A growth will come from consolidating the fragmented industry to gain greater scale and reach. GRPN's recent acquisition of Canada's SnapSaves is a sound strategic move, in my view, as the company can penetrate the local grocery space and provide its users with more attractive deals.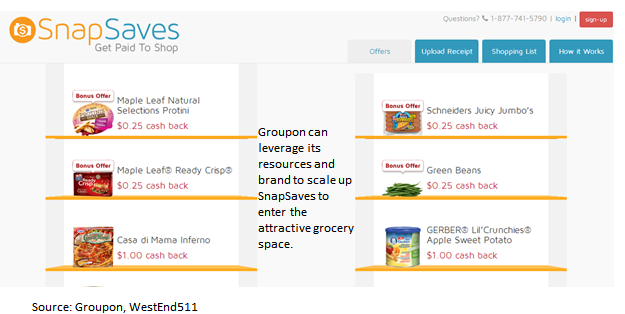 Positive on international expansion
Besides the gradual recovery in North America, I am also positive on Groupon's international expansion as the company increases the deal density, expand merchant network and create a comprehensive group-buy/ecommerce platform. I believe that the recent acquisition of Ticket Monster in Korea and Ideeli are constructive to GRPN's international footprint but I am also keeping an eye on the local competitors as they typically have an advantage over GRPN in terms of merchant relationship.
In conclusion, investors should expect North America recovery to be on track while international continues to grow in terms of users. At 62x this year's earnings, the stock is expensive but it is better to be constructive on any weakness in shares.
Disclosure: The author has no positions in any stocks mentioned, and no plans to initiate any positions within the next 72 hours. The author wrote this article themselves, and it expresses their own opinions. The author is not receiving compensation for it (other than from Seeking Alpha). The author has no business relationship with any company whose stock is mentioned in this article.