Metro Bancorp (NASDAQ:METR) is a small regional bank focused on the central Pennsylvania area with a $325 million market cap that has come to the attention of three separate funds which are pushing for a sale of the company. Shares have not reacted meaningfully to this news - the stock is up only 6% YTD. This presents patient investors with an interesting opportunity with multiple paths to increased shareholder value.
The bank has a 'high touch' model with branches open 7 days per week with longer than normal hours. The bank is active in the Harrisburg community with 33 locations in the area. They are truly a community bank - their annual report highlights the number of hours volunteered by employees, the total amount donate to local charities, and the number of financial literacy classes taught in the local area.
A buyout of Metro Bancorp would fit into the recent character of buyouts market-wide where smarter operators and better management teams purchase companies that are not run as efficiently. Jim Cramer discussed this phenomenon recently. Other examples of this type of transaction are the Dollar Tree (NASDAQ:DLTR) purchase of Family Dollar (NYSE:FDO) and the Zillow (NASDAQ:Z) purchase of Trulia (TRLA).
In their recent Q2 2014 report, the company reported earnings of $0.35 per share with loan growth of 14% over the past year. Shares have since drifted down roughly 5%. Book value grew 8% y/y to $17.45.
In mid-July, the company was highlighted in an article discussing the three activist shareholders in the bank which are pushing for a sale. This surprisingly had little impact on shares. All three large activist funds have sent letters to the CEO and the board pushing for a sale.
Basswood Capital recently disclosed that it owns 1,387,406 shares as noted in their last 13D - a 9.78% stake. In a letter attached to the 13D filing, the company makes their case for putting the business up for sale. Basswood first highlights how management has had to cut their targets for total deposits at YE 2014 by 9%. They then highlight how the company has one of the highest expense ratios amongst similar size banks and the fact that expenses should increase in future quarters while the company executes a planned expansion.
Basswood points out that since August 2005, Metro's share price is down 40%. This long-term decline illustrates the lack of value created for shareholders with the current strategy.
PL Capital, which owns 1,188,729 shares as noted in their 13D - 8.2% of shares outstanding - highlighted Metro as his top small cap bank idea at the 2014 Value Investing Congress in April. The presentation focused on the high expenses at the company and the buyout potential. At the time, he placed the likely deal value at $27 to $30 per share. In a letter attached to the 13D filing, PL Capital points out that the board's strategy of opening new branches has in the past not increased profitability in terms of ROE and ROA. PL Capital also points out that in the company's recent 10-K, they state that materially higher interest rates will not increase the bank's earning potential meaningfully. PL Capital discusses that in addition to a short-term gain, the correct partner (euphemism for purchaser) could deliver better returns than Metro would be able to achieve on their own. Lastly, PL Capital points out that the board of Metro has built out an attractive franchise which should be able to find multiple potential partners if it were to be for sale.
PL Capital has a good record in proxy fights with the management teams of small banks and thrifts. There has been no discussion about waging a proxy battle at this time - but there is no rush since the next annual meeting is in early 2015.
PL Capital believes that there is a large amount of small and mid-cap bank mergers which are about to happen or are happening. There are a variety of reasons why this is happening including a lack of growth for the acquirer and the large cost savings available which drive future earnings and thus larger takeover premiums. Metro fits this bill very well, it is an attractive franchise with very high operating expenses.
An interesting note when comparing the two letters above is that Basswood frames the discussion as the need to sell the company to a larger bank while PL Capital frames the discussion as setting a partnership - presumably between equally sized companies. Basswood's letter is also much more confrontational - focusing on share price gains while PL Capital's letter takes a friendlier approach and focuses on shareholder returns.
Clover Partners, which owns 287,629 shares of the company as reported in their Q1 13F filing (around 2% of shares outstanding), recently sent another letter to the board of directors which highlighted their concerns with the company's high non-interest expenses. The letter illustrates how the company's ROAA, ROTCE, and Efficiency Ratio are well below the average of similarly sized Northeast and Mid-Atlantic regional banks.
In the letter, they conclude that the best path for the company is to seek strategic partners or sell the company. They estimate the company is worth $29 to $30 in a sale - 171% to 179% P/TBV.
All three large shareholders are making the case that the current management and strategy are leading to lower profitability and lower shareholder returns. This is a difficult conclusion for any board of directors and management team to come to - but the numbers do illustrate that this appears to be the case. There are certainly cost savings which could be had without hurting the community-focused culture of the bank. One example of such savings is reducing the amount of time each week that the branches are open. While these branch hours were very important a number of years ago - and are undoubtedly important to some of their patrons now - the ubiquity of ATMs, community bank website availability, and mobile phone applications makes the extended hours significantly less important to bringing in patrons since they can bank 24/7 digitally.
Only one analyst covers the stock with a $26 target. The lack of analyst coverage on the stock is probably a big reason why shares are not pricing in any takeover. If the stock were more widely followed, these three letters from shareholders would have driven the shares up meaningfully in expectation of a sale.
While there are no concrete plans to sell the company at this time, the share price of Metro Bancorp is priced as though there is no possibility of a take-over. The shares are trading at a forward PE of 15.5 - below the multiple of the S&P 500. The company is also trading at only 1.3x book value. As shown below in a slide from PL Capital's Value Investing Conference presentation, this is below both the current average price to book value for banks under $5 billion and well below the average P/TBV since 1993.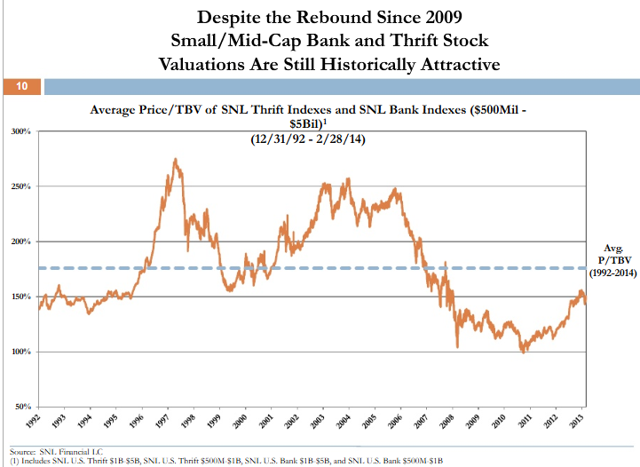 Click to enlarge
At this point, the company cannot simply ignore these shareholders if they do not pursue a sale. The current management must prove why they will achieve better results by staying independent. All three letters focused on high expenses so at the very least, the company would probably pursue meaningful cost cuts. These should improve earnings in the future if they do stay independent and the rosy outlook that management will need to illustrate should attract new shareholders and bring higher share prices.
If the board of directors are following their fiduciary duty, these letters sent from holders of roughly 20% of shares outstanding should compel them to take steps to explore a sale. This potential for a sale is not reflected in shares at current prices.
As both PL Capital and Clover Partners point out, a reasonable expectation for a buyout offer is approaching $30 per share - a 30%+ increase over current prices. Even if the company is not immediately put up for sale, the outlook for the company is reasonably good with continued increases in profits and growth in book value in addition to any cost savings which management would need to make to pacify these shareholders. This presents a very good investment opportunity with multiple paths to strong shareholder returns.
Disclosure: The author is long METR. The author wrote this article themselves, and it expresses their own opinions. The author is not receiving compensation for it (other than from Seeking Alpha). The author has no business relationship with any company whose stock is mentioned in this article.