In an effort to improve my articles and research for Business Development Companies ("BDCs") I sent out a survey to newsletter subscribers asking five questions including which types of topics regarding BDCs they would be interested in for my upcoming articles and below are the current results. If you would like to see the other results or participate in the survey please see "Survey Results for Q3 2014".

I have recently covered (at a high level) what seems to be the most important to BDC investors which is the amount of dividend coverage potential that each BDC has using various amounts of leverage to increase net investment income ("NII") in my "Dividend Coverage" series and I will most likely cover risks associated with investing in BDCs in my next series.
Seeking Alpha has been gaining attention due to its ability to use "wisdom of crowds" as an indicator for potential returns as discussed earlier this year in a WSJ article "Crowdsourced Stock Opinions Beat Analysts". Through future articles combined with a more interactive approach using surveys and comments from readers I am hoping to elevate the content provided to be more predictive of future BDC pricing and returns.
Interest Rate Sensitivity
"Interest rate sensitivity refers to the change in earnings that may result from changes in the level of interest rates. Because we fund a portion of our investments with borrowings, our net investment income is affected by the difference between the rate at which we invest and the rate at which we borrow. As a result, there can be no assurance that a significant change in market interest rates will not have a material adverse effect on our net investment income."
That is how most BDCs describe the interest rate risk section of the 'Quantitative and Qualitative Disclosures About Market Risk' section in the financials that is usually followed with some detail indicating how the company would be impacted by rising interest rates.
The following are the core drivers that impact a BDCs net investment income as interest rates rise:
Amount of variable rate investments
Various levels of implied floors for investments (most important)
Fixed vs. variable rate borrowings
Income incentive fees
Growth capital (variable debt vs. other)
Simplistic View of Positioning for Rising Rates
The following table is an easy way to look at how well a BDC is positioned for rising rates and is similar to what I have provided in previous articles. However it does not account for investment floors and other factors that could potentially impact NII.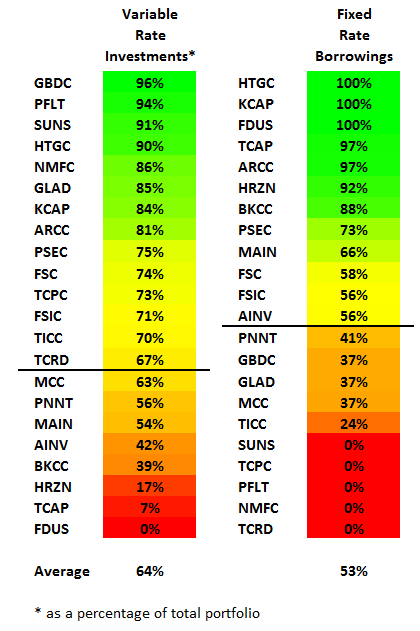 BDC Growth Cycle
Most BDCs start out with equity capital from an IPO and then use a low variable rate credit facility as working capital to grow the portfolio followed by more equity offerings to maintain a certain debt-to-equity ratio. At some point they usually need to issue notes with longer terms and fixed rates. There are pros and cons to this one of which is much higher rates for fixed vs. variable. BDCs with mostly variable rates pay as low as 1% to 2% on borrowings compared to more mature BDCs such as Ares Capital (NASDAQ:ARCC) and Prospect Capital (NASDAQ:PSEC) with most borrowings between 5% and 7%. This has a large impact to dividend coverage and use of capital. I have categorized each BDC by age/history but keep in mind that the IPO date and when the BDC started to operate are not always the same especially for FS Investment Corp (NYSE:FSIC). However I have used the IPO date for BDCs such as TCP Capital (NASDAQ:TCPC) even though many of its original investments came from a previous entity so this is a rough estimation for categorizing purposes.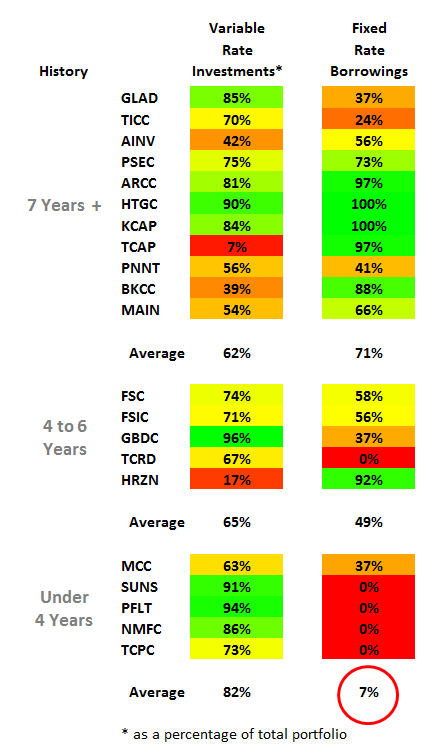 As you can see older BDCs generally have higher amounts of fixed rate borrowing with a few exceptions including TICC Capital (NASDAQ:TICC), PennantPark Investment (NASDAQ:PNNT), Apollo Investment (NASDAQ:AINV) and Gladstone Capital (NASDAQ:GLAD). Some companies prefer to match the amount of exposure of assets and liabilities so for example AINV has 85% of investments and 63% of borrowings with variable/floating rates. Many of the more mature and larger BDCs such as ARCC and PSEC have continually shifted investments toward variable rates while building a capital structure with mostly longer term fixed rates. Fifth Street Finance (NYSE:FSC) is also one of the larger BDCs but is still in the process of improving its balance sheet.
I consider the younger BDCs to have more potential in the coming quarters especially the ones with higher amounts of variable rate investments including TCPC, Solar Senior Capital (NASDAQ:SUNS), PennantPark Floating Rate Capital (NASDAQ:PFLT) and New Mountain Finance (NYSE:NMFC). This is a group of companies that I will watch closely as they grow the portfolio and change their capital structures. TCPC is a perfect example of a company that is transitioning its balance sheet and starting to use more fixed rate borrowings including a private placement in June 2014 of $108 million in notes at a rate of 5.25%. Also in May 2014 the company received a $75 million commitment for SBA leverage at around 3.2% (10 year fixed, interest only). These fixed rates are lower than most BDCs and will give TCPC a clear advantage going forward.
Both Hercules Technology Growth Capital (NASDAQ:HTGC) and KCAP Financial (NASDAQ:KCAP) are very well positioned for many reasons including higher amounts of variable rate assets and 100% of borrowings at fixed rates as well as being internally managed BDCs that are not required to pay 20% incentive fees on incremental income. Main Street Capital (NYSE:MAIN) and Triangle Capital (NYSE:TCAP) are also internally managed but not as well positioned.
In the remaining articles in this series I will discuss the following:
Floating rate investment floors
BDC borrowing rates
Other expenses related to rising interest rates
Impacts to CLOs and other structured products
I have put together a "BDC Research Page" that links to various articles on Seeking Alpha and I will continue to update as well as my "Index to BDC Articles" for more information on specific BDCs.
Disclosure: The author is long ARCC, FSC, FSIC, GBDC, HTGC, MAIN, NMFC, PFLT, PNNT, PSEC, TCPC. The author wrote this article themselves, and it expresses their own opinions. The author is not receiving compensation for it (other than from Seeking Alpha). The author has no business relationship with any company whose stock is mentioned in this article.