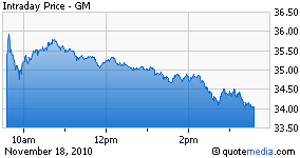 By Emily Knapp
Thursday GM (NYSE:GM) officially returned from the dead as it began publicly trading stock, with shares of its initial public offering (IPO) priced at $35, up from $33 the night before. With 478 million shares sold, the IPO raised $15.8 billion for the company, making it the second highest IPO in history, behind visa at $19.7 million. However, GM's IPO could still bring in more money for the company, as it saved 71.7 million shares in case of strong demand, which could raise another $2.3 billion. Added to that, GM is also selling over $4 billion worth of preferred stock.
This all came as some much needed good news for the government, which has begun to recoup some of its $50 billion bailout of GM. It made $11.8 billion by selling 358 million shares, and if bankers exercise options for up to 412 million more shares, that could be another $13.8 billion. And even after that, the government will still have a one-third stake in the company with 500 million shares, which it could sell over the next few years to recoup the rest of its $50 billion in bailout money.
However, not everyone is as happy as the government. Most individuals weren't able to buy stock until public trading began Thursday, but the majority of shares sold at the IPO price were sold to large institutional buyers beforehand. While this is a very common approach from the company's standpoint, people are particularly irked in this case because it is their tax dollars that saved the company in the first place, and people have really wanted to be a part of its rebirth and newfound success, especially citizens of Michigan who were some of the hardest hit by the 2008 financial crisis and the collapse of the automotive industry.
Still, it seems likely that taxpayers won't have cause to complain much longer. The government stands a good chance of recouping all of its investment if GM continues to do well, and where we really stand to see the highest impact is in the local economy. While many people protested the bailout, it's looking to be a win-win for everyone involved. According to a report issued Wednesday by the Ann Arbor based Center for Automotive Research (CAR), the government's bailout of Chrysler and GM saved 1.14 million jobs in 2009 alone, and another 314,400 jobs in 2010, preventing personal income losses of $96.5 billion in the last two years.
According to the report:
The net impact to the federal government — in terms of changes in transfer payments, social security receipts and personal income taxes — was $21.6 billion in 2009 and $7.0 billion in 2010.
The study ultimately concludes that $28.6 billion in net losses to the US Treasury were prevented by the bailout, meaning the government only needs to recoup $38 billion more of its initial $80 billion investment (in both Chrysler and GM) to ultimately break even. This report is from Wednesday, before GM went public. Thursday the government made great strides toward that goal.
Disclosure: No position