The following is a list of stocks in rally mode, i.e. trading above their 20-day, 50-day and 200-day moving averages. All these stocks have been more profitable than their competitors over the past five years, based on gross and net profit margins.

We're not going to go into detailed analysis for each company. The goal here is to give you a starting point for your own analysis.

Profitability data and industry comps sourced from Reuters, short float and moving average data sourced from Finviz.

click for expanded images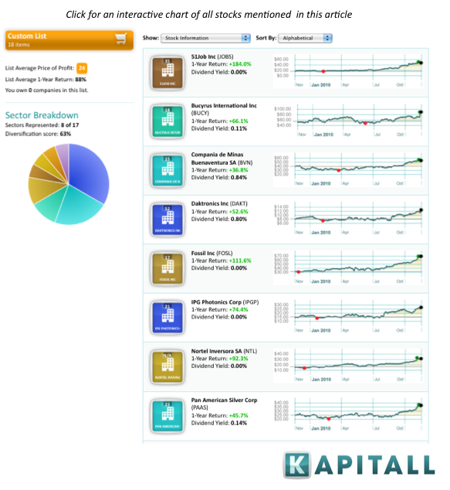 The list has been sorted by distance from the 200-day SMA.

1. 51job Inc. (NASDAQ:JOBS): Staffing and Outsourcing Services Industry. Market cap of $1.32B. The stock is currently 4.05% above its 20-day SMA, 17.79% above its 50-day SMA, and 85.73% above its 200-day SMA. 5-year average gross margin at 55.81% vs. industry average at 23.35%. 5-year average net profit margin at 12.56% vs. industry average at 3.18%. Short float at 2.99%, which implies a short ratio of 3.12 days. The stock has gained 170.4% over the last year.

2. Silver Wheaton Corp. (NYSE:SLW): Silver Industry. Market cap of $11.37B. The stock is currently 11.29% above its 20-day SMA, 22.05% above its 50-day SMA, and 64.42% above its 200-day SMA. 5-year average gross margin at 69.26% vs. industry average at 41.7%. 5-year average net profit margin at 41.63% vs. industry average at -1.09%. Short float at 1.89%, which implies a short ratio of 0.8 days. The stock has gained 105.25% over the last year.

3. TriMas Corporation (NASDAQ:TRS): Industrial Equipment and Components Industry. Market cap of $596.57M. The stock is currently 7.85% above its 20-day SMA, 13.98% above its 50-day SMA, and 60.08% above its 200-day SMA. 5-year average gross margin at 56.6% vs. industry average at 45.58%. 5-year average net profit margin at 14.53% vs. industry average at 10.24%. Short float at 1.39%, which implies a short ratio of 1.89 days. The stock has gained 248.11% over the last year.

4. Silvercorp Metals Inc. (SVM): Silver Industry. Market cap of $3.32B. The stock is currently 12.03% above its 20-day SMA, 27.25% above its 50-day SMA, and 56.52% above its 200-day SMA. 5-year average gross margin at 71.81% vs. industry average at 41.7%. 5-year average net profit margin at 41.38% vs. industry average at -1.09%. Short float at 0.25%, which implies a short ratio of 0.37 days. The stock has gained 69.45% over the last year.

5. Fossil, Inc. (NASDAQ:FOSL): Recreational Goods Industry. Market cap of $4.48B. The stock is currently 9.29% above its 20-day SMA, 20.16% above its 50-day SMA, and 55.96% above its 200-day SMA. 5-year average gross margin at 52.51% vs. industry average at 39.69%. 5-year average net profit margin at 8.33% vs. industry average at 6.21%. Short float at 3.59%, which implies a short ratio of 2.36 days. The stock has gained 104.97% over the last year.

6. Nortel Inversora S.A. (NYSE:NTL): Telecom Services Industry. Market cap of $4.93B. The stock is currently 7.93% above its 20-day SMA, 20.7% above its 50-day SMA, and 47.06% above its 200-day SMA. 5-year average gross margin at 56.26% vs. industry average at 53.23%. 5-year average net profit margin at 10.59% vs. industry average at 7.13%. Short float at 0.06%, which implies a short ratio of 1.18 days. The stock has gained 90.98% over the last year.

7. Daktronics Inc. (NASDAQ:DAKT): Industrial Electrical Equipment Industry. Market cap of $514.51M. The stock is currently 12.25% above its 20-day SMA, 19.5% above its 50-day SMA, and 45.98% above its 200-day SMA. 5-year average gross margin at 27.88% vs. industry average at 25.18%. 5-year average net profit margin at 4.11% vs. industry average at 2.83%. Short float at 9.41%, which implies a short ratio of 11.82 days. The stock has gained 53.01% over the last year.

8. Sina Corp. (NASDAQ:SINA): Internet Software and Services Industry. Market cap of $3.69B. The stock is currently 6.81% above its 20-day SMA, 15.77% above its 50-day SMA, and 45.58% above its 200-day SMA. 5-year average gross margin at 60.47% vs. industry average at 43.95%. 5-year average net profit margin at 45.67% vs. industry average at 16.62%. Short float at 8.03%, which implies a short ratio of 3.1 days. The stock has gained 28.26% over the last year.

9. Sohu.com Inc. (NASDAQ:SOHU): Internet Information Providers Industry. Market cap of $2.81B. The stock is currently 1.99% above its 20-day SMA, 17.15% above its 50-day SMA, and 44.94% above its 200-day SMA. 5-year average gross margin at 72.51% vs. industry average at 43.95%. 5-year average net profit margin at 31.15% vs. industry average at 16.62%. Short float at 11.68%, which implies a short ratio of 3.39 days. The stock has gained 26.62% over the last year.

10. Syniverse Holdings Inc. (SVR): Wireless Communications Industry. Market cap of $2.13B. The stock is currently 5.56% above its 20-day SMA, 20.29% above its 50-day SMA, and 44.01% above its 200-day SMA. 5-year average gross margin at 63.85% vs. industry average at 54.51%. 5-year average net profit margin at 14.47% vs. industry average at 13.02%. Short float at 3.75%, which implies a short ratio of 1.55 days. The stock has gained 84.88% over the last year.

11. Bucyrus International Inc. (NASDAQ:BUCY): Farm and Construction Machinery Industry. Market cap of $7.24B. The stock is currently 23.59% above its 20-day SMA, 25.13% above its 50-day SMA, and 43.99% above its 200-day SMA. 5-year average gross margin at 27.47% vs. industry average at 26.8%. 5-year average net profit margin at 9.97% vs. industry average at 5.84%. Short float at 5.57%, which implies a short ratio of 1.61 days. The stock has gained 64.46% over the last year.

12. Under Armour, Inc. (NYSE:UA): Apparel Clothing Industry. Market cap of $2.6B. The stock is currently 6.41% above its 20-day SMA, 12.26% above its 50-day SMA, and 43.43% above its 200-day SMA. 5-year average gross margin at 49.12% vs. industry average at 39.69%. 5-year average net profit margin at 6.77% vs. industry average at 6.21%. Short float at 15.74%, which implies a short ratio of 7.56 days. The stock has gained 75.79% over the last year.

13. IPG Photonics Corporation (NASDAQ:IPGP): Semiconductor Industry. Market cap of $1.22B. The stock is currently 9.76% above its 20-day SMA, 13.01% above its 50-day SMA, and 42.12% above its 200-day SMA. 5-year average gross margin at 41.95% vs. industry average at 31.71%. 5-year average net profit margin at 13.61% vs. industry average at 6.87%. Short float at 3.9%, which implies a short ratio of 4.22 days. The stock has gained 66.24% over the last year.

14. Pan American Silver Corp. (NASDAQ:PAAS): Silver Industry. Market cap of $3.82B. The stock is currently 9.2% above its 20-day SMA, 18.54% above its 50-day SMA, and 41.86% above its 200-day SMA. 5-year average gross margin at 44.01% vs. industry average at 41.7%. 5-year average net profit margin at 13.12% vs. industry average at -1.09%. Short float at 2.56%, which implies a short ratio of 1.68 days. The stock has gained 41.81% over the last year.

15. TriQuint Semiconductor, Inc. (TQNT): Semiconductor Industry. Market cap of $1.65B. The stock is currently 3.75% above its 20-day SMA, 13.44% above its 50-day SMA, and 40.2% above its 200-day SMA. 5-year average gross margin at 31.42% vs. industry average at 23.01%. 5-year average net profit margin at 1.77% vs. industry average at -0.86%. Short float at 7.62%, which implies a short ratio of 2.9 days. The stock has gained 88.71% over the last year.

16. WABCO Holdings Inc. (NYSE:WBC): Auto Parts Industry. Market cap of $3.13B. The stock is currently 4.85% above its 20-day SMA, 12.33% above its 50-day SMA, and 39.85% above its 200-day SMA. 5-year average gross margin at 26.53% vs. industry average at 20.8%. 5-year average net profit margin at 6.3% vs. industry average at 4.81%. Short float at 0.51%, which implies a short ratio of 0.66 days. The stock has gained 95.95% over the last year.

17. Compania de Minas Buenaventura SA (NYSE:BVN): Gold Industry. Market cap of $13.4B. The stock is currently 2.23% above its 20-day SMA, 11.97% above its 50-day SMA, and 39.82% above its 200-day SMA. 5-year average gross margin at 53.56% vs. industry average at 41.7%. 5-year average net profit margin at 60.25% vs. industry average at -1.09%. Short float at 1.45%, which implies a short ratio of 2.5 days. The stock has gained 32.84% over the last year.

18. Transportadora de Gas Del Sur S.A. (NYSE:TGS): Gas Utilities Industry. Market cap of $751.6M. The stock is currently 12.02% above its 20-day SMA, 24.69% above its 50-day SMA, and 39.17% above its 200-day SMA. 5-year average gross margin at 50.77% vs. industry average at 24.48%. 5-year average net profit margin at 16.18% vs. industry average at 9.87%. Short float at 0.08%, which implies a short ratio of 2.07 days. The stock has gained 59.8% over the last year.


Disclosure: No positions