Opportunity Overview
The TJX Companies (NYSE:TJX) is a leading off-price apparel and home fashions retailer, with over 3200 stores globally. TJX prices are generally 20%-60% below department and specialty store regular prices that appeal to shoppers of all budgets. TJX benefits from multiple competitive advantages and from a strong history of earnings growth and financial health, and presents a strong buying opportunity at current prices.
Company Overview
TJX operates in four segments: Marmaxx and HomeGoods in the US, as well as TJX Canada and TJX Europe.
Marmaxx (65% of Total Net Sales)
Collectively known as Marmaxx, TJX's TJ Maxx and Marshalls chains represent the largest off-price retailer in the United States, totaling 2021 stores. The two stores are differentiated through product offerings, while both stores sell family apparel, home furnishings, and other merchandise.
HomeGoods (11% of Total Net Sales)
HomeGoods is the leading off-price retailer of home fashions in the United States, with 450 stores in operations currently. HomeGoods offers home fashions, such as home basics, giftware, accent furniture, lamps, and other decorative merchandise.
TJX Canada (11% of Total Net Sales)
TJX Canada operates Winners, HomeSense, and Marshalls chains throughout Canada. Winners, acquired in 1992, is the leading off-price retailer in Canada, and the company operates a total of 227 stores across the country.
TJX Europe (13% of Total Net Sales)
TJX Europe operates TK Maxx and HomeSense chains throughout Europe. The 371 TK Maxx stores are the only major brick-and-mortar off-price retailers in Europe, operating in the UK, Ireland, Germany, and Poland. TK Maxx also operates an online retailer (tkmaxx.com). Additionally, HomeSense offers products similar to HomeGoods in its 28 European locations.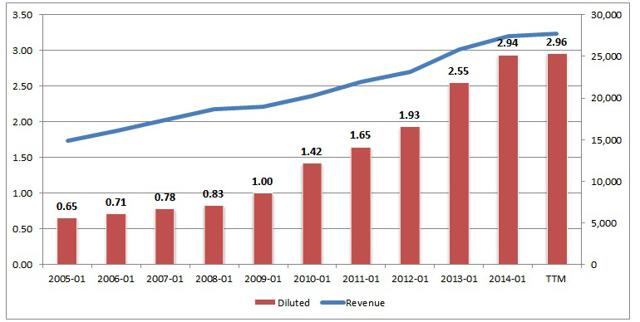 Click to enlarge
Source: Self-Generated
Competitive Advantages
TJX has historically performed well in all market conditions. According to the 2013 Annual Report, annual comparable same-stores sales growth has declined only once in the last 37 years. This can be attributed to a flexible business model aided by scale and cost advantages.
According to the 10-K, TJX has 900 buyers that source from approximately 16,000 vendors. This allows the company to be opportunistic in its buying and find the best match more quickly than many of its peers. TJX affords itself the ability to, "buy smarter" because it can buy closer to need, which reduces markdown exposure. According to management, TJX's competitors are forced to buy goods far in advance of the time the product appears in its stores, whereas TJX can manage leaner inventory levels as its buyers purchase much of the merchandise for the current or immediate upcoming selling season. TJX's huge number of SKUs allows it to ship merchandise and localize to taste in each market, and it often ships products twice per week. Where others have failed (i.e. SYMS and Filene's Basement), TJX has succeeded.
TJX has a cost advantage in opportunities where it acquires merchandise at substantial discounts that regularly arise from order cancellations, manufacturer overruns, closeouts, and special production direct from brands and factories in the home furnishings and apparel marketplace. TJX seeks to turn inventory rapidly, keeping stores fresh and margins high. According to the Q1'14 investor presentation, consolidated in-store inventory turnover is expected to exceed 13x in the future, up from 12-13x in FY14 and 8-9x in 2010. The last catalyst to its cost advantage is the lack of advertising and coupon and other promotional pricing activities. TJX advertising is generally focused on its retail banners, as opposed to individual products, and oftentimes promotes multiple banners at once, resulting in SG&A as a percentage of sales lower than many traditional retailers.
Growth Catalysts
TJX has several tailwinds: increasing international and domestic footprint, introduction of e-commerce, and a history of shareholder-friendly management.
As described in further detail below, TJX plans to increase its total store count from 3252 to 5150, an increase of nearly 60%. There is no current time table for expansion, but coupled with projected annual sales growth of 6%-7%, including comparable stores sales growth of 2%, according to the Q1'14 filing, the top line should remain strong over the next decade. It should be noted that management makes strong remarks in its annual report that these expansion estimates are only relative to its current markets, and do not include potential new markets. In addition to new store growth, in 2014, the company is planning on remodeling 250 stores and is developing a new prototype for its Marshalls stores.
As with any retailer, the "Amazon Effect" is ever-present. In order to operate a successful brick-and-mortar operation, having an online presence is critical. For this reason, TJX operates three online retail sites: tjmaxx.com (launched in September 2013), Sierra Trading Post (acquisition in late 2012), and tkmaxx.com (in the UK). While still relatively new, online retail has an opportunity to have a meaningful impact on margins in the future.
Historically, management has been very shareholder-friendly, as evidenced by generous share buybacks and dividend program - TJX's payout ratio is 19.2%, compared to 17.7% at Ross Stores (NASDAQ:ROST), and 0% at both Francesca's (NASDAQ:FRAN) and Express (NYSE:EXPR). In 2013, the company spent $1.5B to repurchase shares, and increased the dividend by 26%. In 2014, the company has initiated a $1.6-1.7B buyback program, and the Board has approved a 21% increase in the dividend, representing the 18th consecutive year of dividend increases.
Risks to the substantiation of growth include decelerated same-store sales growth and inopportune buying. The stock has sold off recently due to fears of declining same-stores sales growth, however, much of this can be attributed to the winter that affected virtually every retailer. The threat of new entrants is limited, given TJX's existing scale advantages. Additionally, because TJX buyers purchase so close to the selling season, considerable discretion is given in this role, and any failure to capitalize on changing trends can have material effects on operations.
Financials
Financially, TJX represents one of the strongest firms in the retail space. Based on the below peer group, including GIII Apparel, Ross Stores, Express, and Francesca's, TJX boasts strong margins and returns.

Click to enlarge
Source: Self-Generated
TJX's margins have climbed significantly since 2009. Gross margins have risen from 24% to 29%, and profit margins from 5% to 8%. EBIT margins have increased from 8% to 12%, and have the potential to normalize at approximately 13.7%, based on projections in the Q1'14 investor presentation (reconciliation below).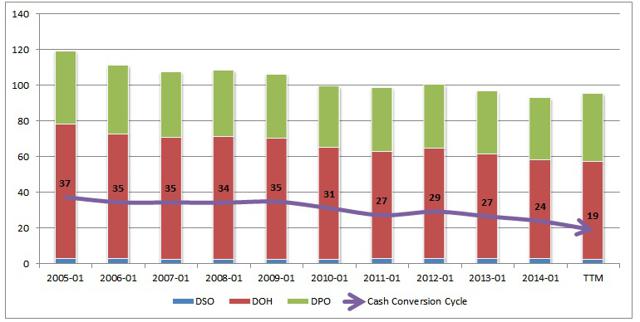 Click to enlarge
Source: Self-Generated
With all retailers and low-margin firms, cash management is critical. TJX has strong cash management, as evidenced by a low and declining cash conversion cycle. This is driven primarily by high accounts receivable and inventory turnover. This should continue to increase as consolidated in-store inventory turns improve, as mentioned previously.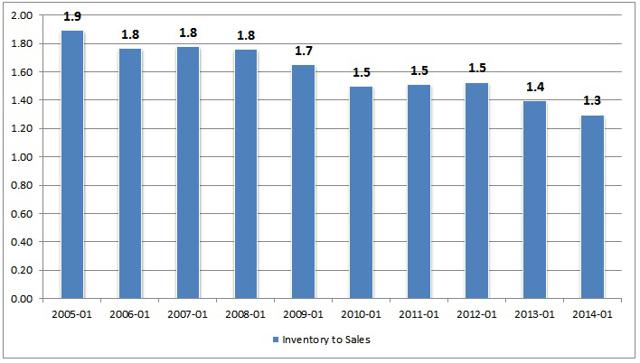 Click to enlarge
Source: Self-Generated
Another key metric for retailers is the level of inventory relative to sales. Typically, this is a leading indicator. When inventory levels begin to rise, two things can be true: inventories are ramping up because sales are expected to rise, or sales have slowed and inventory is piling up. Over the last ten years, TJX's inventory to sales level has decreased, while its sales have risen, signaling strong sales trends and lean inventory management.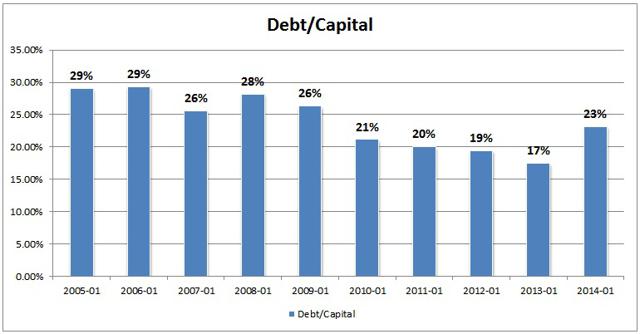 Click to enlarge
Source: Self-Generated
Turning to the balance sheet, TJX has a conservative capital structure, as evidenced by a Debt-to-Capital ratio of .23. The company carries an A+ rating from Standard & Poor's, one of the strongest in retail, and with that, was able to issue 10-year notes at 2.5% in 2013. This is one of the lowest coupon rates in retail, according to management, and the company has significant interest coverage.

Click to enlarge
Source: Self-Generated
Naturally, increasing leverage will increase return on equity. However, the increase in the Debt/Total Capital ratio was offset by a decrease in return on assets over the last 12 months. This is largely attributed to a slight decrease in net margins. With asset turnover expected to increase, returns should benefit. Clearly, at ROA and ROE of 21.8% and 50.5%, TJX generates excellent returns as is, and has climbed significantly over the past ten years.

Click to enlarge
Source: Self-Generated
TJX has been a free cash flow machine throughout the last decade, converting on average 6% of revenues into free cash flows. This has allowed the company to increase its dividend for 18 consecutive years and engage in substantial share repurchases that have boosted earnings and the stock price. As long as long term-rates remain low, which should continue well into 2015, earnings yields will be attractive for corporate executives, providing an incentive to borrow in the debt markets and continue share repurchases. Despite the aggressive expansion plans, CapEx as a percentage of sales is expected to normalize south of approximately 4%, a healthy number, and allow the company to fund projects with cash flows, as opposed to additional debt.
Valuation

Click to enlarge
Source: Self-Generated
Model Assumptions:
Revenue growth of 7.1% in years 1-5 and 6.5% in years 6-10
EBIT Margins normalizing at 13.7%
Tax Rate of 37.5%
Profit Margins normalizing at 8.5%
D&A as a percentage of Sales at 2%
CapEx as a percentage of Sales at 3.3%
No significant additional borrowings
Fair value based on DCF model is $64, and weighted average value across P/E, P/B, and P/S is approximately $59. In order to project future sales, I incorporated the estimates for future store counts, assuming counts are reaching first in year 7, a simple approach that does not attribute any contributions prior to then. In the reconciliation below, it should be noted that Profit Margin refers to pre-tax margin.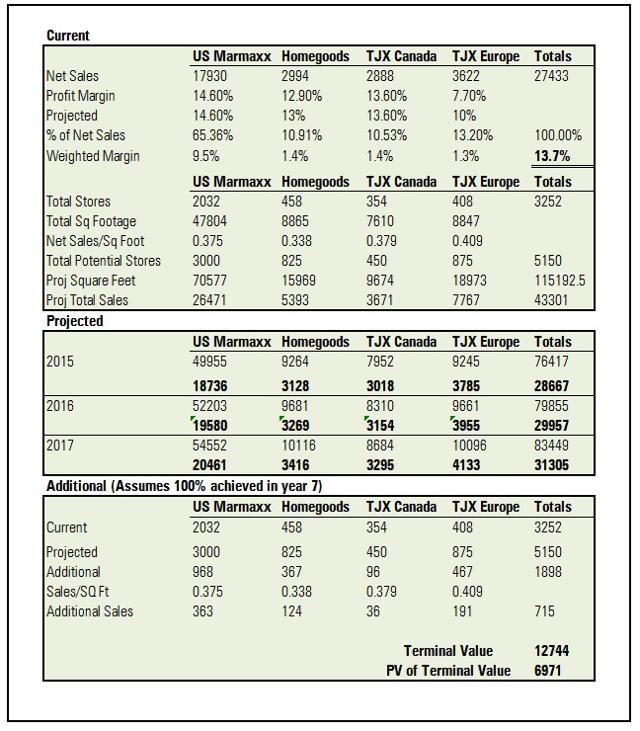 Click to enlarge
Source: Self-Generated
Recommendation
At approximately 12%-15% below intrinsic value, TJX represents a strong long-term value play. For those worried about the heightened valuations on the general markets, TJX's buybacks and dividend should provide a boost to total returns if the market corrects. However, given the strong consumer and penchant for value-based shopping, TJX is a strong play within the fickle retail space. The company is well-managed, has a strong growth runway, coupled with sustainable competitive advantages, and trades at a discount to fair value. An ideal position would be started below $40, but prices below $50 would make a strong entry point for a long-term investor.
Disclosure: The author has no positions in any stocks mentioned, but may initiate a long position in TJX over the next 72 hours. The author wrote this article themselves, and it expresses their own opinions. The author is not receiving compensation for it. The author has no business relationship with any company whose stock is mentioned in this article.