Tesla (NASDAQ:TSLA) reported results that beat the street to end trading last week, but the mixed up emotions of the market due to geopolitical tensions seemed to prevent the company's stock from making a serious move in either direction.
Tesla traded up for most of the day Friday - after gapping open - and did finish the day up 4.46%. However, the company remains far from its all-time highs which were reached under the same delivery/production pretenses, but in a much better macro market climate.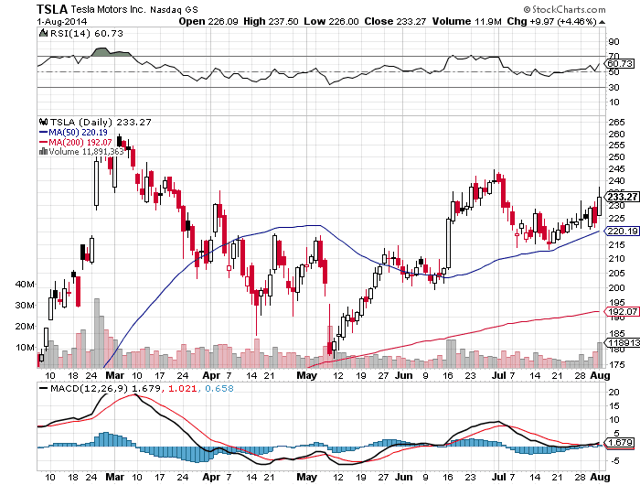 Here's a snapshot of my history with Tesla, courtesy of TipRanks:

Morgan Stanley has been in the mix as an adamant supporter of Tesla for a significant amount of time. It's not often I like to commend sell-side analysts, but I feel like MS has got this one right. They have a $320 price target on the company.
What does $320 mean? To be honest, not too much when you consider how Tesla is already trading and functioning as a security. It would put the company near a $40 billion price target - about $13 billion shy of General Motors. Yes, the company isn't doing nearly as much production as a company like GM. However, GM isn't exactly set to revolutionize the auto industry moving forward.
This company has a friggin' car that you can drive across the United States or Europe without filling with gas. And it's stylish. And it performs like a sports car. And it's top rated by consumer reviews. And it's super safe. And they're working on the new generation as we speak.
It's like they're the anti-GM, as a matter of fact.
And the argument on Tesla all depends on what lens you're looking at the company through. Those that see the company through the "disruptive" lens can basically do whatever mental gymnastics necessary to be okay with a $320 price target.
Those that are not looking at the disruptive nature of Tesla's vehicles tend to find themselves trying to short based on fundamentals. In the case of Tesla, that's been like walking in front of a freight train for the better part of the company's existence. I also like to look at the potential of Tesla's coming battery factory in addition to playing a role in electric vehicles; there's so many possibilities going forward for this company, it's scary.
You may not agree with me, but MS is looking at the company through the same lens that I am. On CNBC.com Morgan Stanley's analysts called Tesla the "most important automobile company in the world." For those of you that read me regularly, you know I take analysts with a grain of salt. In this case, I'm commending Morgan Stanley, which has been on the right side of this call from the get go, in my opinion:
Tesla Motors appears poised to define the automobile of the future, making it the "most important car company in the world," analyst Adam Jonas said Friday.

The comment comes a day after the electric carmaker reported quarterly earnings and revenue that beat Wall Street estimates.

"The reason why we say they're the most important car company in the world is because if you haven't noticed, the entire automobile is being reinvented by technology," Jonas, who heads Morgan Stanley's global auto research team, said on CNBC's "Halftime Report."

"And the role of software, we think is going from around 10 percent to 50 or 60 percent of the value of the vehicle when we're kind of reaching full autonomy by [the] middle or latter part of [the] next decade, and Tesla's really uniquely positioned. So, it's not just EVs but also battery storage, stationary storage and cars that think for themselves and make decisions, artificial intelligence, machine learning. It's on a completely different level than any other car company."
In my last piece on Tesla I talked about an analyst on CNBC who compared the company's $28 billion valuation to WhatsApp's $19 billion. That really puts things in perspective for those of you that share the long sentiment on Tesla. $40 billion is a massive market cap - but where is Tesla going to be years from now? Surely, you wouldn't think $40 billion, which represents about a 30% premium to the current share price, wouldn't be a fair price for a buyout, would you?
I don't think shareholders would consider such a bid, honestly.
A while ago, SA Contributor Green Energy Addict laid out a path to a "conservative" $500/share for Tesla. Then, I thought he/she was well before their time - now, I'm starting to think it's possible sooner, as opposed to later. I've even penned a couple pieces saying that $400/share is a definite possibility.
When you see things from this lens, it's very easy to ignore what then becomes a "small" area between a $28 billion and $40 billion market cap. Yes, that's a massive difference, but if you're already thinking 10 years down the road when it comes to Tesla, it really becomes moot. If someone had told you in 2001 that Apple would be trading at $700 a share ten years later, you would have told them that they needed their head examined. When we look back in 10 years at Tesla, we might just have a similar feeling.
On the heels of another quarter where Tesla has exceeded what was expected of it in terms of deliveries, EPS, and guidance, I continue to back the positive momentum behind this name.
Put into perspective, MS's price target of $320 is extremely reasonable, and I think we could wind up there as soon as early 2015.
Best of luck to all investors.
Disclosure: The author is long TSLA. The author wrote this article themselves, and it expresses their own opinions. The author is not receiving compensation for it (other than from Seeking Alpha). The author has no business relationship with any company whose stock is mentioned in this article.
Additional disclosure: I hold calls and puts.