Casey's General Stores (NASDAQ:CASY) offers self-service gasoline, along with a wide variety of grocery items and prepared food. The company operates over 1800 stores in 14 Midwestern states and had $7.84 billion in sales last year, most of which came from the sale of gasoline. For the current fiscal year (2015), CASY plans to add between 72 and 108 new stores.
Shares in CASY haven't performed very well so far this year. After a drop of $3.55 (-5.05%) since the beginning of this year, shares are now trading at $66.70, and yield 1.20% in dividends.
Revenue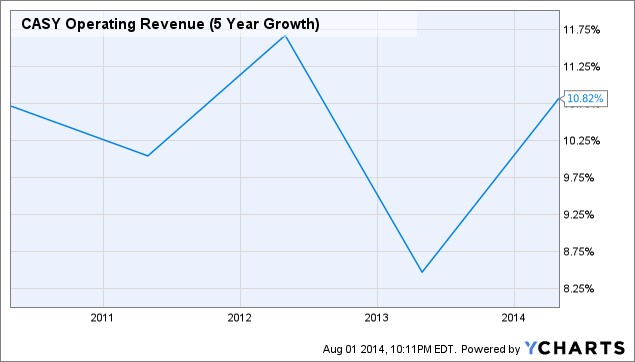 CASY Operating Revenue (5 Year Growth) data by YCharts
Casey's ended its fiscal year 2014 on the 30th of April, with total revenues of $7.84 billion, which is an increase of 8.1% to 2013's $7.25 billion. CASY's 5-year revenue growth rate stands at a very respectable 10.8%. For the current fiscal year, analysts expect Casey's to have $8.63 billion in sales, which would be an increase of 10.1%. Most of the company's revenue (70.1%) came from the sale of gasoline.
Earnings
Diluted earnings per share stood at $3.46 in the most recent fiscal year, up 21% compared to last year's $2.84. Over the past 5 years, Casey's earnings per share have gone up by an average of 15.67%. For fiscal year 2015, which ends in April next year, analysts are forecasting earnings per share to reach $3.57, with a further increase to $3.99 expected in fiscal year 2016. Gasoline sales may be the largest in terms of revenue, but in terms of profit, the Grocery and other Merchandise sector is much more important. Sales in this segment were up by 11.6% YoY, and with a margin of 32.1%, provided the company with $507.9 million in gross profits. For 2015, the company plans to expand revenues in the segment by 5.3%, while keeping the profit margin stable at 32.1%.
Returning profits to shareholders
The current dividend yield of 1.20% might not seem all too impressive, but keep in mind the company only pays out a small percentage of its earnings in the form of dividends. In the most recent fiscal year, Casey's had a payout ratio of only 20.8%, leaving plenty of room for growth.
Valuation
Casey's is currently trading at a price to earnings ratio of 19.3, and a forward p/e of 18.7. This is just slightly above its 5 year average p/e ratio of 18.5, and in my opinion, not a very high valuation for a company growing its EPS at double digits.
Balance sheet
Casey's has $122 million in cash and equivalents, which is $3.15 per share, or almost 4 years of dividend payments at the current rate of $0.20 per quarter. The current ratio stands at 1.04, which means current assets exceed current liabilities. The quick ratio, which excludes inventories, is a lot lower, at only 0.48. This is due to the fact Casey's has $205 million worth of inventories. I would advise anyone holding shares in this company to take the long term debt into consideration, as it has increased from $155 million in fiscal year 2010 to $854 million in the most recent fiscal year. Casey's paid $37 million in interest last fiscal year, which is quite a lot considering the fact net income was only $135 million.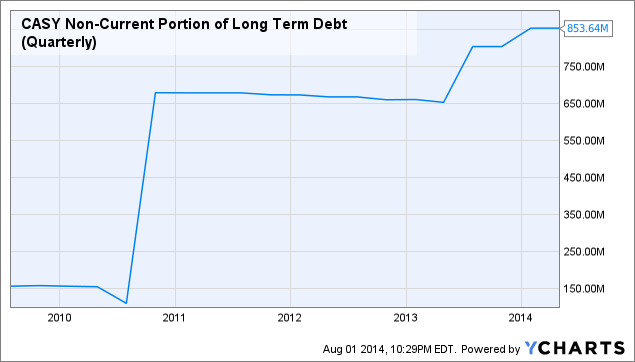 CASY Non-Current Portion of Long Term Debt (Quarterly) data by YCharts
Conclusion
Casey's growth in both revenue and earnings per share is pretty amazing, with 5 year growth rates in the double digits. The dividend yield isn't very high at the moment, but the combination of quickly growing EPS and a low payout ratio mean there's plenty of room for growth. Management has announced they plan to open a large number of new stores this year, which is great. I think this stock has the potential to outperform, though I would advise keeping an eye on the company's long term debt, as interest payments may drag the company down if the debt continues to grow or interest rates go up.
Disclosure: The author has no positions in any stocks mentioned, and no plans to initiate any positions within the next 72 hours. The author wrote this article themselves, and it expresses their own opinions. The author is not receiving compensation for it (other than from Seeking Alpha). The author has no business relationship with any company whose stock is mentioned in this article.