Williams-Sonoma (NYSE:WSM) reported solid results for the fiscal third quarter ended Oct. 31. As we write this, the stock is down more than 10% in an absurd sell-off, likely driven by fears related to a slowdown in the home furnishings industry and lower-than-expected results at its furniture retail stores. Management increased guidance, but not enough to meet current consensus EPS figures, so estimates will likely be revised down. This is the main driver of today's sell off, in our opinion.

Quarterly Report Below Blow-out Expectations
Investors were obviously looking for blow-out results, but the sequential change in headline numbers and the estimate beats were mediocre relative to heightened expectations. For example, revenue for the quarter was $816 million, or 2.1% ahead of the consensus of $799 million, and EBIT was reported at $56 million or 1.4% above the consensus of $55 million. Compare that to Fossil, Inc. (NASDAQ:FOSL), a discretionary company (different industry) which reported revenue 8% above consensus and EBIT 39% above consensus.Over the last few weeks, sell-side analysts have been scrambling with upgrades and new coverage initiations of this stock, and higher-end retail has been doing very well, so expectations were very high for WSM. Coupled with a cautionary outlook by management, WSM is now selling off at early November levels.
Furthermore, given management's cautious outlook regarding the macro environment, it is likely that analysts are going come out with estimates at the low end of guidance. F4Q2011 revenue is now estimated at $1,120-1,160 million versus $1,100-1,140 million following the prior quarter, and GAAP EPS is now expected at $0.83-0.88 versus $0.80-0.85 previously.
However, the consensus revenue estimate for 4Q is $1,143 million and the consensus GAAP estimate is $0.90. In addition, gross margins for the fiscal year ended January are now estimated at 38.8%-38.9% versus 38.0-38.2% previously, and management indicated there is some cushion to these gross margin figures. While management has increased guidance, it looks like consensus estimates are going to be taken down. This is what is probably driving the sell-off today.
Company Still Very Attractive when Focusing on Metrics That Matter Most
The company is in the middle of a transition, intending to close down 10 out of 11 Williams-Sonoma Home stores in 4Q, while focusing more on online sales. Meanwhile, prices are at a more promotional level than it would like. However, the company seems to be managing this transition extremely well, with other store concepts like Pottery Barn, Pottery Barn Kids and outlets doing extremely well while taking market share from competitors.
The best way to illustrate how well management is running its business is to look at the key drivers of value, which are ROIC, economic profit and cash flow growth. ROIC in the quarter improved to 15.3% (NOPLAT of $338 million / Operating Capital of $2,181 million) versus 14.0% in the previous quarter and negative 2.1% in the same quarter last year. Economic profit for the quarter came in at an $93 million (NOPLAT of $338 million - Economic Charge of $245 million) versus negative $354 million last year. (See our tables below.)
Even assuming the currently lowest consensus estimates going forward, which appear to be below current guidance and therefore representing worst-case estimated data points in our opinion, our models indicate the company should be able to maintain ROIC between 14.2% and 15.2% for the next several quarters. This level of ROIC is well above its estimated cost of capital (back of the envelope) of about 11 percent. (Click charts to enlarge.)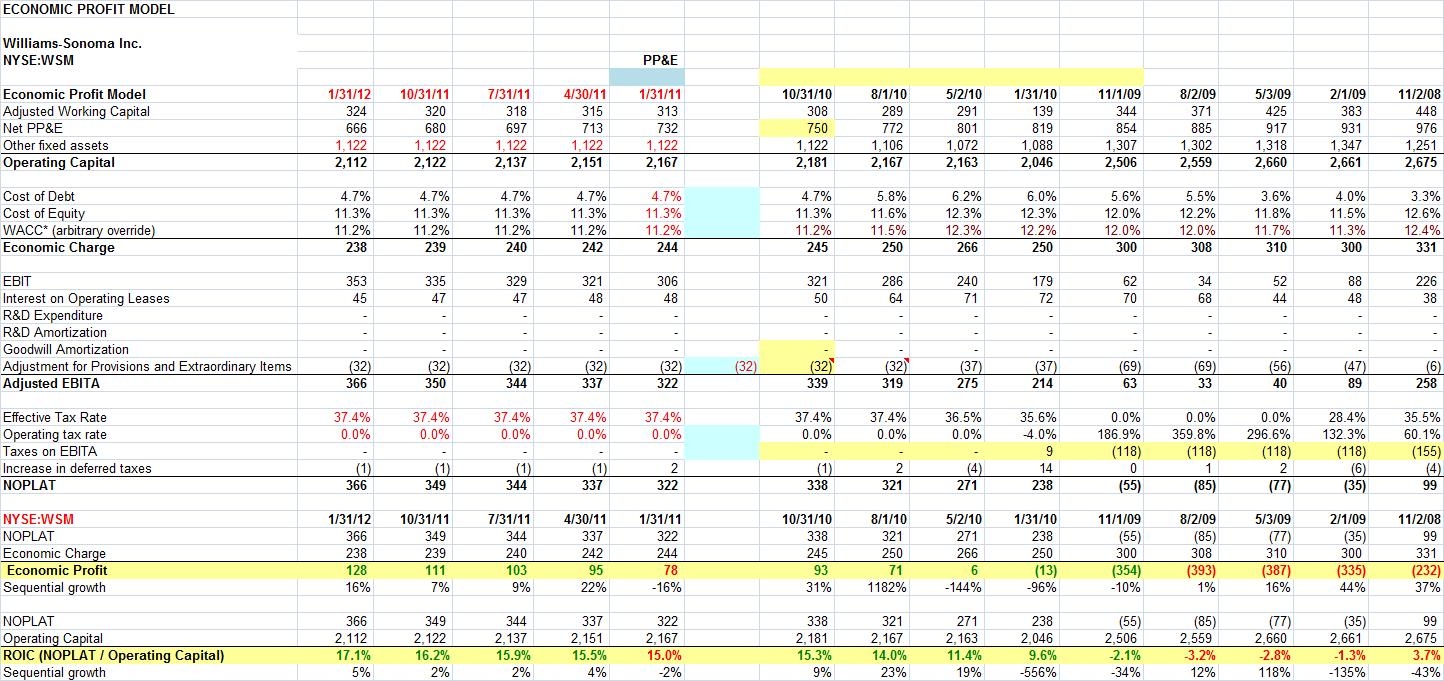 We calculate free cash flow in the quarter of $36 million compared to $66 million last year, lower because of higher cash taxes paid and investment in working capital. LTM free cash flow is calculated at $315 million versus $207 million last year, moving to a normalized level of $240-$250 million in the quarters ahead (adjusted for what appears to be a liquidation and subsequent investment last year). Free-cash-flow relative to market value currently stands at about 6.3%, and at about 6.9% relative to estimated Q+1 trailing 12-month revenue.

Momentum Strategy Sell-Off Opens Door for Buy and Hold Investors
Williams-Sonoma reported a good quarter above consensus and raised guidance, but management's cautionary language regarding the home furnishings industry is likely to cause analysts to reset estimates at the low-end of a guided range, which could be below current consensus on an EPS basis. Despite solid value and improving returns on capital, momentum-driven investors are selling the stock. In our opinion, the sell-off is overdone and offers excellent value.
However, WSM has to be put in a context relative to other discretionary sector companies that not only offer great value but accelerating momentum (e.g., Fossil). We will have more details on our relative ranking model over the weekend, but it appears that rankings for relative value will be moving higher, while relative operating momentum and relative analyst revision momentum will decline.
At the current price of $32.43, or 17.2x NTM consensus EPS of $1.88 (which may decline a few pennies over the next few days), it is difficult to see the price declining much more. We are not in a situation where the company missed estimates prompting a sustained inexplicable sell-off like we saw with Gilead (NASDAQ:GILD) earlier in the year; WSM simply has lost some momentum, which in our opinion is a meaningful difference.
In our opinion, investors with 12-month holding periods or longer will probably feel comfortable purchasing the stock at the current level. This is because management seems to be taking all the right steps to manage its capital structure and maximize ROIC by closing unprofitable stores, focusing more on online sales and taking share from weaker players in this fragmented industry. It is also likely that systematic short-term momentum strategies (such as our long-only model based on real trade data) will be moving out of this stock and not revisit it for some time. At the same time, it seems equally possible to us that if the home furnishing industry does not experience further weakness, F4Q results could be very favorable compared to apparently just-lowered market expectations.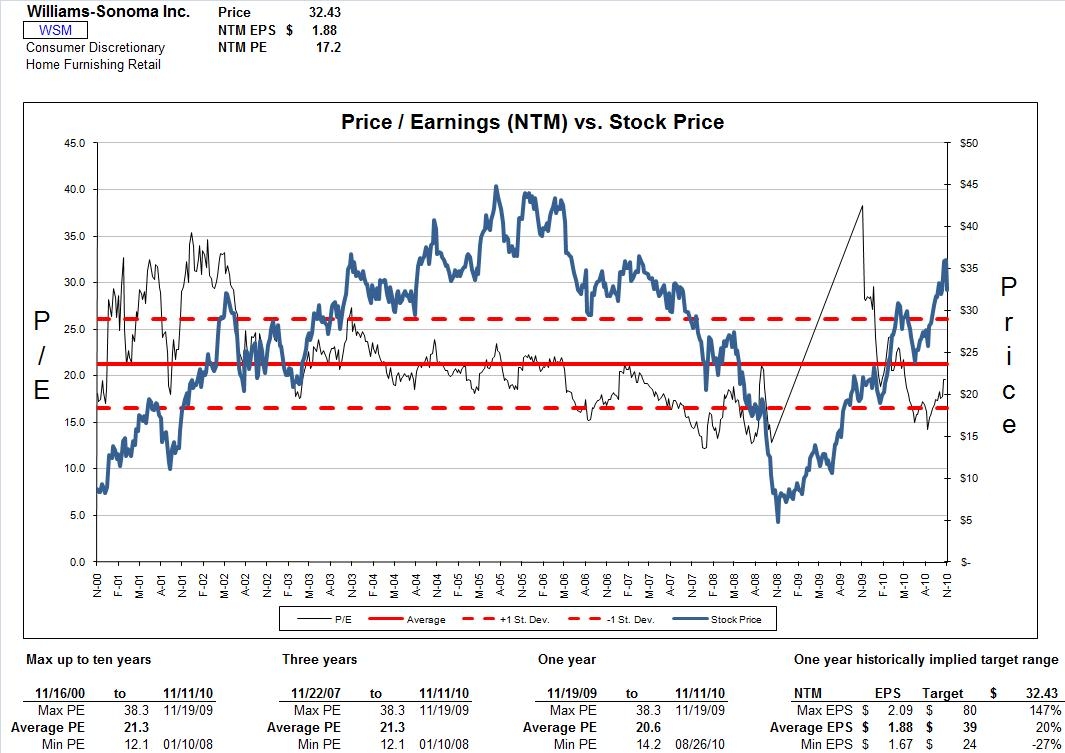 Disclosure: Currently long WSM, though there is now a chance it may be rebalanced out of fundamental momentum strategy at the end of Nov 2010.