If you read my article last week entitled, Nektar: Reason Will Rarely Fail You and carefully considered what it is I told you, then you no doubt have already been rewarded for having done so. A pullback in the value of Nektar shares was disproportionately steep and wise investors bought at falsely depreciated prices or held fast through the fear.
And while I hope that my muses make investors money, I also believe that the role of a biotechnology blogger goes far beyond that. An effective ideator speaks on behalf of investors and directly to the corporate leadership of firms we're invested in. And don't think for a moment that the presidents of those companies aren't reading every word - because they are. A few of them are smart enough to process the thoughts on offer, weigh them and respond accordingly. The net effect of entering into a vicarious dialogue with an author through public speaking opportunities is investor engagement and a rising stock price.
On Friday, August 1st, 2014 Nektar (NKTR) shares rose $1.27 or 12.04% in direct response to President and CEO Howard Robin's Q2 conference call in which he, for the first time, stated emphatically that Nektar would become a self-commercializing biopharmaceutical company. Here's an outtake.
At some point, Nektar has to shift from a royalty company to a product company. And I think we will. And whether that's with a drug like Nektar 102, whether that's a drug like Nektar 181 a few years down the road, I don't think we have to make that decision now, but I don't think you should be thinking of Nektar as a royalty company, you need to think of Nektar as a company that's developing proprietary drugs and will eventually market them.
I began covering Nektar on January 20th of this year in an article entitled: Nektar Therapeutics Is The Seattle Genetics Of San Francisco But It Could Be More. The stated thesis of that piece was that Nektar's proclivity for successful partnering was undermining its ability to attract long-term investment. This first financial publication of this unique thought was illustrated by way of comparison. Here's an excerpt.
Seattle Genetics (SGEN) formed the same lucrative alliances with some of the industry's most powerful allies early on in their development history, but strategically withheld Adcetris to commercially develop on their own. This is perhaps because investors more readily equate commercial success with yearly revenue streams from product sales within the company of origin than they do with intangible and soon to pass milestone payments from partners at a distance.

Nektar's best chance to follow Seattle Genetics' blueprint and transform into a self-commercializing biopharmaceutical giant will be in the development of its multi-space cancer compound NKTR-102.
The fact that Howard Robin is now articulating a go-it-alone strategy for the first time is an exceedingly positive development. Truthfully, however, NKTR-102 is the only proprietary candidate worth going solo with. Oncology products have a smaller scope of therapeutic centers to market to, thereby necessitating a smaller sales force. A pain product like NKTR-181 would require a far greater span of outreach than a company the size of Nektar could possibly manage. Consequently, a partnership covering the U.S. and the rest of the world with AstraZeneca (AZN), for example, would be advantageous.
Now, let's listen to Howard Robin at Thursday night's conference call, seven months after the publication of my thoughts, responding to questions from various financial analysts about the future of Nektar's cancer compound.
I think there is an awful lot of merit to Nektar moving forward with a drug like Nektar 102 ourselves if we're successful with the metastatic breast cancer study. And while we're still having those interesting discussions and there are still partnering discussions that take place, I am looking more and more hopeful to perhaps taking that drug forward ourselves.
And again.
With regard to how you move forward with a drug like Nektar 102 for a company the size of Nektar, look, it's the kind of thing where the market in oncology does not require tremendous commercialization efforts. Sure you have to have a sales organization albeit, it could be relatively small. You have to have an organization of scientific liaisons, but I think a company of the size of Nektar could easily handle that, especially if you look at the cash flow that could be coming from drugs like Movantik.

So while I said, we haven't made the decision yet, I think launching the drug or bringing the drug forward commercially like Nektar 102 is entirely within our capabilities. Now let's see how the drug looks, and let's see what the data looks like and we'll make some better decisions at a later point.
Obviously, I'm proud to have shifted the discussion in a direction that's profitable to the company and to investors. I'm equally proud to have altered the way we think about Nektar's proprietary assets. Partnerships that provide short-term highs inevitably lead to long-term ambiguity and therefore, share price decline. Holding onto an asset as dynamic as NKTR-102 provides for share price stability in that investors can look forward to plotting prescription growth charts without having to settle for percentages of sales gains.
Starting a small U.S. sales force prior to the marketing of NKTR-102 will allow the company to expand as the indications for treatment enlarge the compound's use. Additionally, NKTR-214, a promising cancer immunotherapy waits in the wings of commercial development and when made available six years down the road could be effortlessly added to the salesman's bag.
There was much more going on behind the scenes at Nektar that I'll be writing about in the weeks ahead including AstraZeneca's launch preparations for Movantik and the strategic evolution of the NKTR-181 registration trial from the Nektar pain portfolio. For now though I'll leave you with a revised catalyst calendar for the company covering the second half of this year. I've added something of a wild-card that Howard Robin alluded to, because partnership discussions remain a viable share price stimulator.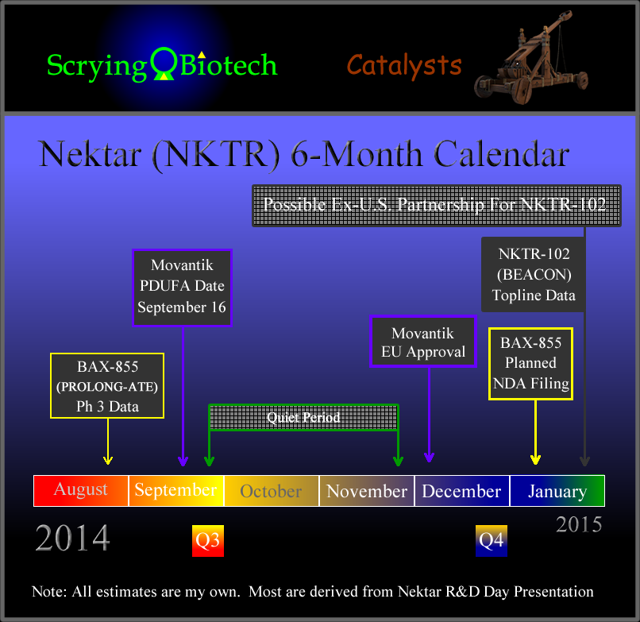 Note to self: Hold position near, on or through Movantik approval. Sell, and then reenter after the "quiet period" has ended in late November.
Here's a closing quote from Howard addressing that calendar addition.
I just want to clarify one point I made. You asked a very good question about whether Nektar would take Nektar 102 forward commercially, and I said it's something we're considering. Certainly, for ex-U.S., you would find a partner. And, you know, we're certainly having those discussions, and we've been having those discussions.

What I should have said more clearly is that for the purposes of the United States, this is certainly something that we would consider, although we haven't made a decision yet as to taking it forward ourselves.
And this is entirely reasonable because as of yet NKTR-102 isn't a commercially approved product for Nektar to take forward. And nowhere was I suggesting a world-wide commercialization effort be undertaken. Seattle Genetic's Adcetris is marketed ex-U.S. through partnerships abroad.
What this does illustrate though, is the difficulty of moving away from the drug-like dependency of a partnering mindset. This quick-fix form of instant gratification is one that shareholders demand and corporate executives are often all too willing to tease them with.
Always be well...
Disclosure: The author is long NKTR. The author wrote this article themselves, and it expresses their own opinions. The author is not receiving compensation for it (other than from Seeking Alpha). The author has no business relationship with any company whose stock is mentioned in this article.
Additional disclosure: Any information or opinion expressed herein may not be true, accurate or correct and it does not constitute any suggestion to buy, sell, hold or adopt any investment strategy for this stock or any stock that may be mentioned. Reliance upon information in this article is at the sole discretion of the reader. The sole purpose of my article is to entertain by providing information, the accuracy of which is as good as the public sources it was derived from. Do not act on anything I have written. Rather, do your own due diligence and consult an investment professional before making any investment decision. Acting on what any one writer, including me has imparted to you is foolish at best. I have no better access to resources or gift of opinion formulation than you do. I sometimes make mistakes. There are a myriad of things, which can happen in lieu of any forward-looking statement I have made. Any stock featured or mentioned in an article I compose is subject to all manner of influences, which can change its value in dramatic fashion upwards or downwards. These events can be of a wide variety not limited to news-related occurrences, managerial decisions, trial failures, stock manipulations and so on. I make every effort to declare positions I have in stocks I cover or mention in an article but reserve the right to move in and out of said investments at my own discretion based upon the wisdom of doing so. I implore you to do your own due diligence, invest at your own considerable risk attaining the just reward your efforts have wrought.