Over the past few weeks, global equity indices have come under significant selling pressure for a number of reasons, including concerns over tensions in Gaza and Ukraine, increased talk of higher interest rates in the U.S., and banking troubles in Portugal. While these stories may dominate the headlines, I believe the sell-off has occurred mainly due to valuations. Simply put, many good companies had been trading at valuations that were simply too high. I do not believe the recent declines are the start of a major move lower in equities. However, it would not surprise me to see the major indices move lower by another 3-5%.
Stock Picking In 2014
So far, 2014 has been a year of stock picking. Unlike most recent years, macro headlines and macro trading have not dominated the stock market. Rather, stocks have been moving based mainly on company specific fundamentals. In addition to a lack of major macro drivers in 2014, stocks have also been impacted by an increase in M&A activity and investor activism. The chart below shows the biggest gainers and losers so far in 2014 in the Dow Jones Industrial Average. Intel (NASDAQ:INTC), Microsoft (NASDAQ:MSFT) and Caterpillar (NYSE:CAT) have done well in 2014, while Boeing (NYSE:BA), GE (NYSE:GE) and United Technologies (NYSE:UTX) have not done well in 2014. The point I am trying to make here is that the market has focused on individual stories, not macro trends.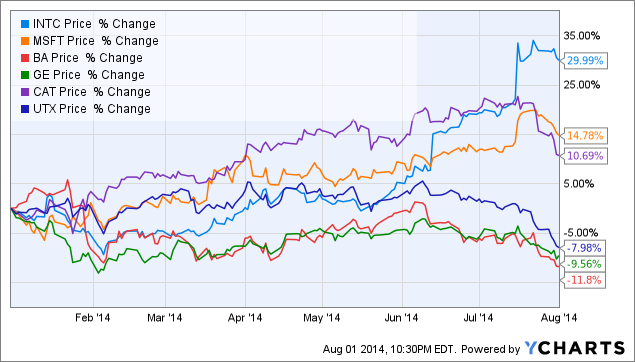 INTC data by YCharts
Another example of how 2014 has been a year of stock picking can be observed below. Pfizer (NYSE:PFE) and Merck (NYSE:MRK), two of the largest drug stocks have diverged significantly so far in 2014. The point is that stock prices are being driven more by company specific news than sector or macro trends. I believe this trend is likely to continue throughout the remainder of 2014.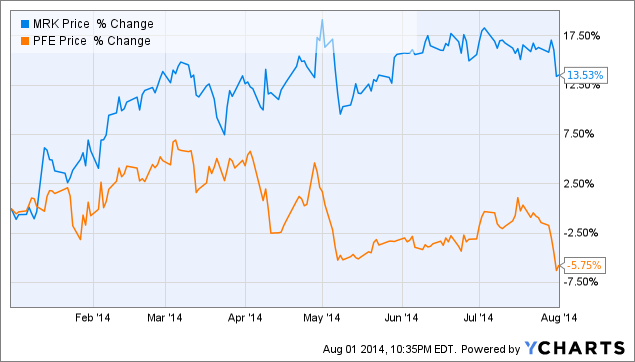 MRK data by YCharts
3 Stocks To Consider Buying
Facebook (NASDAQ:FB)
FB shares traded to an all-time high, above $76 per share, after reporting strong second-quarter results. However, due to recent macro weakness, shares of FB have pulled back a few points and are now trading, as of this writing, at $72. I believe FB shares are heading much higher as the company continues to grow earnings. In particular, FB is set to enter the e-commerce space and continues to grow its messaging service. If FB proves as successful at monetizing these opportunities as it has been mobile, which I think will be the case, then FB shares are headed much higher. FB has been one of the best-performing large cap stocks so far in 2014 and I expect this to continue. Investors should use the recent pullback to buy FB.
Halliburton (NYSE:HAL)
HAL recently reported strong second-quarter results which sent shares to a new all-time high above $74 per share. HAL has benefited from rising oil prices which have led to increased spending on oil services. In addition to reporting strong results, HAL also increased its buyback program to $6 billion. In the week that has followed HAL's report, shares have moved lower due to the overall sell-off in equity markets and HAL is now trading below $70 per share. While I do not believe geopolitical tensions are likely to lead to a spike in oil prices, if such a situation were to materialize, HAL would be well-positioned to benefit. So far in 2014, HAL has been one of the strongest-performing oil services stocks. As the macro based selling comes to an end in the coming days and weeks ahead, I believe investors should consider buying HAL.
Yahoo! (NASDAQ:YHOO)
Unlike FB and HAL, YHOO shares moved lower following the company's second-quarter earnings results. However, with earnings now in the rear view mirror, the attention will shift to the upcoming IPO of Alibaba (NYSE:BABA). As part of its second-quarter earnings release, YHOO announced that it will be keeping more of its Alibaba shares than initially expected. I believe this move could be foreshadowing a move by Alibaba to potentially buy YHOO. Even if Alibaba does not make a play for Yahoo, I believe YHOO shares are poised to move higher as the much anticipated IPO approaches. Option Monster co-founder and CNBC contributor Jon Najarian has also flagged some unusual options activity that suggest YHOO shares may soon make a sharp move upwards. Even if the equity markets as a whole fail to move higher, I believe YHOO is poised to move sharply higher based on the upcoming Alibaba IPO.
Conclusion
In my opinion, broad based market selling has presented investors an opportunity to buy individual stocks with special compelling bull cases. Three of my favorite stocks to consider accumulating on weakness are Facebook, Halliburton and Yahoo!.
Disclosure: The author has no positions in any stocks mentioned, but may initiate a long position in FB, HAL over the next 72 hours. The author wrote this article themselves, and it expresses their own opinions. The author is not receiving compensation for it (other than from Seeking Alpha). The author has no business relationship with any company whose stock is mentioned in this article.
Additional Disclosure: Long YHOO calls.