Looking at a chart of a bunch of the publicly traded dry shippers over the last 3 months isn't a pretty sight. With the exception of Ocean Rig (NASDAQ:ORIG), which has had some success in signing contracts the past couple of months, other dry shippers have had a dismal three months, off double digits. Baltic Trading (NYSE:BALT), DryShips (NASDAQ:DRYS) and Diana Shipping (NYSE:DSX) have all had horrible last couple of months.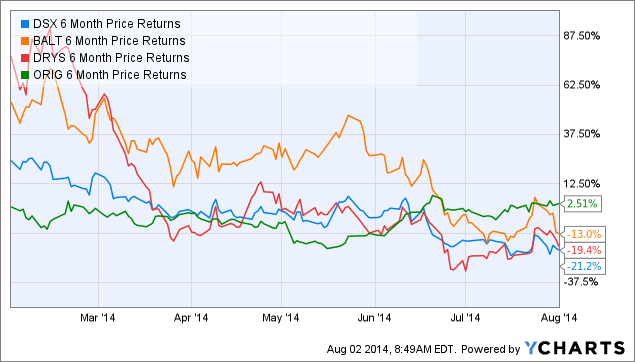 DSX 6 Month Price Returns data by YCharts
A major reason for the decline in these equities is the continued decline in dry shipping rates. I've gone on the record in my last couple of articles and contested that rates will eventually get better. However, since then, the BDI has drifted under 1,000 and now sits at a paltry 751 - one of the lowest levels I've ever seen it.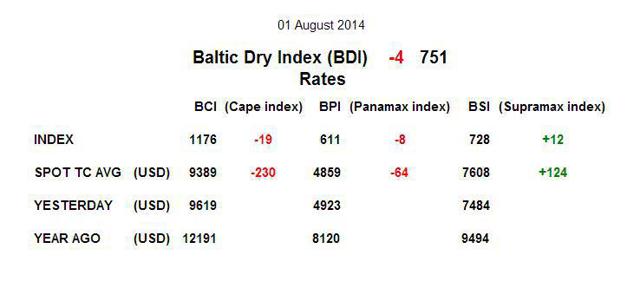 Capesize, panamax and supramax rates are all near the lowest levels we've seen in a long time. Only capesize rates aren't horrific right now, and lots of dry shippers have their capesize vessels already contracted out at set rates.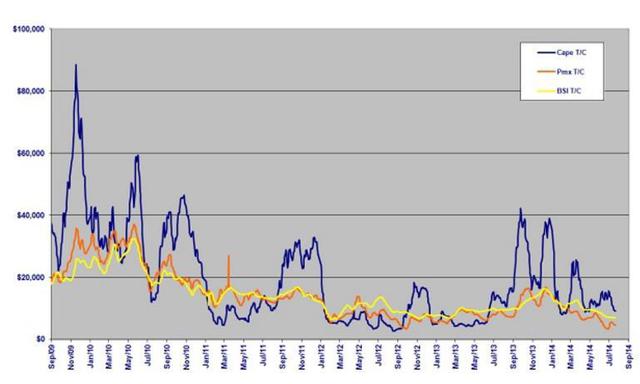 But, when sentiment continues to look its bleakest, I can't help but think that we're damn close to seeing a bottom in the dry shipping market. To echo my sentiment, MarineLink.com had a piece out a couple of days ago:
"Dull and without direction despite widespread expectations of near-term recovery," was how Norwegian ship broker Fearnley described the capesize market this week in a research note on Wednesday.

"Cargo volumes, coal in particular, presently not sufficient to employ a growing fleet," Fearnley said.
Some 40 capesize ships totaling 7.8 million dwt (deadweight tonnes) have been added to the global capesize fleet since January, according to data from Clarkson, the British shipping services firm.

But on a brighter note, charter rates from Brazil to China could rally in the coming weeks on the back of tighter vessel supply and a pick-up in chartering activity, the Singapore broker and Commodore's Landsberg said.

"Capesize shipping rates will increase once more vessels are chartered to haul Brazilian iron ore cargoes, which is likely to occur very soon," Landsberg added.
While the risk is obvious when the rates are this low - they negatively affect the revenues of companies that do not have ships contracted at set prices - the reward could be all that much better for those willing to take the risk at these contrarian levels. When rates do rise, the publicly traded dry shipping companies will likely rise with them.
I contend that the sinking rates could potentially offer a contrarian buying opportunity for those looking to get into the dry shipping sector.
Best of luck to all investors.
Disclosure: The author has no positions in any stocks mentioned, and no plans to initiate any positions within the next 72 hours. The author wrote this article themselves, and it expresses their own opinions. The author is not receiving compensation for it (other than from Seeking Alpha). The author has no business relationship with any company whose stock is mentioned in this article.