Investors have grown impatient with the current geopolitical events and appear to be selling off commodities, as they no longer anticipate any new major issues arising out of the conflicts in Ukraine, Gaza, Iraq or Syria to affect the global economy. With that said, we are still watching oil prices and still think that the United States Oil Fund (NYSEARCA:USO) could be a good hedge against future moves higher and spikes in volatility. Add to this the fact that the ebola outbreak in Western Africa is drawing more attention and there are numerous stories coming out of infected people using mass transit systems to travel and the potential exists, however small, that the virus could pop up elsewhere.
Chart of the Day:
Coffee prices have not gone cold and are once again approaching the $200 level. If prices can move through that psychologically important price point and then its old highs, then coffee might very well have another run to make. This would be a speculative trade and not an investment.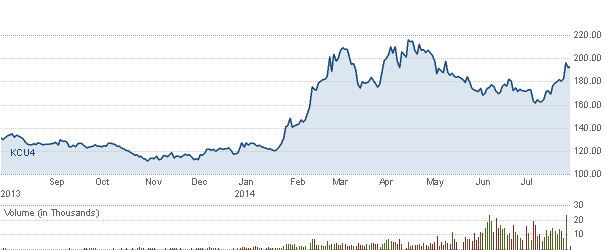 Source: CNBC
Commodity prices are as follows (at time of submission):
Gold: $1,291.30/ounce, down by $3.50/ounce
Silver: $20.385/ounce, up by $0.014/ounce
Oil: $97.59/barrel, down by $0.29/barrel
RBOB Gas: $2.7177/gallon, down by $0.0266/gallon
Natural Gas: $3.806/MMbtu, up by $0.008/MMbtu
Copper: $3.2235/pound, up by $0.009/pound
Platinum: $1,465.00/ounce, up by $1.70/ounce
Earnings On Deck
After the market close, there are two energy names reporting which we are interested in. First up is Rosetta Resources (NASDAQ:ROSE) which finally fell through the $50/share level with the market weakness on Friday. Investors usually get the price action incorrect on this one and when it is to the downside it has historically paid to go long.
Readers who plan to follow the company's quarterly results should know that Rosetta plans on a $1.1 billion capital spend, excluding leasehold costs, for the year. Last quarter, management reaffirmed the company's average daily production guidance which called for a range of 60,000-65,000 BOEPD for 2014. That is the exit rate for 2014 and as the company exited the prior quarter with 57,500 BOEPD it will be important to pay attention to rig counts.
The company planned to operate 4-5 rigs in the Eagle Ford and another 5-6 in the Delaware Basin acreage that the company recently acquired in the prolific Permian Basin which is extremely 'oily'. We think that the company is very well positioned to meet their 2014 production goals, especially if the high end of the rig counts were achieved. While some might fret over the types of wells drilled in the Permian, such as the number of vertical wells versus horizontal wells, we would be less concerned about that as the company has already stated that they will utilize vertical drilling techniques for data gathering and also to gain HBP status on certain acreage.
Exciting news from Rosetta Resources' conference call could provide a boost for Laredo Petroleum (NYSE:LPI), which reports this Thursday, August 7 (see press release here for details on the conference call and other information) and possibly add further fuel to power the run at Diamondback Energy (NASDAQ:FANG) which reports tomorrow after the close (see press release here for details on the conference call and other information).
Diamondback Energy thrives on volatility and if its peers can get their stocks rocking and rolling, then we could see Diamondback's shares perk up as well. The company reports after the close tomorrow, so there is plenty of news flow here.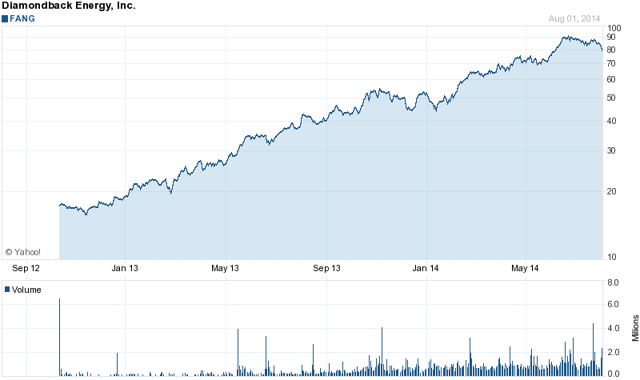 Source: Yahoo Finance
Looking up to the Williston Basin, investors might want to pay attention to Emerald Oil (NYSEMKT:EOX), which could be a takeover target moving forward. The company has guided towards 3,700 BOEPD for 2014 with an exit rate of 4,900 BOEPD. These numbers were increased last quarter, even with poor weather conditions having impacted the company's front end of the first quarter.
The company has already announced that they spent $88 million on leasehold acquisitions, but they did increase their full-year budgeted leasehold acquisition costs up to $150 million last quarter so we would not be surprised to see further purchases either closed this quarter or possibly under contract already. As a reference point, Emerald Oil closed last quarter with approximately 91,000 net acres in the Williston Basin with 68,000 net acres being operable.
Readers should also pay attention to well costs, which is a big focus for the company, as they look to continue to lower their current $9.5 million per well bill.
Disclosure: The author has no positions in any stocks mentioned, and no plans to initiate any positions within the next 72 hours. The author wrote this article themselves, and it expresses their own opinions. The author is not receiving compensation for it (other than from Seeking Alpha). The author has no business relationship with any company whose stock is mentioned in this article.