My regular readers on Real Money Pro and Seeking Alpha know that I pride myself on being a long term contrarian investor. Being a contrarian investor is not an easy path. One is almost always early in investing in a stock or sector that temporarily is hated by the market. For this reason, I advise to build up positions in contrarian investments incrementally and over time. Although contrarian investing takes patience, discipline and the willingness to go against the herd, I have found it to be one of the more lucrative strategies in my arsenal over time.
Homebuilders are some of the most disliked investments in the market right now and with good reason. The homebuilder index is hovering just over 52 week lows as the housing market has once again stalled - one reason I view Q2 4% growth in GDP with some suspicion.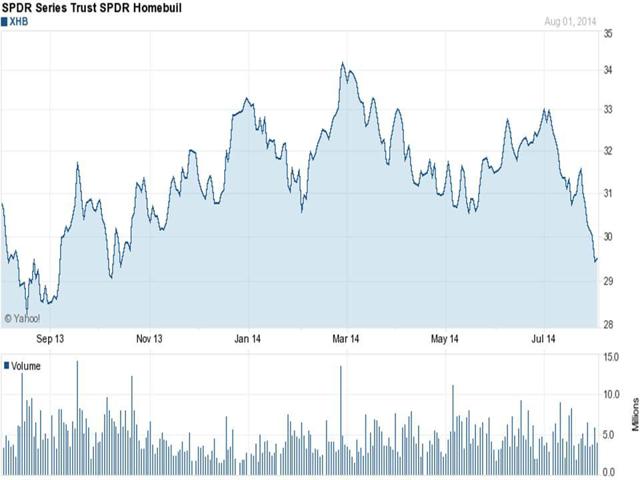 Click to enlarge
However, over time there is a lot to like about the housing market. Housing starts have not kept pace with housing formation over the past five years as both consumers and homebuilders have remained exceedingly cautious as the number of renters and millennials living at home have increased markedly since the onset of the financial crisis.
To put in perspective, housing starts came in at over 2mm in 2005. In 2013, even after several years of recovery that number was still under 1mm. Economic and job growth have also remained tepid in what continues to be the weakest of ten post way recoveries on record.
However, consumer sentiment is at its highest level since October 2007 and job growth is at its strongest pace since the recovery began in June 2009. Eventually this should mean greater household formation and more demand for housing. In addition, mortgage rates remain historically low and housing credit is slowly becoming more available.
For investors that have time horizons measured in quarters and years instead of days and weeks, averaging into some homebuilding stocks at current levels would seem to be a move that will pay dividends over time. It is a sector I am slowing increasing my allocation into. Here are a couple of these new investments I have made over the last couple of weeks.
Beazer Homes (NYSE:BZH) is a new addition to my portfolio that I took an initial stake in during last week's big market decline. Investors need to look past the losses this homebuilder has posted over the past several years. 2014 should mark the company's first profitable year since 2006. This earnings growth is projected to accelerate sharply in 2015 as the current consensus has the company earning over $1.40 a share during the next fiscal year.
Encouragingly, insiders have increased their purchases of stock during their recent decline along with the entire homebuilding sector. Average selling prices (ASPs) for housing units increased to $253K in 2013 from ~$225K in 2012 and the company is well-positioned to serve the middle tier of the housing market.
Compass Point just reiterated its "Buy" rating on Beazer as well. BZH goes for just over $16 a share currently. The stock's 52 week high is north of $25 a share and the mean price target by the eight analysts that follow the stock is ~$22.50 a share.
I continue to add to a recent position in UCP LLC (NYSE:UCP). The company is a small homebuilder with land and developing communities in Northern California and to a lesser extent the Seattle area. One of the most attractive features of the company is over 70% of its lot inventory was acquired at rock bottom prices during 2008-2010 where other builders were selling anything they could to keep afloat.
The company also has a very solid balance sheet with no net debt on the books. The company is ramping up homebuilding as the regions it is primarily located are showing much better higher end job growth than the rest of the country as they are primary technology hubs.
Last year, the company posted revenue of just over $70 million. Those sales are tracking towards over $160 million this fiscal year and the consensus projection calls for over $300 million in FY2015. After posting small losses in 2013 and 2014, the company is projected to post ~50 cents a share of profit in 2015. UCP is too cheap at 10% over a very understated book value.
These types of contrarian investments rarely pay off overnight. However, for patient investors willing to accumulate these type of positions slowly, they usually pay off nicely in the end.
Disclosure: The author is long BZH, UCP. The author wrote this article themselves, and it expresses their own opinions. The author is not receiving compensation for it (other than from Seeking Alpha). The author has no business relationship with any company whose stock is mentioned in this article.
Editor's Note: This article covers one or more stocks trading at less than $1 per share and/or with less than a $100 million market cap. Please be aware of the risks associated with these stocks.