The following is a list of oversold stocks, as determined by the Relative Strength, or RSI(14), indicator. All of the stocks mentioned below have RSI(14) values below 40, which usually signal oversold conditions.

In addition, all of these stocks have raised their dividend payouts over the past three years.

This list might offer a good starting point for dividend investors. Full details below.

Dividend history data sourced from AOL Money, dividend yield and RSI(14) data sourced from Finviz.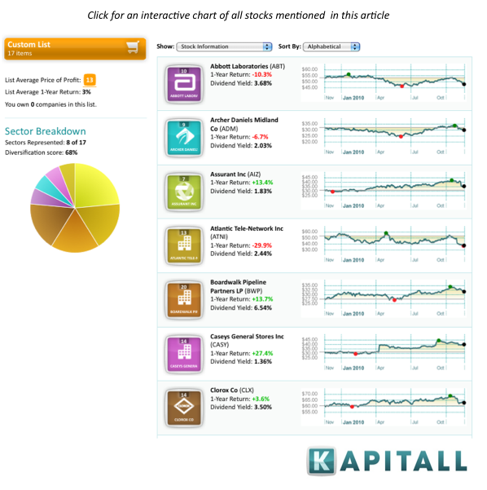 The list has been sorted by the average percentage increase in dividend per share.

1. Casey's General Stores Inc. (NASDAQ:CASY): Grocery Stores Industry. Market cap of $1.5B. Dividend yield at 1.36%, with RSI(14) at 34.57. Dec 2008 dividend per share at $0.08, Dec 2009 dividend increased to $0.09, and Sep. 2010 dividend increased to $0.14. Short float at 7.86%, which implies a short ratio of 2.96 days. The stock has gained 25.69% over the last year.

2. Digital Realty Trust Inc. (NYSE:DLR): REIT. Market cap of $4.75B. Dividend yield at 4.04%, with RSI(14) at 22.58. Nov 2008 dividend per share at $0.33, Oct 2009 dividend increased to $0.45, and Nov 2010 dividend increased to $0.53. Short float at 16.16%, which implies a short ratio of 11.2 days. The stock has gained 14.67% over the last year.

3. Lockheed Martin Corporation (NYSE:LMT): Aerospace/Defense Products & Services Industry. Market cap of $24.69B. Dividend yield at 4.38%, with RSI(14) at 36.53. Sep. 2008 dividend per share at $0.57, Sep. 2009 dividend increased to $0.63, and Sep. 2010 dividend increased to $0.75. Short float at 2.27%, which implies a short ratio of 2.96 days. The stock has lost -7.16% over the last year.

4. General Mills Inc. (NYSE:GIS): Processed & Packaged Goods Industry. Market cap of $22.47B. Dividend yield at 3.19%, with RSI(14) at 34.43. Sep. 2008 dividend per share at $0.22, Sep. 2009 dividend increased to $0.24, and Sep. 2010 dividend increased to $0.28. Short float at 1.49%, which implies a short ratio of 2.12 days. The stock has gained 6.98% over the last year.

5. Spectra Energy Partners, LP (NYSE:SEP): Oil & Gas Pipelines Industry. Market cap of $3.48B. Dividend yield at 5.25%, with RSI(14) at 38.02. Oct 2008 dividend per share at $0.35, Oct 2009 dividend increased to $0.40, and Oct 2010 dividend increased to $0.44. Short float at 0.23%, which implies a short ratio of 1.5 days. The stock has gained 28.05% over the last year.

6. Abbott Laboratories (NYSE:ABT): Drug Manufacturer. Market cap of $73.89B. Dividend yield at 3.68%, with RSI(14) at 21.96. Sep. 2008 dividend per share at $0.36, Sep. 2009 dividend increased to $0.4, and Sep. 2010 dividend increased to $0.44. Short float at 0.61%, which implies a short ratio of 1.33 days. The stock has lost -7.31% over the last year.

7. Atlantic Tele-Network, Inc. (NASDAQ:ATNI): Telecom Services Industry. Market cap of $553.26M. Dividend yield at 2.44%, with RSI(14) at 23.00. Sep. 2008 dividend per share at $0.18, Sep. 2009 dividend increased to $0.2, and Sep. 2010 dividend increased to $0.22. Short float at 4.51%, which implies a short ratio of 5.39 days. The stock has lost -30.97% over the last year.

8. Clorox Corporation (NYSE:CLX): Conglomerates Industry. Market cap of $8.75B. Dividend yield at 3.5%, with RSI(14) at 36.27. Sep. 2008 dividend per share at $0.46, Sep. 2009 dividend increased to $0.50, and Sep. 2010 dividend increased to $0.55. Short float at 2.89%, which implies a short ratio of 3.21 days. The stock has gained 7.72% over the last year.

9. Archer Daniels Midland Company (NYSE:ADM): Farm Products Industry. Market cap of $18.86B. Dividend yield at 2.03%, with RSI(14) at 29.17. Nov 2008 dividend per share at $0.13, Nov 2009 dividend increased to $0.14, and Nov 2010 dividend increased to $0.15. Short float at 1.83%, which implies a short ratio of 2.14 days. The stock has lost -6.4% over the last year.

10. Assurant Inc. (NYSE:AIZ): Accident & Health Insurance Industry. Market cap of $3.73B. Dividend yield at 1.83%, with RSI(14) at 31.83. Nov 2008 dividend per share at $0.14, Nov 2009 dividend increased to $0.15, and Nov 2010 dividend increased to $0.16. Short float at 1.57%, which implies a short ratio of 1.31 days. The stock has gained 14.26% over the last year.

11. Kimberly-Clark Corporation (NYSE:KMB): Personal Products Industry. Market cap of $25.15B. Dividend yield at 4.28%, with RSI(14) at 38.85. Aug 2008 dividend per share at $0.58, Aug 2009 dividend increased to $0.60, and Aug 2010 dividend increased to $0.66. Short float at 1.34%, which implies a short ratio of 1.99 days. The stock has lost -1.6% over the last year.

12. NextEra Energy, Inc. (NYSE:NEE): Electric Utilities Industry. Market cap of $21.61B. Dividend yield at 3.83%, with RSI(14) at 30.77. Oct 2008 dividend per share at $0.45, Oct 2009 dividend increased to $0.47, and Oct 2010 dividend increased to $0.5. Short float at 1.26%, which implies a short ratio of 2.74 days. The stock has gained 5.37% over the last year.

13. TransCanada Corp. (NYSE:TRP): Gas Utilities Industry. Market cap of $24.25B. Dividend yield at 4.52%, with RSI(14) at 29.43. Oct 2008 dividend per share at $0.36, Nov 2009 dividend increased to $0.38, and Nov 2010 dividend increased to $0.40. Short float at 0.16%, which implies a short ratio of 3.57 days. The stock has gained 18.36% over the last year.

14. Donegal Group Inc. (NASDAQ:DGICB): Property & Casualty Insurance Industry. Market cap of $404.14M. Dividend yield at 2.52%, with RSI(14) at 33.29. Oct 2008 dividend per share at $0.09, Oct 2009 dividend increased to $0.10, and Oct 2010 dividend increased to $0.10. Short float at 0.09%, which implies a short ratio of 46.8 days. The stock has lost -11.88% over the last year.

15. Corporate Office Properties Trust (NYSE:OFC): REIT. Market cap of $2.04B. Dividend yield at 4.81%, with RSI(14) at 34.68. Sep. 2008 dividend per share at $0.37, Sep. 2009 dividend increased to $0.39, and Sep. 2010 dividend increased to $0.41. Short float at 7.45%, which implies a short ratio of 5.35 days. The stock has gained 5.31% over the last year.

16. Boardwalk Pipeline Partners, LP (NYSE:BWP): Oil & Gas Pipelines Industry. Market cap of $6.06B. Dividend yield at 6.54%, with RSI(14) at 28.42. Oct 2008 dividend per share at $0.48, Oct 2009 dividend increased to $0.50, and Oct 2010 dividend increased to $0.52. Short float at 0.34%, which implies a short ratio of 2.49 days. The stock has gained 21.91% over the last year.

17. WGL Holdings Inc. (NYSE:WGL): Gas Utilities Industry. Market cap of $1.98B. Dividend yield at 3.87%, with RSI(14) at 37.08. Sep. 2008 dividend per share at $0.36, Sep. 2009 dividend increased to $0.37, and Sep. 2010 dividend increased to $0.38. Short float at 7.75%, which implies a short ratio of 14.33 days. The stock has gained 27.42% over the last year.

Disclosure: No positions