General Electric (NYSE:GE) has seen itself on a long road since the financial crisis of '07-'08 ended. Just last week, the company saw part of its financial division spun off and IPO'd in Synchrony Financial. It was one of the more underwhelming IPOs that we've seen this year and WSJ went on to report that "at times, the stock was supported by J.P. Morgan Chase & Co., the underwriter charged with ensuring first-day trading in the shares go smoothly."
That means JPMorgan held the price up while other underwriters of the IPO were likely selling. That's a different discussion for a different day.
I wanted to go back to GE, which I had written about previously this year. I thought GE was on track to once again become the conservative growth stock we once knew it to be before the economy collapse.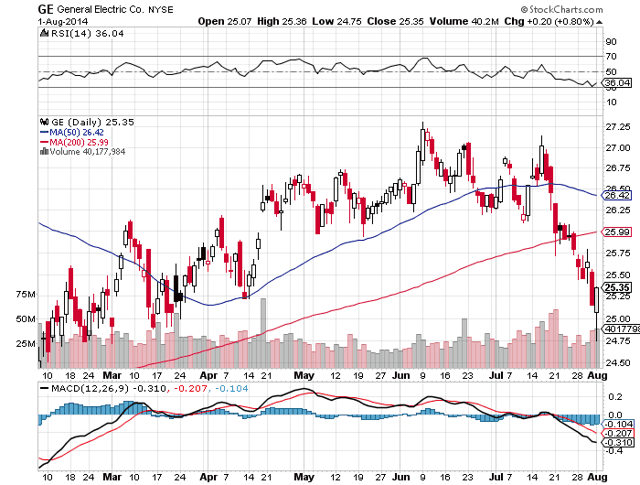 Click to enlarge
The stock's performance over the last year has been nearly unchanged. Since the beginning of 2014, GE is down about 9.6% - but in the last twelve months, the stock is up about 2.6%. Struggling for direction is GE heading into the back end of 2014. The technical picture paints an image of a stock that looks like it's going to continue downward.
The company's forward P/E of 15.18 puts it in the middle of the road for those that want to try and pull the share price either direction. Bulls will tell you this is far too low for a company that plans on growing like GE does. Bears will tell you that as an industrial style conservative dividend payer, the forward P/E could come down a bit.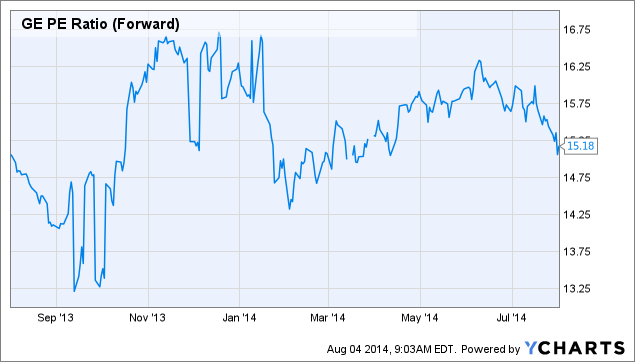 GE PE Ratio (Forward) data by YCharts
Coming off of a strong earnings report with a healthy looking backlog, it's looking like GE is in a spot where they're ready to get aggressive in the way that they grow once again.
This morning, Seeking Alpha reported:
General Electric has announced that it will invest approximately $2B in African nations by 2018 and regards the continent as its most promising growth region.
"We remain a committed partner to Africa's sustainable growth," says CEO Jeff Immelt.
The funds will be spent building new infrastructure projects, training local workers and improving regional supply chains.
GE is increasing spending as the U.S. is shifting from supplying aid towards investing in Africa amid the start of a U.S.-Africa Leadership Summit in Washington D.C. starting today.
The company has claimed that Africa is "the most promising growth region for GE". GE's press release read:
Through partnerships and technology, GE is poised to help increase access, reliability, and affordability of core infrastructure throughout the continent. Africa has emerged as the most promising growth region for GE. Total GE revenues in Africa in 2013 were $5.2 billion and in the past year, GE has won more than $8.3 billion in orders across Africa.

GE Chairman and CEO Jeff Immelt said, "I am proud of our 100-year history in Africa. Through investments such as our new multi-modal manufacturing facility in Nigeria, Algeria gas turbine manufacturing, and our customer innovation center in South Africa, we remain a committed partner to Africa's sustainable growth."
The company is looking to help bolster the infrastructure of the continent. Some of the projects that GE are looking to undertake in the area include supplying gas turbines for electric and a rail investment in Angola. The company continues to dominate the continent, as the PR points out, winning more than $8.3 billion in orders across Africa.
All in all, the company's move to shed itself of finance operations when added to the fact that GE is going to stick to what its good at in trying to help address infrastructure in Africa continues to show that the company is growing and moving in the right direction.
I reaffirm my sentiment on GE on the heels of this news, and continue to believe the company is a good value at its current price for those of a "buy and hold" mentality thinking long-term. I'm bullish on GE here going forward.
Disclosure: The author has no positions in any stocks mentioned, and no plans to initiate any positions within the next 72 hours. The author wrote this article themselves, and it expresses their own opinions. The author is not receiving compensation for it (other than from Seeking Alpha). The author has no business relationship with any company whose stock is mentioned in this article.