Last February, I wrote an article called "Why I'm Not Buying Hershey". At the time, shares in Hershey (NYSE:HSY) were trading at $100.38. The quarterly $0.485 in dividends provided investors with a dividend yield of only 1.92%.
In this article, I said:
"I wouldn't be surprised to see the dividend get bumped up to $0.55 per quarter at the next increase. This would raise the dividend yield to 2.19%, while keeping the payout ratio in the 50%-55% range."
This turned out to be a bit too optimistic, as the company recently announced it would increase its dividend by $0.05, to $0.535/quarter. However, because shares in Hershey have dropped to $89.10, the dividend yield is quite a bit higher than I expected, at 2.40%.
For FY2014, Hershey expects earnings per share to increase by around 9%, which although it is quite a bit lower than the 5 year average EPS growth rate of 17.77%, is still very reasonable.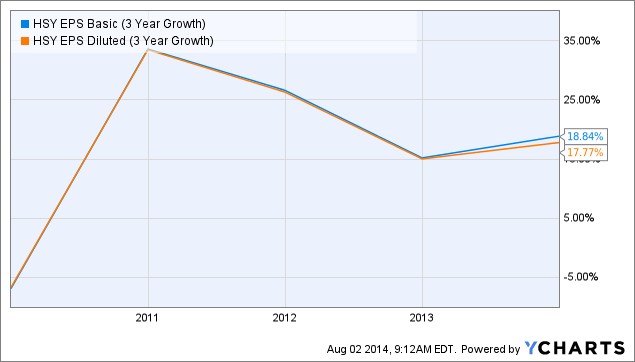 HSY EPS Basic (3 Year Growth) data by YCharts
Analyst expectations for next year's EPS stand at $4.48, which means the recent drop in share price has pushed the forward price to earnings ratio down to only 19.9. Hershey's 5 year average p/e stands at 22.9.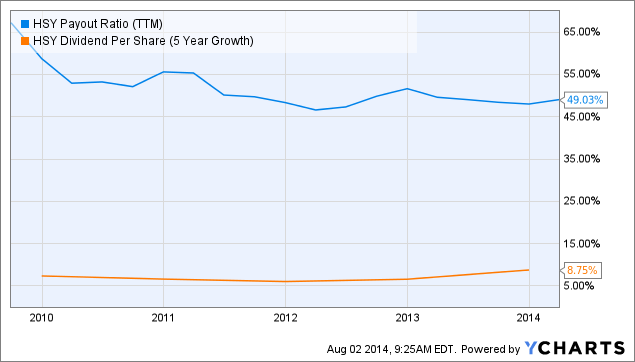 HSY Payout Ratio (TTM) data by YCharts
Thanks to the recent decline, investors can now get a dividend yield of 2.40% on shares of Hershey. Hershey's dividend grows at an average of 8.75%, which means it doubles roughly every 8 years. The payout ratio stands at a very decent 49.0%, which means the company should be able to keep up the dividend growth in years to come, even if EPS growth disappoints in one or more years. If Hershey continues to grow its dividend at 8.75% annually, investors getting in now would have a yield on cost of 5.55% 10 years from now. This could be even higher with dividends reinvested.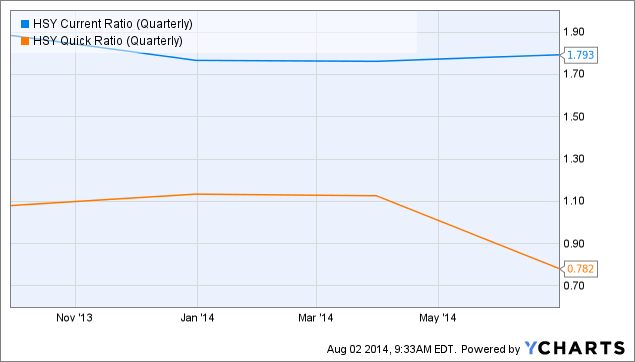 HSY Current Ratio (Quarterly) data by YCharts
Hershey's balance sheet looks very good, with current assets exceeding current liabilities by a wide margin, as can be seen in the graph above. The company has $1.01 billion in cash and equivalents, or $6.21 per share. The long term debt stands at only $1.79 billion, which I consider to be quite low for a company as profitable as Hershey.
Conclusion:
Some companies appear to always trade at a premium valuation. Investors buying Hershey after the recent drop in price will be getting a dividend yield of 2.40%, which has grown by high single digits in recent years. Hershey's balance sheet looks very good, with quite a bit of cash protecting the dividend in case of one or more disappointing quarters. I believe a long term investment in Hershey, with dividends reinvested, could prove to be very profitable.
Disclaimer: I am not a registered investment advisor and do not provide specific investment advice. The information contained herein is for informational purposes only. Nothing in this article should be taken as a solicitation to purchase or sell securities. Before buying or selling any stock you should do your own research and reach your own conclusion. It is up to investors to make the correct decision after necessary research. Investing includes risks, including loss of principal.
Disclosure: The author has no positions in any stocks mentioned, and no plans to initiate any positions within the next 72 hours. The author wrote this article themselves, and it expresses their own opinions. The author is not receiving compensation for it (other than from Seeking Alpha). The author has no business relationship with any company whose stock is mentioned in this article.