It is no secret that when CEO Marissa Mayer took over search firm Yahoo (NASDAQ:YHOO), the company was a mess. With shareholders not likely to forget the rejected purchase offer from Microsoft (NASDAQ:MSFT) a few years earlier, returning investor confidence was a daunting task. Now as Yahoo and Mayer are looking down the barrel of the pending Alibaba IPO, investors should be asking themselves how shares are likely to react. After all, according to a Reuters Breakingviews Calculator, Yahoo's 22.5% stake in the Chinese e-commerce firm accounts for over half its market capitalization. With a market-determined value placed on the Alibaba shares, and accounting for the fact that Yahoo will be forced to sell about a quarter of its holdings in the IPO, Yahoo shares will be much more precisely reflective of investor sentiment.
The situation creates a series of competing pressures and possibilities that Yahoo shareholders will have to consider when deciding whether to buy, sell or hold. On the one hand, the fact that investors will no longer need to buy Yahoo to get Alibaba exposure, is negative for the stock. On the other hand, Mayer has been systematically improving Yahoo, and has returned search-related revenue to a growth state. Ultimately, while I like Yahoo shares over the long term, I would remain very conservative ahead of the IPO.
Cash is King?
Depending on the tax treatment you assign to the sale of the IPO shares, Yahoo is likely to realize a cash infusion of over $5 billion. Mayer has promised to return not less than half of this cash to shareholders, given a real incentive to own shares, or lest hold those shares you already have. Mayer has demonstrated her savvy in spending cash - the $1.1 billion purchase of Tumblr gave the company social media cachet, although it did little to add to the bottom line. Critics worry that another cash infusion is likely to lead to more acquisitions that do little to improve the company's bottom line. In fact, it has even been suggested that Alibaba should simply acquire Yahoo and allow the company to serve a new purpose.
Does the Market Agree?
While Yahoo shares have been range-bound over the last several months, not helped by revenues that fell from $1.134 billion to $1.084 billion in the second quarter on a year-over-year basis, they are up about 29% over the last year and 128% over the last two years. Against the backdrop of a bull market that has finally decided to take a small breather, likely waiting to see what action, if any, the Federal Reserve will take, Yahoo shares have seemed stagnant. The Alibaba IPO has the potential, therefore, to be a catalyst to get the stock moving again, regardless of the direction. Last week, Jon Najarian of OptionMonster reported unusual bullish activity on Yahoo shares; he pointed out that if the IPO is particular "hot," this could provide a real boost for shares, and at least one major investor is betting it will.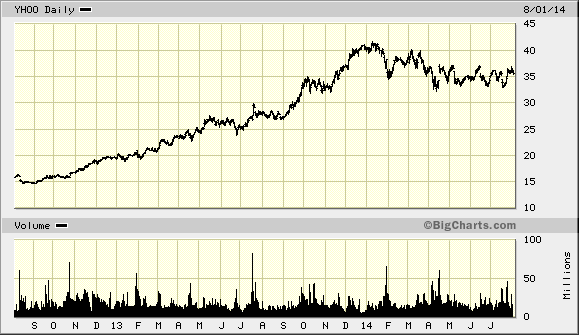 Bottom Line
There are clearly directly competing forces around the Alibaba IPO that could drive Yahoo shares significantly higher or lower. Mayer's fans continue to believe in the long-term potential of Yahoo to return to greater relevance. Critics, however, voice a serious concern that with an Alibaba proxy no longer a pull for shares, Yahoo's appeal will be decreased. The IPO is expected sometime in the next month, and while I do appreciate Mayer's leadership - believing that Yahoo will continue to improve - heading into the IPO, I see shares as having risk that outpaces the upside potential. Holding a small Yahoo position into the IPO is a calculated risk, but I am not a buyer here, or until a clearer picture of the post-IPO Yahoo emerges.
Disclosure: The author has no positions in any stocks mentioned, and no plans to initiate any positions within the next 72 hours. The author wrote this article themselves, and it expresses their own opinions. The author is not receiving compensation for it (other than from Seeking Alpha). The author has no business relationship with any company whose stock is mentioned in this article.