Bank of America (NYSE:BAC) delivered its Q2 2014 earnings recently and the bottom line numbers looked dismal. Profits dropped 43%, weighed down by large litigation charges and lower mortgage originations.
Bank of America's Legacy Mortgage Hangover
On the legal front, BAC settled with American International Group (NYSE:AIG) for $650 million that resolves its related legacy mortgage-backed security litigation.
Bruce Thompson, BAC's CFO, stated on the earnings call that with the AIG settlement, 95% of the unpaid principle balance of residential mortgage-backed securities in which litigation has been enacted or threatened is now resolved. The AIG settlement was only one component of the $3.8 billion in litigation expense incurred in the quarter, which also included an increase in reserves for other legacy mortgage related matters such as the pending DOJ settlement negotiations that is estimated to cost, at a minimum, $15 billion. If not for the bad decisions to purchase Countrywide and Merrill Lynch, much of these expenses may never have been incurred.
BAC's Core Franchise
A great deal of our focus during the past year has been on settlements and negotiations, related to legacy mortgage litigation that has embroiled the firm, but that is all due to past mortal sins that have now been mostly been addressed either through external regulation or internal controls.
With the implementation of Dodd-Frank and the creation of the Consumer Finance Protection Bureau (CFPB), it has become nearly impossible for any financial institution to underwrite any consumer loan that is not pristine. Combine that with a steady improving US economy that has added 1.4 million new jobs in the first half of this year and BAC's leadership position in both consumer and commercial loans with a footprint that spans coast to coast and you may have a recipe for continued positive profit growth into the near future.
Additional Positive Indicators
BAC's retail debit and credit card volumes are up 4% from the same period last year and 8% from last quarter. More importantly, this growth in spending has not been at the expense of deposit balances. Home prices continue to recover throughout the country with some areas reporting potential bubble pricing caused by a home building shortage. This has driven home equity origination up 30% in the quarter.
More transaction and higher balances don't help if people don't pay them and BAC's recent delinquencies numbers show that they are. BAC's net charge off ratio has declined from 0.94% in 2Q 2013 to 0.48% in 2Q 2014 and 30-day delinquencies have decreased from $7 billion to $5.2 billion over the same periods. No doubt, consumer asset quality has been helped by the need to ensure effective consumer compliance enforced by the CFPB. While the economy still continues to recover, BAC is making progress with solid transaction activity and strong asset quality.
It's not all about the consumer transaction and loans. BAC's business segments generated 24% return on capital for the quarter, brokerage assets are up 26% on a year-over-year basis to $105 billion and global banking saw earnings grow 4% from the same period last year and up 9% over the first quarter of 2014 with an 18% return on capital.
Business Segments, Brokerage Assets, Global Banking -- All Looking Up
It's not all about the consumer transaction and loans. BAC's business segments generated 24% return on capital for the quarter, brokerage assets are up 26% on a year-over-year basis to $105 billion, and global banking saw earnings grow 4% from the same period last year and up 9% over the first quarter of 2014 with an 18% return on capital.
Several segments noted declines, but in a world seeking simplicity, BAC's numbers are complicated. Analyst consensus for the quarter was $0.29 per share and excluded the "one-time" legacy mortgage, litigation charges. BAC reported earnings of $0.19 per share including legal costs and $0.41 excluding legal costs.
This would make it appear that this was a win for BAC, but the question that still needs to be answered is how much of the $0.22 in litigation charges was "one-time" vs. "many times".
Continued Cutting Costs
In October 2013, BAC announced the elimination of 4,200 mortgage jobs, due to lower refinancing volumes caused by increased interest rate, refinance "burn-out" and fewer delinquent loans. Just last month it slashed an additional 540 positions in Charlotte in its mortgage servicing division, also related to declining mortgage delinquencies.
These cuts are evident in the quarterly numbers as non-interest expenses of $18.5B are down $3.7B from the first quarter of this year with total FTE headcount down 2.3% from last quarter.
These cuts are expected to achieve $2 billion in savings by the end 2014.
Conclusion: If BAC Settles, Buying Time Could Be In Sight
We have been very negative on BAC in 2014. With legal fees and fines through the roof, along with questionable corporate ethics and lavish CEO compensation, it has been very difficult to find any positive points.
Since our first article on the topic in October 2013, in which we recommended shareholders take profits, news has only gotten worse, and we have continued to recommend caution.
However, with some bright spots in recent earnings results, and a settlement on the horizon, we are considering changing our tune.
The question is not just about the uncertainly of the pending DOJ litigation/settlement, but whether the rising tide of consumer confidence and spending will be sufficient to overwhelm any settlement that BAC has to make to shed its past.
The bank has publicly stated that it has offered $12 billion to settle, but estimates have run as high as $20 billion. There is also no guarantee that a settlement will be reached, which would result in a more costly lawsuit and spiking future period expenses related to litigation reserves. It would be senseless for BAC management not to make some sort of settlement in favor of a prolonged and uncertain litigation, which would have a greater negative effect on shareholder value.
Once a compromise is reached, it may place BAC in a weaker financial position but will also provide a clearer picture of its future.
In Q3, we suggest investors watch BAC's settlement process carefully; and following this, consider the possibility of taking a position in BAC.
It's very possible the stock could rally the moment the settlement is announced even if it exceeds $15,000,000,000.00.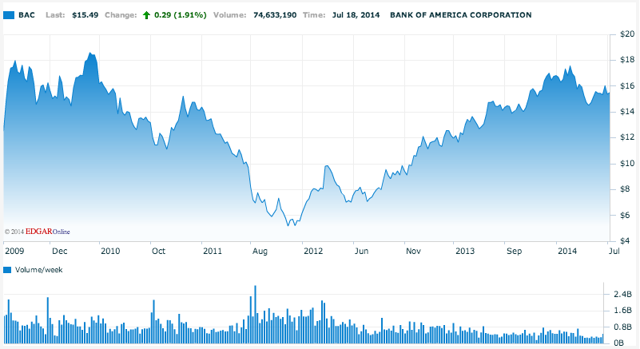 (Nasdaq.com)
We invite readers wishing to join the ongoing debate over the future of Bank of America to click the +Follow button above the title of this article, and those looking for the latest updates to click +Get real-time alerts.
Disclosure: The author has no positions in any stocks mentioned, and no plans to initiate any positions within the next 72 hours. The author wrote this article themselves, and it expresses their own opinions. The author is not receiving compensation for it (other than from Seeking Alpha). The author has no business relationship with any company whose stock is mentioned in this article.