Last week Becton, Dickinson (NYSE:BDX) reported earnings that once again beat expectations, something this healthcare powerhouse has been doing for decades. For those of you who may not be familiar with the company, let's start with a little background.
History
The company was founded in 1897 by two businessmen, Maxwell Becton and Fairleigh Dickinson. The original product was a glass syringe. Shortly after founding the company, an M&A strategy was put in place that would bear fruit for decades to come. In 1904, they acquired the Philadelphia Surgical Company to expand the product offering.
In 1999, the company gave up the founder's names and changed to simply BD. Today, BD is still headquartered in New Jersey but conducts business in more than 50 countries with a product offering that has grown into the hundreds following countless acquisitions and internal R&D.
Segments
The business operates three primary segments - Medical, Diagnostic and Bioscience.
Medical was the company's roots, this segment is the world leader in injection and infusion based drug delivery. Accounting for more than 50% of sales, this is also the company's largest segment. Representative products include needles, syringes, catheters.
Diagnostic is the 2nd largest segment and focuses on helping laboratories increase quality and productivity. Representative products include systems for specimen collection, blood culturing systems and lab automation.
Finally, Bioscience is the newest and smallest segment, accounting for roughly 13% of revenue. This segment focuses on improving research, drug discovery and biopharma production with products like cell sorters and analyzers and reagent systems.
Valuation
At first glance, the P/E ratio of 19x looks somewhat demanding. To put it in perspective, I looked at the P/E back to 1990 (furthest back I could find data). Over that time period the average valuation was 18.2x. If you exclude the 2008/9 period when shares traded at 14.8x, the average has been over 19x, making today's valuation look "average."
Further, you have to look at BDX relative to other large healthcare companies. During this period of time, the S&P 500 Healthcare index averaged a P/E ratio of 21x and today trades a little over 20x. So while not offering a lot of valuation support, BDX is slightly cheap relative to other healthcare companies and in line with its own history. This is a somewhat difficult fact for some people to accept seeing how shares have gone vertical since 2012 climbing 50% and that BDX has compounded over 13% since IPO for a cumulative return over 4,000%.
Cash to Shareholders
BDX has attracted many shareholders recently given its strong history of dividend increases. I thought it would be worth a minute to visit the dividend story. First, using dividend yield for valuation, BDX trades today with a 1.8% yield compared to 1.4% historically. 1.8% might not sound extra juicy but 30% above historical average does.
Second, the dividend continues to increase. Currently they are paying $0.545 per quarter - this is more than double the dividend payment from 2007. How defensive is their business? In 2008/9 when most companies were cutting payouts to investors, BDX increased theirs - 16% in 2008 and another 16% in 2009. Since 1990, the dividend per share has compounded at 12%.
All while maintaining a fairly constant payout ratio - most dividend investors miss this, as the payout ratio creeps higher, it becomes more difficult for management to increase it. Since 1990, BDX has averaged a 27% payout ratio, today it stands at 32%.
But dividends are not the only way to return cash to shareholders. Becton, Dickinson's management has also been aggressive with share repurchases. Since 1990, the share count has shrunk from over 300 million to under 200 million today. In 25 years, they bought back 1/3 of the company and it looks like they have no plan to slow down. In the most recent quarter they announced another $187 million of stock had been repurchased, bringing the year-to-date amount to $400 million (close to 2% of the market cap).
Outlook
This all sounds great but what does it tell us about the next 50-100 years? The beautiful thing about the healthcare industry is that it grows above the rate of GDP. Take a look at this chart from the President's fiscal outlook for 2009.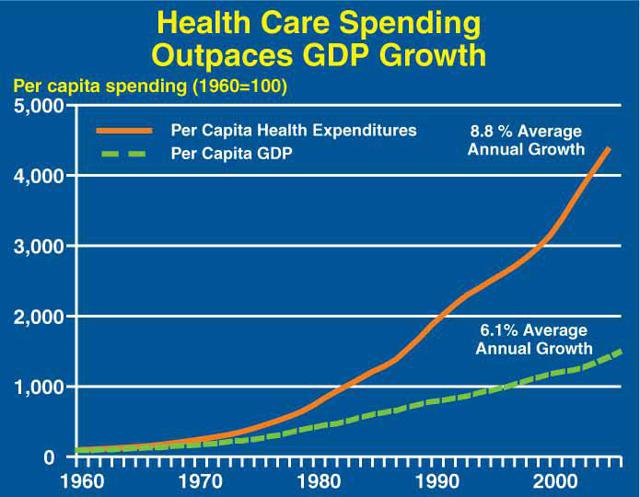 Source: Citizen CEO
And this was before the Affordable Care Act went into action broadening access to healthcare. Time will tell but this divergence is likely going to pick up. But GDP growth has been anemic, so 2% healthcare spending vs. 1% GDP may not sound like much. What about the rest of the world where GDP is a little more robust?
The following chart shows healthcare spending vs. GDP per capita.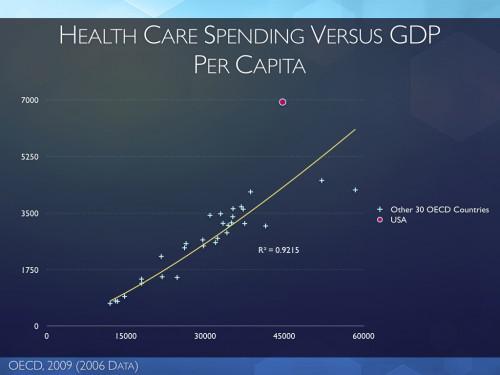 Source: The Incidental Economist
The takeaway - as people become richer, they consumed more healthcare. Not a huge surprise, right? If you're worried about feeding your family you can't really spend money on doctor's visits with the possible exception of life threatening issues. Compare that to what the typical American does? Almost every time I've been to the doctor, it's been for something other than life threatening.
Surely the relationship will prove to be less precise than this chart but the general trend is undeniable, and BDX is already capturing it today. In the most recent quarter, they announced overall revenue growth of 5% (not bad), but China grew 21% and other Emerging Markets grew 18% - 3-4x the company total! This is what gives comfort that management has a long runway ahead of them and investors have a long runway of dividend growth.
Further, management has not stopped investing in the business. Too often the popular press runs pieces on American companies more focused on share buybacks and dividends rather than innovation. That couldn't be further from the truth at BDX. Management has been spending over $130 million on R&D, up from $55 million in the year 2000. They see the huge potential ahead of them and continue to invest to meet the healthcare needs of the planet.
Disclosure: The author is long BDX. The author wrote this article themselves, and it expresses their own opinions. The author is not receiving compensation for it (other than from Seeking Alpha). The author has no business relationship with any company whose stock is mentioned in this article.