Our unique position within the global luxury market combined with our compelling diversified product assortment provides tremendous growth opportunity across the North American and International markets. As we look ahead, we will continue to make strategic investments in our business that will support our long term growth objectives and drive value for our shareholders.

- Kors CEO John Idol
Michael Kors (NYSE:KORS) looks like its set to actually open lower today despite posting earnings that - as I predicted - blew away the street's expectations. Kors came out this morning and reported $0.91/share EPS on revenue of $919.2 million - which crushed expectations of $0.81/share EPS and $851 million in revenue. Same store sales were enormous, coming in at 24.2%.
Shares had touched as high as the mid $90's before investors and analysts started to read between the lines - inventory issues and current quarter guidance saw the stock head back towards $80, and then eventually down to $77, where the trading is currently taking place.
The interesting thing is that Kors also offered earnings and revenue guidance for the full year that were above the analyst consensus. They're expecting EPS of $4.00-$4.25, well above the $3.96 the street was expecting. Revenue guidance was bumped up to $4.25-$4.35 billion, well above the consensus of $4.2 billion.
The company's current quarter estimates were a bit below the consensus forecast, which is what seems to be giving investors pause heading into the opening bell.
Jim Cramer, playing Monday morning quarterback after the results were out exclaimed on CNBC this morning that "people are stupid" for trading off of the headlines and not waiting for the conference call. While I agree with Jim that people should always read behind the headlines and listen to the call, it was still a monster beat with raised guidance for the year. I'm also not sure insulting the idiots of the world is the best bet for Jim Cramer to retain his viewing audience. But, that's another story for another day.
Analyst consensus right now, as reported by Tickerreport.com, has shown analysts trimming their price targets. Baird has a $98 PT on the stock and Jefferies has a $80 PT on the stock:
Several analysts have recently commented on the stock. Analysts at Bank of America initiated coverage on shares of Michael Kors Holdings in a research note on Thursday. They set a buy rating and a $120.00 price target on the stock. On a related note, analysts at Robert W. Baird downgraded shares of Michael Kors Holdings from an outperform rating to a neutral rating in a research note on Wednesday, July 30th. They now have a $98.00 price target on the stock, down previously from $114.00. Finally, analysts at Jefferies Group cut their price target on shares of Michael Kors Holdings from $95.00 to $80.00 in a research note on Friday, July 18th. They now have a hold rating on the stock. One equities research analyst has rated the stock with a sell rating, eight have given a hold rating, sixteen have assigned a buy rating and two have assigned a strong buy rating to the company's stock. Michael Kors Holdings has a consensus rating of Buy and an average price target of $105.64.
I think these estimates are low, and continue to think that Kors could press $100 heading into the holiday season of 2014, as long as the macro market indices can hold up.
Bears also pointed out that they didn't like the amount of inventory that the company was currently carrying and peppered in the fact that the company was just now starting to look at steep discounting in order to continue to drive its growth. This discounting was putting the company's margins under pressure.
The company came out an defended itself against these allegations this morning and if you think the company is still in the meat of its adoption curve - again, especially in menswear - there's an opportunity here. International sales continues to be a big opportunity for the company, as well. The Kors analyst on CNBC this morning claims that the company still hasn't "scratched the surface" in places like Spain, Germany, and Italy. Europe saw same store growth of over 50%, which is absurd.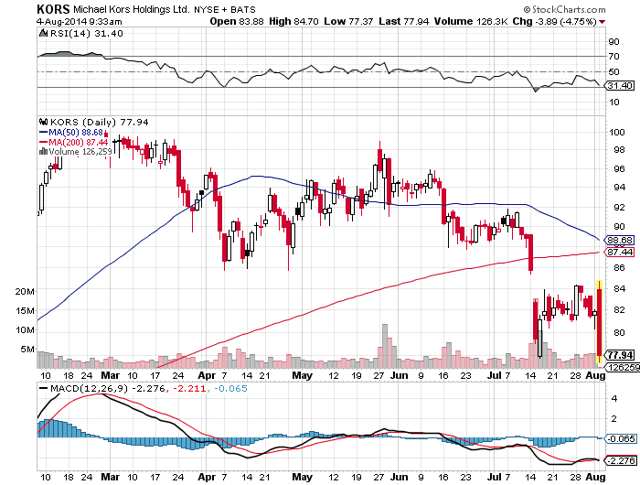 Click to enlarge
However, I think that the lower Kors trades, the more attractive it's going to look to me for a long position going forward from here. I also think, judging by the technical picture here, that you may have a chance to get in Kors even lower if the $78 level doesn't hold today. I'll be watching to see if the stock's support around $78 shows any strength today.
This is a company that shows no signs of growth issues for the time being and I still contend they could have a stronger year than their raised guidance. Kors could come back to surprise into the holiday season this year, and this steep discount on the stock's price in the face of its great numbers last quarter could make this an attractive buy here.
Best of luck to all investors.
Disclosure: The author has no positions in any stocks mentioned, but may initiate a long position in KORS over the next 72 hours. The author wrote this article themselves, and it expresses their own opinions. The author is not receiving compensation for it (other than from Seeking Alpha). The author has no business relationship with any company whose stock is mentioned in this article.