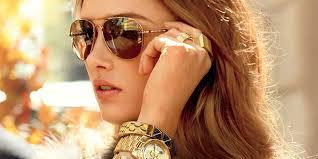 Picture: Model from Michael Kors Catalog Source: dailyfemalemodels.com
There are two things you need to know about style: [i] you need to "own it," and [ii] it should be "effortless." In that vein, Michael Kors (NYSE:KORS) delivers both effortless style and earnings. The company announced its Q1 2015 earnings this morning and surpassed all expectations. After a down week for the market coming into today, this report was refreshing. However, the stock is currently down in pre-market trading $1.58 (1.93%) to $80.25. It may get caught up in Coach's (NYSE:COH) backdraft, as I predicted going into earnings. Below are the company's historical financial results: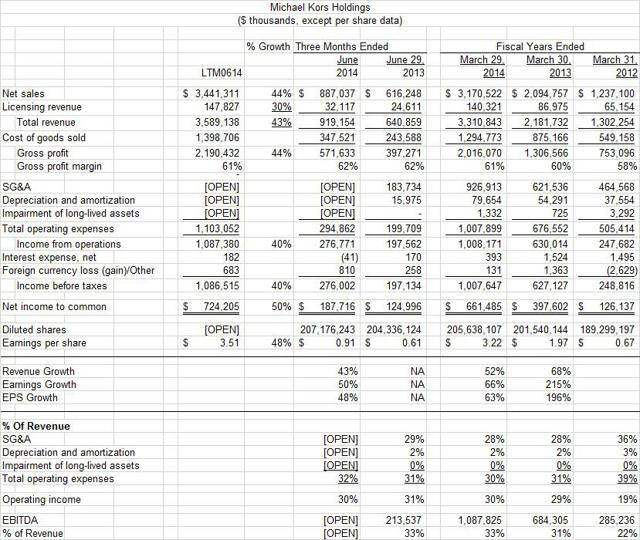 Revenue
Analysts were expecting revenue of $852 million, a 33% increase above Q1 2014 results of $641 million. Actual revenue for the quarter came in at $919 million, an increase of 43% year-over-year.
Retail net sales increased 48% to $480 million, driven by a 24% increase in comparable store sales and 115 net new store openings since the previous year. Wholesale net sales increased 40% to $407 million and licensing revenue increased 31% to $32 million.
North America (78% of total revenue) grew at a 30% clip annually. Meanwhile, Europe (20% of total revenue) increased 128%.
Earnings
Kors maintained its gross margin at 62% versus the prior year period. This may dispel some of the rumors heading into earnings that Kors had to resort to discounting in order to move merchandise amid expansion efforts.
Total operating expenses ticked up to 32% of revenue versus 31% from a year earlier, implying that there still may be opportunities for economies of scale.
Annually net income and earnings per share increased 50% and 48%, respectively.
Earnings per share of $0.91 beat expectations of $0.81.
The company gave Q2 2015 guidance of $950 to $960 million in revenue and earnings of $0.85 to $0.87 per share. Baked into these figures are comparable store sales increases in the high teens. However, average analysts' estimates for the next quarter call for revenue of $959 million and earnings per share of $0.89.
Valuation
At Friday's close of $81.83 per share, Kors' market capitalization was $16.7 billion, or 23x net income through last 12 months ended June 2014 ("LTM0614) of $724 million.
Conclusion
Kors' revenue and earnings exceeded expectations. Its consistent gross margin year-over-year may have assuaged fears of increased discounting. However, after warning on revenue and earnings guidance, the stock may trade down further. I rate Kors a hold.
Disclosure: The author has no positions in any stocks mentioned, and no plans to initiate any positions within the next 72 hours. The author wrote this article themselves, and it expresses their own opinions. The author is not receiving compensation for it (other than from Seeking Alpha). The author has no business relationship with any company whose stock is mentioned in this article.