Michael Kors (NYSE:KORS) reported better than expected earnings, however, it has sold off this morning, as it gave weak guidance. For the quarter, Kors earned $0.91 per share on revenue of $919.2 million, handily beating the estimates of $0.81 per share and $851.66 million in revenue. Further, comparable store sales grew a prodigious 24.2%. Nonetheless, despite raising its full year guidance, its second quarter guidance was tempered and investors subsequently sold off the shares.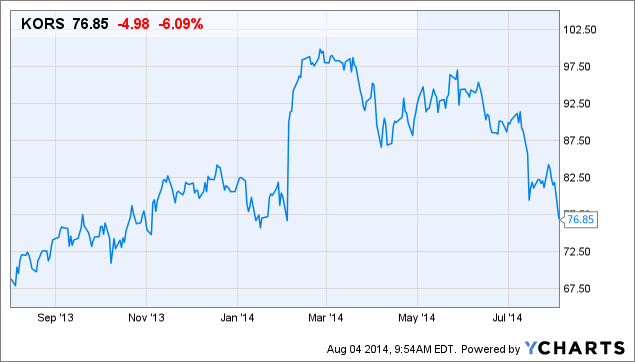 KORS data by YCharts
Positive Release
Michael Kors' positive quarter was summed up well by CEO John Idol:
"Our Fiscal 2015 first quarter earnings results demonstrate the strong momentum in our brand across North America, Europe and Asia. Our success in establishing Michael Kors as a global luxury lifestyle brand is grounded in Michael's vision for design and the aspirational jet-set luxury experience we offer our customers."
Source: Press Release
During the quarter, revenue increased an incredible 43.4% buoyed by comparable store sales growing 24.2% y/y. Moreover, gross profit as a percentage of total revenue increased to 62.2% from 62.0% in the same period last year. Although the North America segment appears to be saturating to a degree, with comparable store sales growth of 18.7%, its international sales have been growing tremendously. In Europe, revenue grew 128%, with comparable store sales expanding a staggering 54.2%. In Japan revenue increased 89% due to comparable store sales growing 48.8%.
The main negative from the report is that promotional activities, a euphemism for acute competition hurting margins, resulted in operating income falling to 30.1% of total revenue, which is down from 30.8% in the same period last year. Previously margins were expanding each quarter, so this deterioration has investors worried that cracks are forming and that this may be just the beginning of further margin deterioration. However, margins did not fall much and are still at a premium level. Michael Kors has a strong brand and that should prevent margins from falling much further.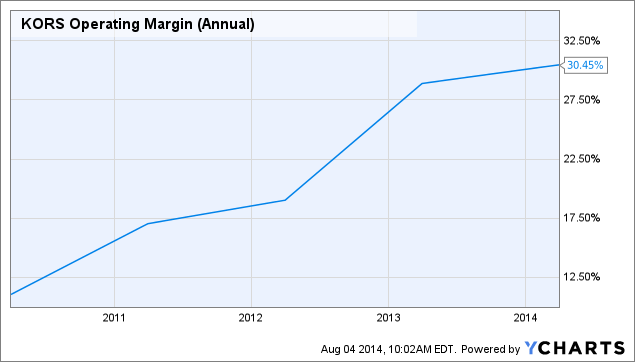 Management Guidance
During the second quarter, management guided for revenue of $950 million to $960 million and EPS falling to $0.85 to $0.87. This guidance falls below consensus estimates of EPS of $0.89 and revenue of $959.47 million. However, for the full-year, Kors raised its revenue estimate from $4 billion - $4.1 billion to $4.25 billion - $4.35 billion. Moreover, the company boosted EPS guidance from $3.85 - $3.91 to $4.00 - $4.05. Although analysts were expecting lower revenue of $4.2 billion, they estimated EPS being stronger at $3.96, and that lack of EPS growth is the crux of the reason for the sell-off this morning.
Buying Opportunity
With the sell-off following the earnings release, Kors trades at an all-time low with respect to its price to earnings ratio and near its all-time low on a price to sales basis. The company has a history of giving conservative guidance. In May, Kors forecasted $0.78 to $0.80 EPS on revenue of $840 million to $850 million, but handily beat its forecast. Michael Kors' international strategy success is apparent with triple-digit growth in Europe. With Kors still being relatively small with less than $1 billion in quarterly revenue, the opportunity to continue growing is evident. Myopic investors are giving you an opportunity to accumulate shares at this discounted level.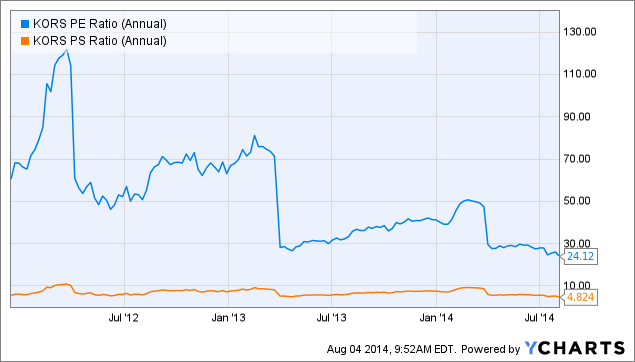 Disclosure: The author has no positions in any stocks mentioned, and no plans to initiate any positions within the next 72 hours. The author wrote this article themselves, and it expresses their own opinions. The author is not receiving compensation for it (other than from Seeking Alpha). The author has no business relationship with any company whose stock is mentioned in this article.