Since I tend to spend a majority of my time covering the oil and gas sector, asset-related events are always something I tend to keep an eye on. With that said, and in the wake of its latest asset acquisition, I wanted to highlight several reasons why I've chosen to stay bullish on units of Vanguard Natural Resources (NYSE:VNR).
Company Overview
Headquartered in Houston, Texas, Vanguard Natural Resources, LLC, through its subsidiaries, acquires and develops oil and natural gas properties in the United States. It owns properties, and oil and natural gas reserves, which are located in eight operating basins, including the Arkoma Basin in Arkansas and Oklahoma, the Permian Basin in West Texas and New Mexico, the Big Horn Basin in Wyoming and Montana, the Piceance Basin in Colorado, the Gulf Coast Basin in Texas and Mississippi, the Wind River Basin in Wyoming, the Williston Basin in North Dakota and Montana, and the Powder River Basin in Wyoming.
Hunt Oil Asset Acquisition
On Monday, August 4, Vanguard Natural Resources announced that it had agreed to acquire natural gas, oil and natural gas liquids assets in North Louisiana and East Texas from Hunt Oil for $278M. The properties consist of approximately 23,000 net acres that are currently producing an estimated 17.5M cfe/day, two-thirds natural gas and one-third oil and NGLs. The acquisition also possesses an estimated reserve life of over 23 years which is based on internally estimated proved reserves of approximately 150 Bcfe.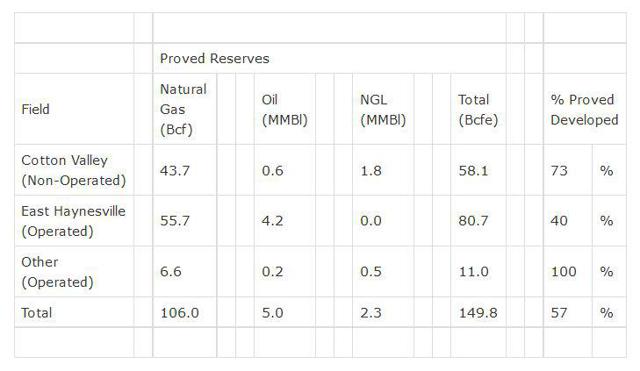 Click to enlarge
One of the most important things both unitholders and potential investors should note is the fact that the acquisition will be immediately accretive to DCF which means that there is an even greater chance which could see an increase of the company's monthly distribution.
A Look At Vanguard's Annualized Distribution Growth
Over the last eight years we've seen VNR's distribution climb from $1.70/unit to its present level of $2.52/unit which is due in large part to increases in the company's DCF (which stood at $41.8 million at the end of Q1). If the company can continue to enhance its DCF through transactions that are similar in scope to the Hunt Oil acquisition there's a very good chance we could see an annualized distribution range of $2.85/unit-to-$3.00/unit by the end of 2014, and an annualized distribution range of $2.90/unit-to-$3.30/unit by the end of 2015.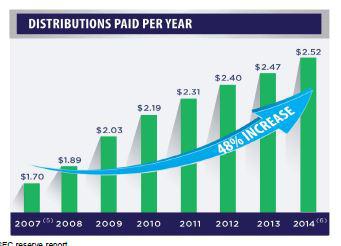 Recent Trend Behavior Should Get A Boost From The Hunt Oil Asset Acquisition
On Friday, shares of VNR, which currently possess a market cap of $2.46 billion, a forward P/E ratio of 19.28, and a dividend yield of 8.19% ($2.52), settled at a price of $30.77/unit. Based on Friday's closing price of $30.77/unit, shares of VNR are trading 3.30% below their 20-day simple moving average, 1.35% above their 50-day simple moving average, and 5.67% above their 200-day simple moving average.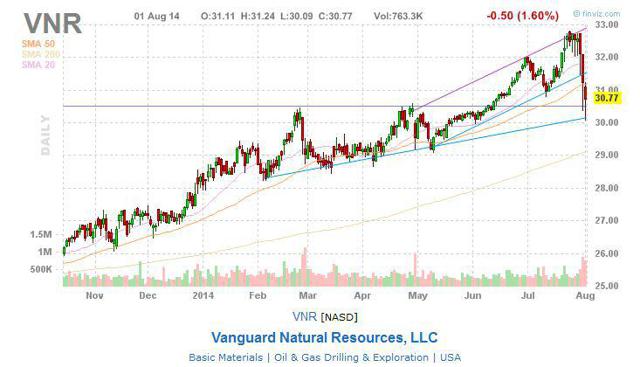 Click to enlarge
Based on the above referenced trends, these numbers would normally indicate a short-term downtrend and a long-term uptrend for the stock, which generally translates into a selling mode for most near-term traders and a buying mode for most long-term investors. However, the company's near-term trend behavior should reverse curse and begin to move in a positive direction as a direct result of the transaction.
Conclusion
For those of you who may be looking to establish a position in Vanguard Natural Resources, I'd continue to keep an eye out for any additional developments that may come as result of the Hunt Oil asset-based acquisition and also keep an additional eye on the partnership's monthly distribution as I strongly believe it will increase as a direct result of the transaction.
Disclosure: The author is long VNR. The author wrote this article themselves, and it expresses their own opinions. The author is not receiving compensation for it (other than from Seeking Alpha). The author has no business relationship with any company whose stock is mentioned in this article.