Michael Kors' (NYSE:KORS) Q1 '15 results indicates that topline revenue growth is sustainable in the near-term and that the company has shown solid execution in across all geographic regions despite the industry headwind of consumers shifting their preferences to cheaper alternatives. Consolidated sales of $919m (+43% y/y) was above consensus $851m (+33% y/y) with strength in Europe (+128% y/y) and Asia (+89% y/y) offsetting the deceleration in North America (30% y/y).
While operating margins contracted 70bps y/y due to discount, it actually improved 3ppt q/q, which supports my earlier view that discounts are not aggressive as it appears. EPS of $0.91 (+49% y/y) also beat consensus $0.81 (+32% y/y). The stock sold off following the print as investors are concerned about the increased markdowns during the quarter but I continue to believe that promotion will be rational and that the brand integrity will be intact. Reiterating my bullish view on the stock.
All around strength
North America sales decelerated for the second consecutive quarter with sales +30% y/y vs. +43% y/y in Q4 '14 and +50% in 3Q14 given the maturing US handbag and accessories market, but the comps is still strong (+18.7% y/y). Robust sales from Europe and Asia were also able to offset this weakness as European revenue accelerated for the second consecutive quarter(+128% y/y vs. 125% y/y in Q4 '14), and sales in Japan was up 89% y/y with comps +49% y/y. Far east saw strong double digit comps with over 100 stores in region. I believe that KORS is still in its earlier days of growth and could see store expand to 200 units while maintaining brand integrity via pricing rationalization.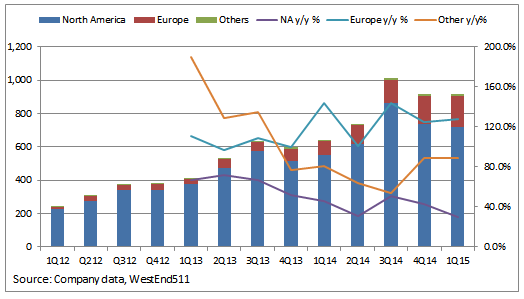 In terms of segment sales, growth decelerated across retail, wholesale and licensing, with discounts driving down the growth in wholesale. While retail growth did not decelerate much (+47.5% y/y vs. 50% in Q4 '14), wholesale continues to be a drag to topline growth (+40% y/y, vs. 50.5% in Q4 '14).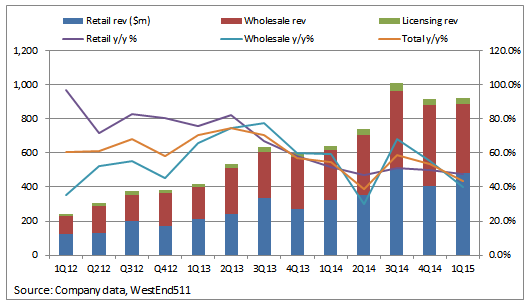 Margins holding up
Gross margin expanded ~200bps y/y to 62% but operating margin declined 70bps y/y to 30.1%.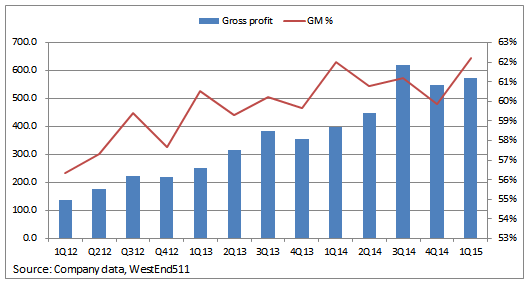 Surprisingly, retail margin expanded 7.7% q/q, despite down 1.8% y/y, suggesting that discount within the retail segment is not as aggressive as the street had anticipated. In-line with my channel check, wholesale operating margin declined 60bps q/q due to discounting. Overall, operating margin is fairly stable and I expect disciplined discount to avoid brand and margin dilution.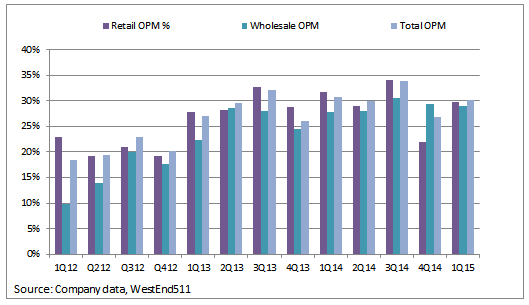 Positive guidance
Management guided $950-960m in revenue for Q2 and EPS to be between $0.85-0.87. For the full-year guidance, revenue is expected to be $4.25-4.35b and $4.00-4.05 in EPS, which is higher than the prior guidance of $3.85-3.91 in EPS on $4.0-4.1b. Going forward I expect KORS to continue its robust revenue growth driven by robust overseas comps. While the market is concerned about margin contraction due to discount, I do not expect KORS to aggressively dilute its brand via discount similar to what Coach (NYSE:COH) did. Pricing rationalization is here to stay and I see the post-quarter pull-back a good buying opportunity. At 20x earnings with an EPS growth rate of 23% implies a PEG of 0.8x, the stock is attractive compared with its peers given its stronger growth profile. I remain buyer of the stock.
Disclosure: The author has no positions in any stocks mentioned, and no plans to initiate any positions within the next 72 hours. The author wrote this article themselves, and it expresses their own opinions. The author is not receiving compensation for it (other than from Seeking Alpha). The author has no business relationship with any company whose stock is mentioned in this article.