El Pollo Loco (NASDAQ:LOCO), a casual dining restaurant chain, had its IPO on July 21, 2014 at $15 per share, the higher-end of its pricing range between $13-$15. It has since been on a tear, and is now above $40.
I have looked at restaurant IPOs this year and last year, and although some of them shot up to 2x and almost 3x their IPO price, not a single one has held onto 2x the IPO price. LOCO's IPO price was $15, so like other restaurant IPOs, it's highly likely it will fall below $30 sometime between now and shortly after it reports Q2'14 earnings. Also, no stock has reached a 3x share price of its IPO within the first year, which LOCO is almost at. I don't think LOCO will be an exception to this pattern, for reasons I explain later in this report.
The initial price behavior of IPOs in the past couple years has been over-exuberance, especially restaurant IPOs. The excitement of a new IPO has many people and the media talking about it, and so the price goes up as people buy. Then it becomes a momentum play and people buy it simply because it is going up.
However, these types of momentum IPO situations almost always reverse once the excitement ends, and the stock ends up settling somewhere between its original IPO price and double its IPO price. The following charts illustrate this point.
Potbelly (NASDAQ:PBPB), a sandwich shop franchise, IPOed at $14 per share on October 4th, 2013, at the high-end of its range. It jumped that day to the mid-$30s, but it only took a couple weeks to fall to the mid-$20s. It never reached the $30s again, and is now trading at around $12, below its IPO price.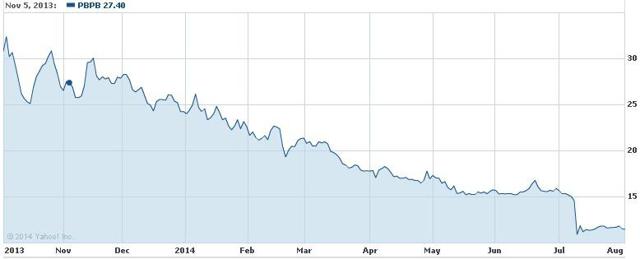 Zoe's Kitchen (NYSE:ZOES), which operates fast casual Mediterranean cuisine restaurants in the US, IPOed at $15 on April 10th, 2014, the high-end of its range. It immediately jumped 64% that day, in June reached a peak of $35.59, and now sits at $28 for an 87% gain over its IPO price. This excellent article recommends investors buy ZOES instead of LOCO.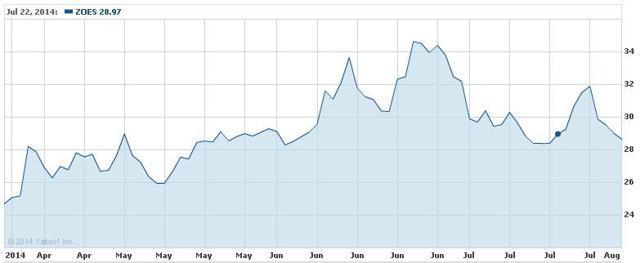 Papa Murphy's (NASDAQ:FRSH), an operator of Take 'N' Bake pizza stores, priced its IPO at $11, the low-end of its range of $11-$13, opened for trading on May 1, 2014 at $12.10, but fell that day and never reached that price again. It's now at $8.35.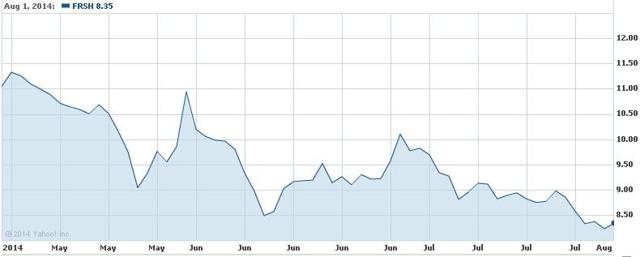 Noodles & Co. (NASDAQ:NDLS), a cooked-to-order fast casual restaurant chain, priced its IPO at $18, higher than its range of $15-$17 per share, and opened for trading on June 28, 2013 at $32. It went higher in the next few days to peak at $49.75. Now, it's trading at $27.22.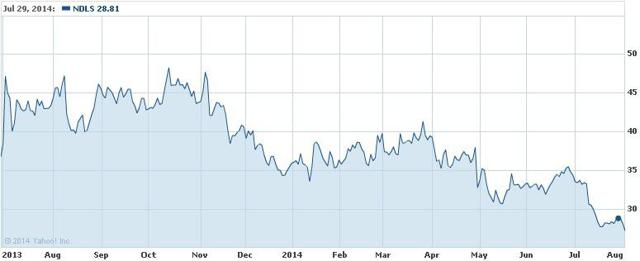 From the above chart, NDLS didn't start really pulling back from the mid $40s until November. This is because its earnings disappointed investors. In general, the ideal time to short a momentum play is before earnings are reported and reality sets in for investors.
Hot IPOs in other sectors have followed this same trend, and have not remained above 2x their IPO price. GoPro (NASDAQ:GPRO) opened at $24 on June 26, 2014, went as high as $50, and now is trading around $41. Twitter (NYSE:TWTR) had its IPO at $26 on November 7, 2013, surged that day and later went as high as $74, and now is at around $45.
Will LOCO Break The Trend And Remain Over 2x Its IPO Price? Probably Not
There are several reasons why LOCO will not be the restaurant chain to remain over 2x its IPO price and break this trend.
The reason why LOCO had the IPO was to pay off part of its massive debt load, NOT for expansion. It last reported $289M worth of debt, so this IPO will pay off about $100M of it. The $188M of debt left on its balance sheet will still hinder its growth initiatives. Without rapid growth, LOCO's high valuation isn't justified.
With such a successful IPO, LOCO is likely tempted to do a follow-on offering. Since it originally valued the company at no more than $15 per share, the secondary offering can't be much more than $20. A secondary, or even the fear of a secondary, will swiftly halt and reverse LOCO's upward momentum.
Weak earnings. LOCO posted a net loss of $17M in 2013. For Q1'14, it reported a net gain of $5.47M. It's possible LOCO heavy loaded the first quarter to have positive earnings to make for a successful IPO. But even if it didn't, if it performs the same for the year, then 2014 earnings will total $22M for a 2014 forward PE of 67. That's very high for a mature restaurant chain with minimal growth. Chipotle's (NYSE:CMG) 2014 forward PE is around 50, and it has experienced faster growth than LOCO and has no debt.
Now Is The Right Time To Short LOCO
One could be afraid to short LOCO now and get caught up in a short squeeze. But if one doesn't short it here, it could fall back down to $30 before you get the chance to. For the following reasons, I believe the risk/reward suggests now is a good time to short it.
No stock has risen to 3x its IPO within the first year. In the examples I show above, no stock, not even TWTR, has reached 3x its IPO within the first year. A share price of $45 would be 3x LOCO's IPO. LOCO is too simple of a business and its future success is too uncertain for it to go up that high. Investors will put downward pressure on the stock price and sell before it gets up there.
Options trading begins August 4th. Before, there were a limited number of shares to short LOCO. Now on August 4th, that won't be a problem. Traders and short investors can buy puts and sell calls all they want, which requires the market maker to naked-short the stock to backup its options writing. This should put pressure on the stock and might be the spark that ignites a downward panic.
LOCO Could End Up Like PBPB
PBPB's revenue in Q1'14 was $73.8M, and broke-even, LOCO's revenue was $81.4M and had $5.47M net income for that time period. Almost identical numbers, yet LOCO has a market cap of 4.5x that of PBPB. Also, PBPB doesn't have any debt. If LOCO had PBPB's market cap, it would be trading at around $8.50 per share. What's to say that PBPB won't all of a sudden experience increased growth, and LOCO's growth stays the same? Stranger things have happened.
Disclosure: The author is short LOCO. The author wrote this article themselves, and it expresses their own opinions. The author is not receiving compensation for it (other than from Seeking Alpha). The author has no business relationship with any company whose stock is mentioned in this article.