Now that the Fed has rolled out QE2, many investors are surprised that bonds have been struggling, especially the longer maturities. Those ETFs that hold 20 and 30 year Treasuries and corporate bonds, for example, have been especially weak. While this has resulted in higher yields it is having the unfortunate effect of decreasing the capital gains that investors have enjoyed after a multi-month run-up in prices. This is making life complicated for dividend and income investors.

Among the features of the Alert HQ Premium site there are several stock screens that focus on dividends. In particular, I will be identifying those stocks that just raised their dividend during the previous week and yet are still more or less in the value stock category.

The following list is from this weekend's screen: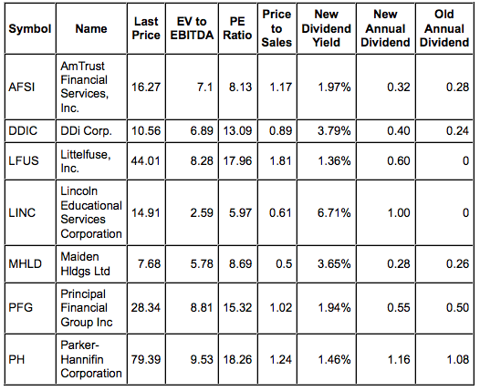 Many of these stocks have been discovered by investors and are in solid up-trends. AmTrust Financial Services, DDi Corp, Littelfuse, Principal Financial Group and Parker-Hannifin all fall into this category.
One is beginning to recover from a sell-off: Lincoln Educational Services (which I recently wrote about.)
Then we have Maiden Holdings. This stock seems to have been consolidating for a couple of months now. It was threatening to break out when the recent pull-back began. After today's gains, it is now positioned for a breakout again.
This list of stocks fits the bill for anyone who considers themselves to be value investors but who want the safety of dividends and a bit of momentum, too. For the most part, then, these stocks have three important things going for them:
Rising dividends which are generally an indication that management considers the company's financial position to be strong
Reasonable valuations indicating the stocks are not particularly over-priced
Rising trend-lines that are an indication that the market has some confidence in these stocks
As such, these seven stocks are good candidates for income investors and value investors alike.
Disclosure: No positions in any of the stocks listed