On April 16, 2014, BlackBerry (NASDAQ: BBRY) shares dropped off to a multi-month low, at $7.10. As of July 10, by the end of closing, traders had bid up BlackBerry stock to $11.65 per share, a year-to-date high. Within three short months, BlackBerry shares had notched 64% gains that far outpaced the Nasdaq Composite and broader stock market returns. These BlackBerry investment gains, however, were not exactly the result of real bottom line growth. Rather, BlackBerry shareholders were caught in a violent short squeeze. Going forward, conservative investors should avoid buying into any more head-fakes out of Waterloo. BlackBerry is dead money - in the long-term.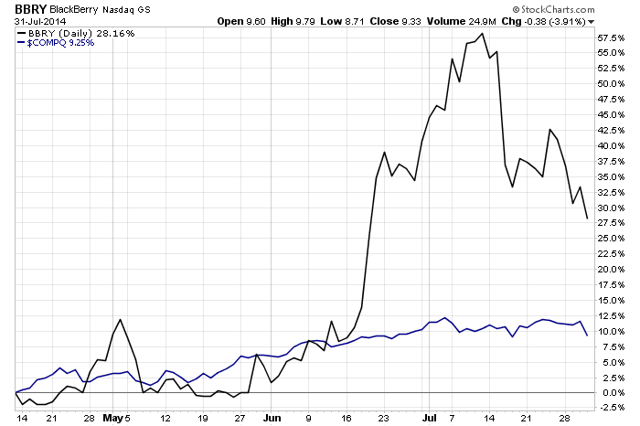 Click to enlarge
BlackBerry Short Sale Mechanics
Traders who short stock borrow shares from investors and immediately sell out of those positions for cash. At a later date, these traders will "buy to cover," or re-enter the market to purchase stock and repay the original loan. Short sellers, of course, are betting upon share price declines in order to turn profits. The term "short squeeze" is actually associated with stock market rallies, when frantic short sellers buy to cover, in hopes of curtailing severe losses.
For its part, BlackBerry has remained one of the more heavily shorted stocks, for several years running. BlackBerry shares did establish an all-time high at $148.13, on June 19, 2008, which also calculated out to near $85 billion, in terms of market capitalization. By late 2013, however, BlackBerry stock had collapsed to $5.44, after a series of dubious management decisions that burned through $80 billion in shareholder value. As such, the BlackBerry short was largely a winning trade throughout the past five years. The shorts, however, were thoroughly routed through June 2014.
BlackBerry Short Interest:
| | | | |
| --- | --- | --- | --- |
| Settlement Date | Short Interest | Avg. Daily Share Volume | Days To Cover |
| July 15, 2014 | 92,926,346 | 20,849,306 | 4.5 |
| June 30, 2014 | 93,661,383 | 28,106,667 | 3.3 |
| June 13, 2014 | 97,399,783 | 8,739,938 | 11.1 |
| May 30, 2014 | 93,434,467 | 7,515,099 | 12.4 |
| July 15, 2014 | 160,837,750 | 25,342,957 | 6.3 |
Source: NASDAQ
A general overlay of short interest statistics against the BlackBerry stock chart may help further attribute the June 1 to July 14 spike in shares to the presence of a short squeeze. Be advised further that BlackBerry listed out a mere 526.7 million shares outstanding on the balance sheet, as of May 31, 2014. The relatively small float and market capitalization has made for volatile trading in shares. Float is indicative of shares actually in circulation, as the metric subtracts shares sold short away from shares outstanding.
As of June 13, 2014, traders had sold 97.4 million shares of BlackBerry stock short. That week, BlackBerry averaged daily share volume of 8,739,938. The June 13 date is especially important, as it preceded a sharp 30-day gap up in BlackBerry shares, from $7.89 to $11.62, between June 13 and July 14. By July 15, BlackBerry short interest had declined to 92.9 million shares on heavy volume. The days-to-cover the short positions also fell, in kind, to 4.5. The days-to-cover statistic stood at 12.4, as recently as May 30, 2014. Again, the statistics dovetail with short covering and a squeeze, amid a furious rally. BlackBerry stock was to ultimately decline towards $9.30, heading into August.
BlackBerry Shut Out of Mobile
On July 2, 2014, research firm comScore published its May 2014 U.S. Smartphone Subscriber Market Share report. Be advised that the title of the report was somewhat misleading, as comScore statisticians actually calculated the averages of data taken from the March to May quarter. A quick review of the information may confirm the idea that the emergence of the Google (NASDAQ: GOOG) (NASDAQ:GOOGL) Android - Apple (NASDAQ: AAPL) iOS duopoly has arrived largely at the expense of BlackBerry. Taken together, Android (52.1% market share) and iOS (41.9% market share) systems combined to operate 94% of U.S. smartphones through this latest spring quarter.
Alternatively, BlackBerry closed out the same March to May time frame desperately clinging onto a mere 2.3% of this market, after having lost 60 basis points in share for the quarter. For its part, Microsoft (NASDAQ: MSFT) has already declared Windows as the "fastest growing ecosystem in the smartphone market," after ultimately closing out its $7.2 billion Nokia buyout earlier this year. On average, Microsoft has generated $28.8 billion in annual operational cash flow over the course of the past five years. Microsoft will leverage this imposing cash haul to further entrench itself as the third wheel alternative to the Android - iOS mobile duopoly.
Critics Richard Holt and Andrew Orlowski have already dismissed BlackBerry 10 as a "disaster." In response, BlackBerry was to ink a five-year deal with Taiwan-based Foxconn to manufacture hardware. For BlackBerry, the arrangement was a cost-cutting measure that shifted the burden of inventory management away from Waterloo. Earlier this summer, BlackBerry launched the Z3 in Indonesia and India, as the first handset design out of the Foxconn deal. Foxconn, of course, will take its cut out of sales on these bargain bin phones peddled throughout the developing world.
Going forward, hardware leaders Apple and Samsung will expand the boundaries of the mobile machines, through phablets and larger screens. The term "phablet" is a play upon words that represents the integration of traditional smartphone and tablet features within one device. Numerous technical outlets, including Tech Radar and Pocket Lint, have already identified the Samsung Galaxy Note 3 as the best phablet on the market. For its part, Apple is set to launch the iPhone 6 prior to this Holiday Season, in an event that Mac Rumors has speculated will branch off into two separate 4.7-inch and 5.5-inch screen handsets.
In response, BlackBerry will roll out its Passport in September. The Passport features a boxy, instead of rectangular, profile. As somewhat of a throwback, the Passport also maintains the QWERTY physical keyboard that has emerged as somewhat of a BlackBerry trademark. Still, a July 29 review out of Larry Dignan and ZD Net dismissed the Passport as an "odd creature" that may capture a niche market of BlackBerry brand diehards and enterprise customers, at best.
The Bottom Line
BlackBerry stock closed out the August 1 trading session at $9.30 per share, which also did calculate out to $4.9 billion, in terms of market capitalization. BlackBerry share prices may collapse again toward $5, in the immediate aftermath of the June 13th to July 14th short squeeze that took the stock from $7.89 to $11.62. Again, conservative investors should sell out of BlackBerry stock in order to avoid a major correction in shares within the next several months.
BlackBerry did turn a small $23 million profit upon $966 million in Q1 2015 revenue, for the latest quarterly period ended May 31, 2014. On the surface, the results were a dramatic improvement above the prior quarter, when BlackBerry racked up $423 million in losses off $976 million in revenue. Broken down further, the BlackBerry sequential, quarter-to-quarter financial results did include a $669 million swing in debentures fair value adjustment. The tough talk and aggressive cost cutting measures detailed by CEO John Chen failed to materialize in practice, as BlackBerry cost of goods sold actually increased from $423 million to $515 million between Q4 2014 and Q1 2015.
BlackBerry investors also remain at risk for massive shareholder dilution. A consortium of institutional investors led by Fairfax Financial now owns $1.25 billion in convertible debentures. Terms of the agreement grant rights for bondholders to convert principle into stock at $10 per share. Full conversion of the position may add 125 million shares to a balance sheet that now only carries 526.7 million shares of common stock outstanding.
Disclosure: The author is long AAPL. The author wrote this article themselves, and it expresses their own opinions. The author is not receiving compensation for it (other than from Seeking Alpha). The author has no business relationship with any company whose stock is mentioned in this article.