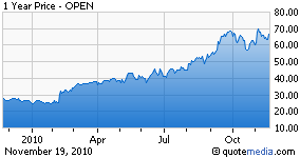 OpenTable (NASDAQ:OPEN) has been a much talked-about stock since its May 2009 IPO and is up more than 168% this year despite having pulled in nearly 10% off of highs in recent weeks. Despite its precipitous rise, there is a long-list of skeptics for the stock, with the net float short of around 30%. So the question begs: are naysayers discounting OpenTable's transformative nature, or is this just another example of an over-hyped tech company?
What Is OpenTable?
OpenTable Inc is a solutions-focused internet company that provides 1) an online, real-time network that matches reservation-taking restaurants with people looking to dine and 2) dynamic software to help restaurants optimize business operations. The company largely operates in the restaurant business much like a Priceline.com (NASDAQ:PCLN) or Hotwire does in travel; they aim to fill excess capacity in restaurants that would have otherwise gone unfilled, and in the process create a win-win for both parties. OpenTable service is available throughout the United States, as well as in Canada, Germany, Japan, Mexico, and the United Kingdom. OpenTable also owns and operates toptable.com, a leading restaurant reservation site in the United Kingdom. The company, which went public in May 2009, holds an estimated 90% market share of online reservation services.
The process for using the service is simple, easy and, most importantly, free for users. You simply log onto opentable.com, search restaurants based on location and/or desired cuisine, and book reservations with the click of a button. Last minute anniversary plans got a whole lot easier with OpenTable, which also boasts a popular mobile app.
OpenTable generates revenue on three different steps of the process: start-up costs, fixed monthly fees and per-person reservation fees. Companies are forced to purchase the OpenTable terminal and software for use in the restaurant, pay a monthly service fee for using the software, and a percentage of sales on each check.
Opportunities and Challenges
Most would agree that OpenTable has developed an innovative concept, but many feel the lofty valuation (the stock is currently trading at a P/E of more than 125) is not justified for a company that operates in an already low-margin industry. The challenge for OpenTable in growing revenues is two-pronged: getting restaurants on-board and attracting diners.
The second part of that equation is not so difficult, and the company has done a masterful job building a large user base. Users enjoy their experience with OpenTable and value the ease of making dinner reservations through the website. The number of seated diners in North America totaled 15.4 million in the third quarter of 2010, a 52% increase over Q3 2009. The growth of users internationally was even greater, coming in at a 134% increase. By making the service free to users, and shifting the costs completely onto the restaurants, OpenTable has been able to build a massive army of loyal supporters that drive the value of its brand. As its user base grows, so do the number of traffic sources and potential revenue streams. OpenTable is fast becoming a sort of social network for internet-savvy restaurant-goers (affluent individuals), a highly attractive market for advertisers. The stronger its following becomes, the harder it will be for competitors to wrest away market share and the greater its scope will grow.
Given the cost structure, the more difficult challenge facing OpenTable is in convincing restauranteurs that OpenTable is a good investment. The basic question is: after OpenTable collects its triple-layered fees, does the restaurant itself see any net profit on reservations? The simple answer is: probably not. An independent study estimates that OpenTable's cost to the restaurants translates to ~$10.40 for each incremental party of 4 booked through the site. The average profit margin for a US restaurant is around 5%, so revenue generated on, say, a party of four that spends $200 total amounts to $10. In this scenario, OpenTable eats all of the profits. Furthermore, the $10.40 figure may be under-shooting it because it is the 'incremental' cost, i.e. cost of receiving customers that would have otherwise not dined at the restaurant. What is to say that customers would not have found the restaurant by other means (hello, Google (NASDAQ:GOOG) search) if not for OpenTable? However, the simple answer is not always the right answer.
Why It's a Gamechanger
So why, a skeptic might ask, would a restaurant incur such high costs to use OpenTable if they do not see the profits it generates? Many restaurant owners in fact despise OpenTable and view it as a necessary evil marketing tool. The only inherent benefit they see is that perhaps the customer, after booking on OpenTable and enjoying their meal, may, out of the goodness of their heart, call the restaurant directly next time to book the reservation. The problem with the food service industry is that mom and pop are stuck in the stone age. Relative to other industries, the restaurant industry largely does not take a quantitative approach to optimizing its business operations. While you can gain a leg up over the joint across the street by creating a better canoli, much greater opportunities exist to gain competitive advantage and streamline operations.
The real transformative power of OpenTable lies in the quality of its software. Most businesses do not harness the full power of OpenTable; that is why the simple answer leads to the fallacious conclusion that OpenTable does not deliver value. In my previous example, it was taken into account that the restaurant business currently has an average 5% profit margin. OpenTable's view is that such a low number should be thrown out the window if you use its service. A restaurant can deliver a much greater sales and margins if it transitions into the information age with OpenTable. The service is more than just a network for matching hungry people with empty restaurants, it is a way for restaurants to optimize their businesses like never before.
The company realized that for its model to work, it would need to be able to sell reluctant and old-fashioned restaurant owners on a service that would, on the surface, cut into profits. OpenTable software uses various metrics and analytics to track factors that drive a restaurant's profitability. Optimize seating, delve into a waiter's performance, track customer buying habits and where your customers are coming from. There is a wealth of information out there, both in terms of the efficiency of internal operations and about the preferences of your target audience, that has long gone untapped in the industry.
The restaurant owners who show disdain for OpenTable simply do not understand its potential or have not been properly schooled on how to make best use of its many functionalities. The analytics may be intimidating at first to restaurant owners not used to a more sophisticated approach to their business. OpenTable ultimately has room to improve education about and implementation of its powerful software, which has been a challenge given the speed of growth.
Case Study
Vucurevich-Simons Advisory Group recently conducted a case study on Founding Farmers, an OpenTable customer and one of the most booked restaurants in the mid-Atlantic regions. The restaurant has a $6,000 monthly bill from OpenTable, a number that many outsiders would consider prohibitive. FF's management had many reservations about the cost of getting reservations through OpenTable. At the same time, however, they felt there was some unlocked potential in the "magic box" and were not ready to walk away. They enlisted an OpenTable specialist to help the restaurant take full advantage of the software.
Upon further review using the software, FF found that, for starters, the host staff had often been seating parties of two at four-seat tables, thus halving the potential revenue from that reservation slot. They also looked more closely into why certain tables were turned over quicker than others. Reports automatically identified VIPs, or frequent visitors, allowing FF to build a highly valuable loyalty appreciation system. Restaurants can, at the very least, use OpenTable tracking features to facilitate better relationships with customers and, in doing so, add considerable value over the long term.
Founding Farmers (already seemingly a very busy, near-full capacity restaurant) was able to increase sales by 15%. That doesn't even factor in reduced costs. Imagine the impact OpenTable could have in attracting customers and optimizing operations in a less frequented establishment.
Conclusion
According to traditional valuation metrics, OpenTable certainly does appear to be overvalued. In my opinion, however, it is a fallacy to judge such an unconventional, innovative and well-run company in a strictly conventional way. The same principle, I feel, applies to such "conventionally overvalued" companies like Netflix Inc. (NASDAQ:NFLX), which is leading the media revolution. OpenTable, in the same way, is leading the restaurant business into a new era, and in doing so building a massively valuable network. While the website's value as a marketing tool is well-documented by restaurant owners, they are just starting to become more aware of the service's enormous potential for optimizing business operations. In order to convert the remaining skeptics, OpenTable needs to make a greater push to educate client restaurants on its software functionality.
The growth potential for the company, both within North America and especially in international markets, is enormous. Everybody has to eat, and OpenTable is fast-building a wide network of internet savvy consumers, a valuable commodity in and of itself. Given the brilliance of management up to this point, I don't see any reason why the company will not meet the challenges ahead and take advantage of future opportunities. I am bullish on OpenTable, especially after the recent 10% pull-in off the highs.
Want to hear perspective from someone who has switched from short to long OPEN? Read this, then this from ValueHuntr.
Disclosure: Author long OPEN