FX speculators are still driving both EUR and the pegged Swiss franc (NYSEARCA:FXF) to new lows against the dollar.
Net Speculative FX Positioning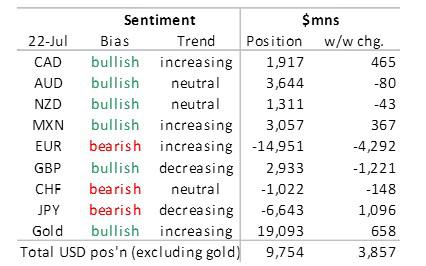 Source: Scotiabank
At the same time, low interest rates and falling inflation expectations in the United States have boosted both bond and equity prices upwards. Thanks to slow global growth, even the gold price recovered.
Hence, all main four investment categories for the Swiss National Bank improved in price: currencies, bonds, equities and gold.
We realize that this status is not sustainable over the long term, in particular looking at the rising total wage income (+7.2% annualized) in the first half of 2014, compared to 3.2% higher income for entrepreneurs (Data source: BEA table 6).
Just after we were writing this post, the U.S. employment cost index for Q2 was published at 0.7% for one single quarter. As opposed to the previous, the employment index is a per capita index. It is considerably higher than the Swiss value of 0.8% for the whole year and explains why U.S. inflation might remain considerably higher.
U.S. wage inflation and the rising expenditures for newly hired personnel make U.S. stocks a less interesting investment than Swiss ones. This "traditional inflation hedging" in Swiss francs may explain why sight deposits at the SNB currently rise.
Sight deposits, the amount of financial institutions' credit to the central bank, mirror the movements of the Swiss balance of payments (BOP) and if the capital account is able to neutralize the strong Swiss current account surplus. Sight deposits and total SNB debt have been rising again since June.
The most important piece of the capital account is stock purchases of global investors. Hence, rising sight deposits may reflect a higher preference of global investors for Swiss equities compared to foreign stocks, based on parameters like profit margins.
We reckon that one day high U.S. inflation without corresponding rate hikes will lead to strong inflows into CHF. But thanks to slow global growth due to monetary tightening in emerging markets, we are not there yet.
Q2 2013 reflected a reduction of cheap money. Q2 2014 was the complete opposite. Investors have understood that in developed economies, money will remain cheap for many years. This changed thinking is visible in the SNB results, in particular in equity and bond positions.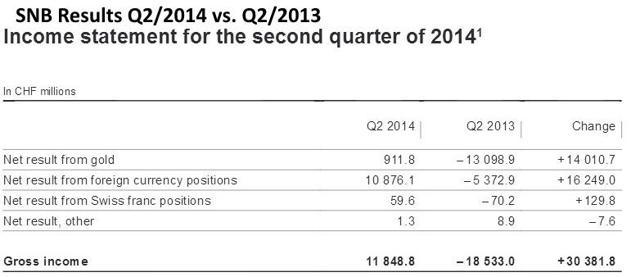 As opposed to 2011/2012, the SNB is not in a hurry to get rid of the currency reserves. Inflation is low, and the real estate bubble has calmed thanks to European disinflation.
The full results are available at the SNB.
More details in our: SNB Q2/2014 Composition of Reserves and Balance Sheet
Disclosure: The author has no positions in any stocks mentioned, and no plans to initiate any positions within the next 72 hours. The author wrote this article themselves, and it expresses their own opinions. The author is not receiving compensation for it. The author has no business relationship with any company whose stock is mentioned in this article.