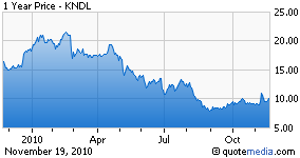 As equities have continued their rally, bargains have become less numerous and harder to find. However, we believe we have found one in Kendle International (NASDAQ:KNDL).
KNDL is a clinical research organization (CRO). Basically, CROs assist biotech and pharma companies with clinical trials of new drugs. During the economic downturn, biotech and pharma companies dialed back their spending, and the CRO industry's results declined precipitously as a result. Kendle's stock was among the hardest hit, declining from a high above $50 in '08 to a low around $8 this fall.
Though Kendle's results have declined a lot in the past few years, the company's outlook is hardly so bad as to justify the current valuation. A key metric in the CRO industry is the book-to-bill ratio, that is, the ratio of the dollar volume of new business that a CRO books in period to the amount of business that it bills in the same period. If this ratio is greater than 1, business is expanding. If it's less than 1, business is contracting.
In the first quarter of 2009, KNDL's book-to-bill slipped below 1, and it stayed there until the second quarter of this year. In quarters 2 and 3 of this year, the figure climbed to 1.2 and 1.5, respectively. As KNDL's founder and CEO noted on its most recent earnings call, these ratios are helped by the fact that billings are at low levels. We appreciate and support her forthrightness and conservatism, but these figures do, nonetheless, indicate expanding business.
What of the current valuation? First, a note on how our firm values companies. We value every enterprise by asking the question, "if we were the sole private owner of this business, how much more would we have in our pockets 12 months from now than we do today, assuming that we invest appropriately to maintain and expand the business?" To answer this question, we routinely adjust GAAP earnings, sometimes up, sometimes down. Before the recession, KNDL's adjusted earnings figures (again, our calculation, not the company's) were around $30-40M per year. The company will probably earn around $10M this year, according to our adjusted calculations.
The stock is priced as if Kendle will earn only $10-15M in adjusted earnings per year in perpetuity. If business expands at all (and it is starting to), there is tremendous upside. Kendle has cut a lot of costs, so any top line expansion will flow quickly through to the bottom line.
Our firm purchased a block of shares at an average cost around $9 before the company's earnings report several weeks ago. Our belief was that poor earnings were already priced into the shares and that any hint of improvement would cause the stock to jump. After a rapid price spike, the stock settled back down to a point where the shares are extremely compelling once again. If business improves slowly, we believe the stock is worth $13-$15 per share. If the recovery is more robust, it could easily be worth in the $20s. For these reasons, we find KNDL to be intriguing from the long side right now.
Disclosure: Author long KNDL