By Craig Bowles
Overview
Groupon, Inc. (NASDAQ:GRPN) is slated to report 2Q 2014 earnings after the bell on Tuesday, August 5th. The earnings release is expected at approximately 4:00 p.m. EST followed at 5:00 p.m. with a webcast presentation available through Groupon Investor Relations. Groupon operates online local commerce marketplaces that connect merchants to consumers by offering goods and services at a discount worldwide.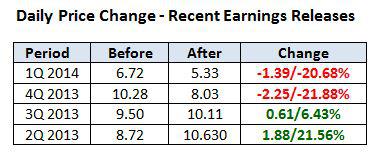 Outliers & Strategy
Key measures:
Earnings Per Share Excluding Items: Company guidance is a range of $0.00 to $0.02. The current Street estimate is $0.01 (range -$0.03 to $0.03) (Source: Yahoo! Finance). The company reports a "clean" Earnings Per Share for quarters with nothing to exclude.
Revenues: Company guidance is a range of $725 mln to $775 mln. Analysts expect an increase of 25.1% y/y to $761.80 mln (range $750.0 mln to $784.5 mln).
Gross Billing: 2Q 2014 is projected to decrease from 1.82 bln at the end of 1Q 2014 to 1.80 bln, with some estimates running as low as 1.77 bln, according to Zack's Investment Research.
Revenue Guidance (3Q 2014): The Street is looking for an increase of 27.8% y/y to $760.62 mln (range $726.30 mln to $812.03 mln).
Insiders have sold 2,687,813 shares in the last three months and 307,607,351 shares in the past year.
Groupon shares have a 1-day average price change on earnings of 18.05%. Options are pricing in an implied move of 15.96% off earnings.
Recent News
08/04 Groupon has been in transition since firing Andrew Mason from his Chief Executive job in Feb. 2013. The transition to a "pull" from "push" commerce is expected to temper near-term revenues, along with an increase in marketing cost, according to a post on Marketwatch.com.
07/24 Customer response has been quite encouraging lately, and Groupon is generating solid sales growth. The main obstacle is whether management can sustain revenue growth while increasing profit margins in the medium term, according to a post on Fool.com.
07/08 B. Riley upgraded Groupon to "buy" from "neutral" and raised its price target to $9.50 from $6. The firm says Groupon is entering a period of easier year-over-year comparisons while improvement in operational costs will drive organic growth and margins, according to a post on finance.yahoo.com.
Technical Review
Since the IPO stock price $25 high in 2011, the stock declined to around $3 in 2012, had a 50% retracement of the decline in 2013, and now has retraced half of last year's rebound in 2014. So, what appears to have an overpriced IPO has been corrected by the market and we should be at a more realistic valuation. The current balance is $6.25 to $6.75, so a positive reaction to the earnings report would run into resistance at the late February/early March consolidation area at around $8.50 where the 200-day moving average is also located. (Chart courtesy of StockCharts.com)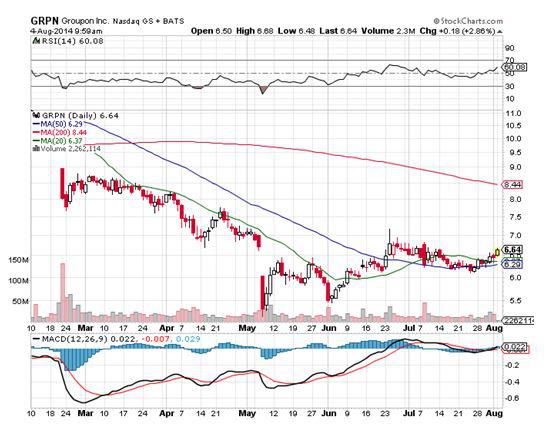 Summary
Groupon is going through a transformation that is expected to weigh on profit margins in the near-term, so expectations are relatively low despite the company having beaten analysts' consensus by increasing amounts the last four quarters. Consensus has been reduced from 3c three months ago, but reporting above estimates would be a positive. If the company can report at the high end of guidance at 2c on revenue of at least $767 mln, traders would be encouraged and could then direct more attention to gross billings and next quarter's guidance.
DISCLAIMER: By using this report, you acknowledge that Selerity, Inc. is in no way liable for losses or gains arising out of commentary, analysis, and or data in this report. Your investment decisions and recommendations are made entirely at your discretion. Selerity does not own securities in companies that they write about, is not an investment adviser, and the content contained herein is not an endorsement to buy or sell any securities. No content published as part of this report constitutes a recommendation that any particular investment, security, portfolio of securities, transaction or investment strategy is suitable for any specific person.
Disclosure: The author has no positions in any stocks mentioned, and no plans to initiate any positions within the next 72 hours. The author wrote this article themselves, and it expresses their own opinions. The author is not receiving compensation for it (other than from Seeking Alpha). The author has no business relationship with any company whose stock is mentioned in this article.