Yingli Green Energy (NYSE:YGE) is a Chinese solar company which may be getting its panels in order. This quarter's earnings pleasantly surprised shareholders and analysts alike.
Earnings: Increased 277.5% to $68.2 million ($0.44 per share) YOY.
Revenue: Increased 47.6% to 491 million YOY.
Actual Versus Wall Street Expectations: YGE handily beat Wall Street earnings expectations for $0.32 a share on revenues of $477 million.
Notable Stats:
Shipments increased 25.2% quarter over quarter.
Gross margins were 33.3% and operating margins were 22.4%.
Did You Hear That?
Liansheng Miao, Chairman and CEO, said:
In order to meet the growing market demand and the increasing interest in our products, we have recently launched a total of 700 MW of new capacity expansion projects, which are expected to start initial production in the middle of 2011 and increase our nameplate capacity to 1.7 GW in late 2011.
Official Company Earnings Release and Conference Call: Read all the details here and listen to the Conference Call here.
Commentary: Shares of YGE have been stuck as fodder for short term traders. The stock has yet to retake its 50 and 200 DMA with support.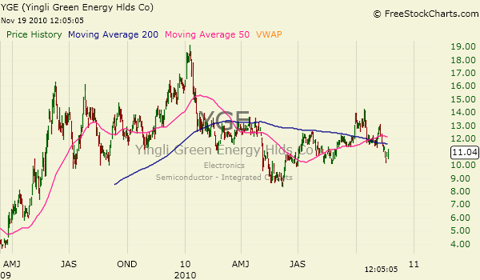 Click to enlarge
(Click to enlarge)
Disclosure: No position