This is the second of a four part series. Yesterday, we talked about the probability of a real correction in the market for the first time in several years as the Federal Reserve finally ends over five years of various easing programs. We also covered several possible actionable themes to the market in the months ahead.
One of these probable events involves the European Central Bank moving in with a huge easing program to help the continent's tepid economy from relapsing into deflationary territory. Jim Cramer chimed in today outlining how vulnerable Europe would be should Russia turn off the spigot for gas exports to the continent in response to escalating sanctions. Mr. Cramer rightly points out this will assuredly put the continent almost instantaneously into another recession.
Even without this sort of extreme event, I believe the ECB will move forward with an easing program as they have been foreshadowing this for months now. This will have two identifiable impacts. First, it should pump up stock market values just like what has happened with domestic equity markets in United States and more recently Japan in response to their central banks easing initiatives.
Second, the Euro should decline as the ECB engages in what some call "money printing". The Euro should decline significantly against the dollar as our Federal Reserve is ending their easing program and the domestic economy appears to be accelerating. This should boost interest rates and our currency over the medium term.
This leads me to two investment observations. First, European equities could outperform our market in the months ahead especially since our market seems to be in at least slightly overvalued territory. Banks and other European financial institutions should be primary beneficiaries from the ECB's largesse but easing will help European bourses in general.
I particularly like AEGON (NYSE:AEG) right now, a Netherlands based insurer at current levels. First, the company should benefit from a positive sentiment shift on the financial sector should the ECB begin easing. Second, the shares are cheap at significantly under book value and the stock also yields a solid 3.4%.
In addition, the stock is offering a solid entry point after selling off some 15% recently. Finally, the company gets over two thirds of its revenues from North America. This is little understood by investors in general and those dollars are going to look more valuable in months ahead as the Euro declines if the ECB does indeed move.
Investors who do not want to do their own stock picking in Europe can pick from a variety of European focused ETFs including those that hedge currency risk.
On the opposite end of a strengthening dollar against the euro trade will be American multi-nationals that get a decent portion of their revenues from the European continent. The poster boy of multi-nationals I would be avoiding here is McDonalds (NYSE:MCD) even as the stock trades near 52 week lows.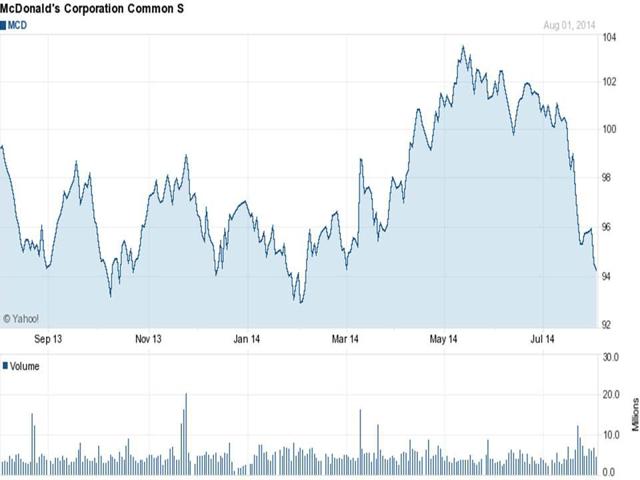 The company is already under substantial pressure from flat domestic same store sales, significant recent quality issues in China and is now becoming a target of unions and the National Labor Relations Board (NLRB). Both revenue and earnings growth are looking basically flat this year. Even after the stock's recent decline, the stock goes for over 15 times forward earnings - hardly a bargain given myriad concerns. Add in the more than a third of total revenues coming from Europe into the equation, I would be wary of these shares even after their recent decline.
Other multinationals like IBM Corp. (NYSE:IBM) also get significant sales in Europe as well and I would tread with caution here.
Tomorrow, we will cover some of the large cap growth blue chips that are leading the market in the current environment and are likely to continue to do so in the months ahead.
Disclosure: The author is long AEG. The author wrote this article themselves, and it expresses their own opinions. The author is not receiving compensation for it (other than from Seeking Alpha). The author has no business relationship with any company whose stock is mentioned in this article.