If you watch TV you've probably seen these back to school commercials where the kids having matching merchandise but one got it at OfficeMax, the other from Office Depot. I don't know if it's helping them sell school supplies but it's a great ad for this short idea - neither store had or has anything unique to sell, they both are/were commodity brick & mortar retailers.
On November 5, 2013 Office Depot (NYSE:ODP) completed a merger with OfficeMax, combining two large office supplier retailers both with a primarily US customer base. At the end of 2013, the combined entity operated 1,912 stores in the US, 19 in Canada and 144 internationally (primarily France and Sweden).
Let's start by looking at the sales trend of Office Depot and OfficeMax when they were standalone entities. The table below presents total sales growth for each year since 2008.
| Total Sales Growth, y/y | 2008 | 2009 | 2010 | 2011 | 2012 |
| --- | --- | --- | --- | --- | --- |
| OfficeMax | -7% | -10% | -1% | -1% | -5% |
| Office Depot | -7% | -16% | -4% | -1% | -7% |
Pretty rough - 5 consecutive years of declining top line - not an easy thing to do. But, of course, total sales could be obscuring the true picture, maybe they were changing the number of stores. The table below presents same store sales over the same period of time.
| Same Store Sales, y/y | 2008 | 2009 | 2010 | 2011 | 2012 |
| --- | --- | --- | --- | --- | --- |
| OfficeMax | -11% | -11% | -1% | -2% | -2% |
| Office Depot | -10% | -14% | -1% | -4% | -5% |
Yikes! That doesn't look any better. Looking at the cumulative change over this 5 year period, OfficeMax saw same store sales decline 25% and Office Depot did even worse with sales down 33%.
Just to demonstrate how bad this performance is, let's take a quick look at broad retail sales as measured by ICSC.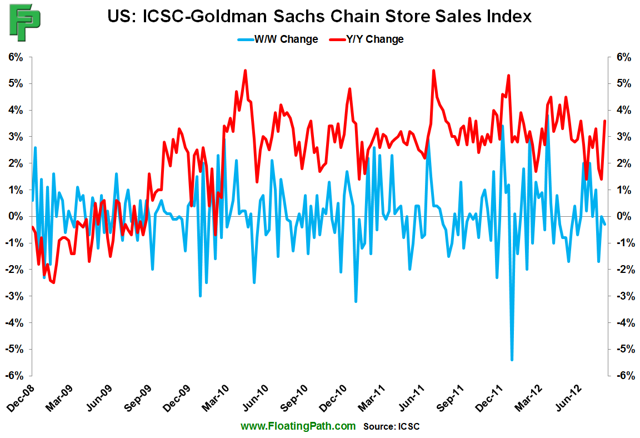 Source: Floating Path
While I don't have the exact data for each calendar year, the red line above presents y/y growth for the last 5 years. You can see that 2008/9 was a difficult period for everyone but retail sales have been running consistently positive since - highlighting how poor Office Depot and OfficeMax have been.
Now everyone knows the benefit of fixed vs. variable costs. When a business can grow its top line faster than its fixed costs it creates operating leverage and increased profitability. Well, it cuts both ways. Rent, wages, corporate overhead, utilities, debt payments are all fairly fixed or in the case of utilities and wages, likely increased over this 5 year period. That does a number on profitability when sales decline year after year.
But that gets us to where we are today, it doesn't tell us anything about where we are headed. First, let's address the merger. Like all mergers, management always sees synergies. The largest opportunity here may be the simple closing of overlapping stores. Using my home as a simple example, within 25 miles there are 6 OfficeMax stores and 3 Office Depot stores - clearly too many. And, like clockwork, management has announced store closures - this past May they announced a plan to close 400 stores over the coming years. This sent shares up 16%, I guess what investors missed is this is a one time gain. Eventually you need to find a way to drive top line and, of course, competition isn't limited to these two brands.
The chart below does an excellent job of showing why a merger needed to take place. Both OfficeMax and Office Depot have been consistently losing share to Staples (NASDAQ:SPLS).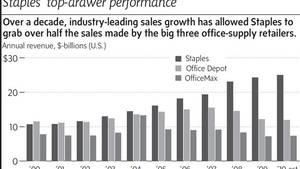 I will leave it to others to speculate on why Staples has been taking so much share but I would offer that a decade long trend of getting beat by Staples is unlikely to be solved by acquiring another competitor who was also being beat by Staples.
Further, the competition isn't limited to office supply stores. Drug stores, general merchandise stores like Walmart (NYSE:WMT) and Target (NYSE:TGT) and of course online competition all have a dog in this fight.
This takes me back to the beginning of this article and the recent commercials - if you don't have unique merchandise, what advantage do you have in driving sales other than price? This problem has been compounded by the merchandise mix at Office Depot. In 2008 technology represented 25% of sales, at year end 2013 technology had grown to represent 41% of sales. You might say "what's the big deal?" - well, the problem with selling technology is the industry broadly has deflationary pricing trends. For example, take the average price of a laptop. I doubt this point needs clarification, I'm sure we all have first hand knowledge of this. Personally, when I bought my laptop for college I spent $3,000. Today, I can buy a laptop that weighs less, stores more and is more powerful for 1/10th the price. For those that like data, see below: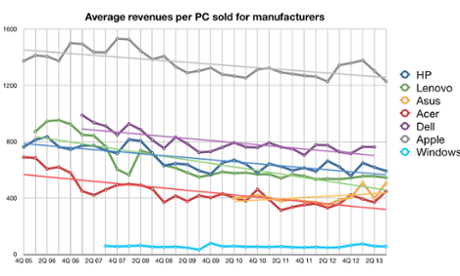 Source: The Guardian
Even the almighty Apple charges less for a PC today than 5 years ago. The point? Even if Office Depot can maintain constant traffic at their stores and sell the same number of "units" each year it will result in lower sales. The fact that technology is increasing as a percent of total sales only accelerates this problem.
Further, technology is controlled by well known brands. While you may walk into an Office Depot store and consider buying Office Depot branded paper, you would never consider buying an Office Depot branded laptop - you want Apple or Dell or HP. And as a consumer you know that same technology product will be available at multiple retailers, so why not do a quick search on your phone to find the cheapest price. They even have a price match guarantee which includes Amazon (NASDAQ:AMZN). Again, this probably doesn't need to be said but if you're competing with a company that does 7x your sales volume and is willing to accept low or negative margins (and they don't have the fixed cost base of stores to cover) - who do you think wins in the end?
Last, but definitely not least, the balance sheet looks precarious. With $720 million in debt vs. $870 million in cash, it doesn't look that bad until you factor in an additional $160 million in pension obligations. Again, debt and pensions are fixed or growing; these can quickly spiral out of control, especially when considering the need to use cash to continually update and maintain the retail store base.
In summary, if you can afford to take a multi-year view put this short in your portfolio today. There will be volatility around continued cost saving initiatives and store closures but the long-term trend is down.
Disclosure: The author has no positions in any stocks mentioned, and no plans to initiate any positions within the next 72 hours. The author wrote this article themselves, and it expresses their own opinions. The author is not receiving compensation for it (other than from Seeking Alpha). The author has no business relationship with any company whose stock is mentioned in this article.