Brookdale Senior Living (NYSE:BKD) owns and operates senior living communities within the United States. In the company description it states they have six different segments: retirement centers, assisted living, CCRCs entry fee, continuing care retirement communities rental, ancillary services, and management services. It is based and headquartered in Brentwood, Tennessee.
The Industry And Company
I recently took a look at the long term care facility industry since macro trends appear to be strong, where demand for these services will continue grow as the population expands and ultimately ages with extended lifespans.
These care companies were not really affected by the 2008 downturn, experiencing a very limited impact to revenues, making them generally economically resilient. Insufficient funding however influenced operations for a short period of time, causing margins to spike lower, and corresponding payout ratios became too high forcing companies to suspend their dividends. One thing I noticed is that most of these companies lack actual profitability due to high net SG&A measures. Otherwise, these businesses are looking to obtain additional market share, evidently making profit margins a non-emphasized attribute; ranging between one and negative eight percent. Instead I decided to take a look at returns on assets comparing top business including Brookdale Senior Living, Capital Senior Living (NYSE:CSU), Five Star Quality Care (NYSE:FVE), and Emeritus (NYSE:ESC) to get a general idea of how efficient management can be in current industry conditions: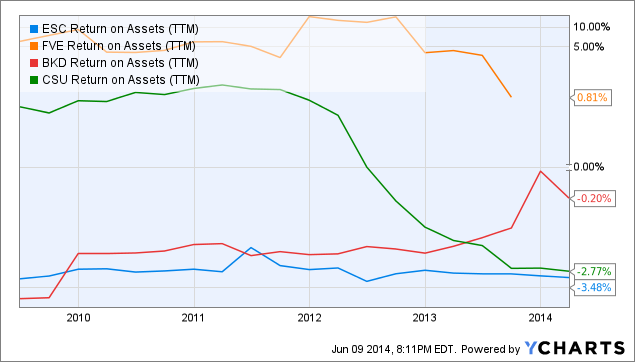 ESC Return on Assets (TTM) data by YCharts
BKD stated in February of 2014 that they plan to buy-out Emeritus, where the merger should generate an added 2 billion dollars in sales. Interestingly enough, ESC has sustained a lackluster bottom line and maintains a somewhat weak balance sheet. If the acquisition is completed, total debt will significantly exceed market cap value hanging around 6.5 billion, making the business relatively debt encumbered. Currently seeing this industry in a low interest environment makes highly capitally intensive operations sustainable until they rise. Although institutional financing has made leverage cheap and therefore sustained low interest expenses.
Sidenote 1: The merger was recently completed.
Sidenote 2: The industry currently has an average debt to equity ratio around ~4. After this transformation, the company will have close to 7.5 dollars of liabilities for dollar of equity, practically double the relative industry. Retained earnings have been negative for both firms, creating a collective accumulated deficit of 1.74 billion dollars. Quick and current ratios are also fall well below the average at 0.40 versus 0.75.
Insider Selling
In the last several months there has been an extremely abnormal amount of insider selling from all executive managers. Millions of dollars have been dumped in 2013 but more noticeably in May and June of 2014. One director actually sold a significant portion of his stake in the business valued at more than half a billion dollars. Here is the selling of the last two months: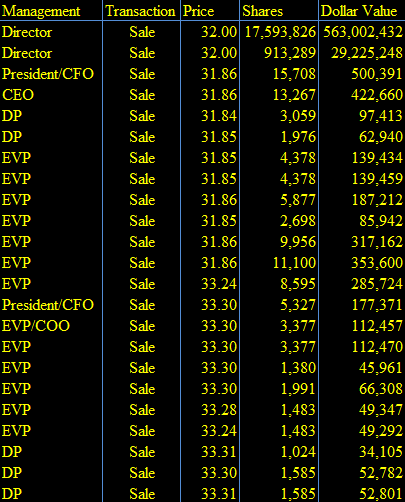 The average sale price came out to be ~$33.00 around the current trading price.
Analysts vs. Following
Bulls: Deutsche Bank, RBC Capital, Jefferies Group, and Barclays have all suggested the company is either a buy or outperform with price targets ranging between $34 to $42 per share, suggesting 0 to 20% upside. All of the following analyst ratings were given in the last six months: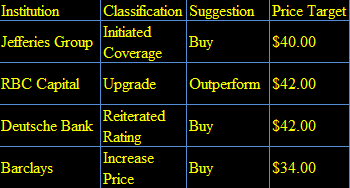 Bears: When a short float is above 8% it's generally considered abnormally high. Most investors have probably seen ones above 20, 30, and even 50% but regardless a high short float usually hints there is something fundamentally uncertain or risky about the business. BKD's short interest share is now over 11%.
Joel Greenblatt, a famous value investor, also bought BKD back in 2011 around $15 per share and made an upwards of 30+% on his investment. By the middle of 2013, he began selling shares, where his fund completely exited the position around $20.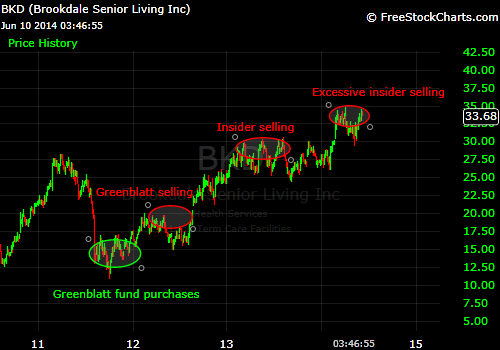 As you can see the higher share price, the weaker "sentiment" has become likely due to a diminishing margin of safety.
3 Valuations
I. Assuming the business continues its trend like it has in previous quarters, it would generate a 14 times multiple on a EV/EBITDA of 450+ mm. From this standpoint, shares are already priced to fair value at $35 per share. The current healthcare facility EV/EBITDA ratio averages 9.15, making the company trade at a significant premium. Although underperformance in operations could cause a disproportionate level of downside risk for investors (similarly to what was seen several years ago, almost 90% loss of principal).
II. OCFs should not be a replacement for FCF to analyze an earnings yield. But if we use a discounted free cash flow model then the company would look ridiculously expensive. So considering growth prospects an operating cash flow model is more useful. Currently shares already reflect a realistic growth assumption of 12% going forward. If we use the OFC ttm of ~354 mm with a moderate multiple, we recognize an intrinsic value of $35. The chart below provides a small range of growth multiples, seeing variations from the 12% mean:

Standard & Poor's equity group also recently downgraded the company to a hold with a price target of $35, assuming this scenario:
"we keep our positive long-term view of BKD's occupancy and entry fee sales activity, as see an aging population supporting demand for BKD's services...reflecting favorable long-term occupancy demand, more than offsetting macroeconomic and regulatory challenges."
III. In the event that revenues continue to stagnate and slightly curtail, ocf cagr could be limited to a yearly 10% expansion. If we applied the 10 times multiple that would give us a market cap of only 3.54 billion dollars. Management has stated that risks to achieving normalized growth are declining occupancy levels (already exhibited in slowed revenue growth). Analysts have also mentioned that near term results will be inevitably influenced by Medicare cuts instated by the government. Seeing revenues slow in recent quarters compared to historic figures makes me believe that these 'new' growth figures may continue going forward.
Employee Reviews
On indeed.com, Brookdale has received moderate assessments by current and past employees, providing 3 out of 5 stars on most categories varying between compensation to culture to advancement. However top posts provided suggest that lower level management really seems to create an unpleasant environment for employees:
"I loved working here, but the management was subpar at best."
"Management lied continuously to nurses and staff, unsupportive; micromanaged..."
"No support from management, unable to work independently, micro managed."
Others however really enjoyed working for the company:
"good place to work...great team members...they do promote you in company."
"it was a great first job for me. It was ok while I was there."
Obviously resident occupation levels have continued to climb, however there appear to be clear issues with respect to the workplace. In the last year and a half, revenue growth has pulled back several hundred basis points versus prior years which may be indicating future weakness via competition and slowing occupational results.
Technician Analytics
Overall the trend is favorable, where the stock has continuously seen new highs over the last few years. Technical analysts will likely say it is not a sell considering the strong bullish price action (MarketWatch's weekly evaluation for example says it's a buy). Here is the chart below: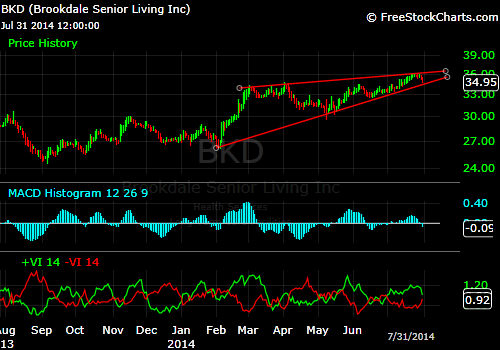 Currently there exists a long term rising wedge, which traditionally breaks to the downside and generates moderate selling. However the support line break has not been confirmed.
Otherwise MACD histogram just became bearish initiated by its first bar below the zero point level. Vortex currently remains bullish, however to me it appears that the red line will soon break above the green, indicating bearish momentum. As you can see in the chart above, when the red line remains on the top side, bullish price action halts.
Bottom Line
This is a stable business looking to become a marketplace leader with good management; however I do not find it to be a compelling buy above $35 pps. The company still remains unprofitable and insiders continue to dump hand over fist. The share price reflects fair value by multiple measures, so ultimately I will have to recommend passing on BKD.
Disclosure: The author has no positions in any stocks mentioned, and no plans to initiate any positions within the next 72 hours. The author wrote this article themselves, and it expresses their own opinions. The author is not receiving compensation for it (other than from Seeking Alpha). The author has no business relationship with any company whose stock is mentioned in this article.