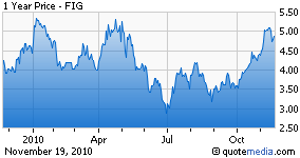 Click to enlargeA week or so ago Fortress Investment Group (NYSE:FIG) purchased a portfolio of life settlements from Belgian insurer KBC Group (OTCPK:KBCSF). Earlier, when Apollo Group (NASDAQ:APOL) had been rumored to be the leading bidder, the portfolio was said to be priced at 8.5 cents on the dollar of face value, which is a pretty good discount.
It's assumed that the portfolio is shot through with policies questionable origination, a lot of STOLI (Stranger-Owned Life Insurance). That meant that there was a lot of litigation risk baked into the portfolio, meaning that insurers might battle specific death benefits within it, and -- given the tenor of court decisions leading up to the purchase -- have a good chance of winning them, leaving investors (KBC (OTCPK:KBCSY), then Fortress), with nothing.
However, last week's decision by the New York Court of Appeals in the case of one Arthur Kramer may change the complexion of the industry, and the value of Fortress's purchase. The court ruled that the death benefit of Kramer, who had knowingly taken out a policy with intent to sell it, did not violate insurable-interest laws.
There are lots of technicalities in each case, and they are adjudicated on a case by case basis, but I can tell you now that the lawyers who argue for investors in life settlements are cheered and emboldened by this decision. Fortress might have made a good purchase.
Disclosure: No positions