Investors should be reviewing their global asset allocations and underlying sector allocations on an ongoing basis, rhetorically asking if their current positions are reflective of their overall view of the global market landscape.
My answer to that question with regard to my energy allocation is "not enough."
Why?
The world is in a demand growth stage for all kinds of energy resources, a demand surge that will likely continue for some time. Have a look at projections from the US Energy Information Administration going out to 2035: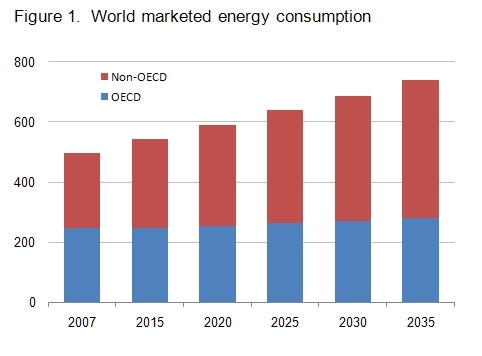 Click charts below to enlarge
All of this current and anticipated demand would argue for generally higher prices of energy resources even without some form of Mid East conflict or terror event that would possibly cause a surge in oil prices especially if supply disruptions ensued. For this reason, in addition to a variety of others including "energy independence," "insurance against supply disruptions," "green issues," etc., countries are exploring for more sources of more varieties of energy types in more places around the planet than ever before.
There are several ways to invest in order to reflect this view, and currently, I'm long some of them including: Schlumberger (NYSE:SLB), Weatherford (NYSE:WFT), Devon Energy (NYSE:DVN), Clean Energy Fuels (NASDAQ:CLNE), Hess (NYSE:HES), Petrobras (NYSE:PBR), Pride (NYSE:PDE), and Baker Hughes (NYSE:BHI). In fact, it is a broad plate of exposure… some oil majors, some drilling majors and minors, some natural gas exploration and development, and some liquefied natural gas transportation.
The energy sector has generally performed well in the past couple of months. Note the performance of the Energy sector (using Energy Select Sector SPDR ETF (NYSEARCA:XLE) as a proxy) versus others within the S&P 500 just this past month… top of the pack:
Click charts below to enlarge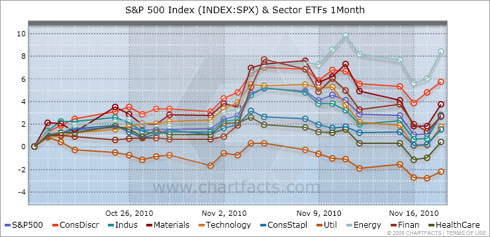 But before concluding that it's too late to get involved further, consider the performance YTD… middle of the pack: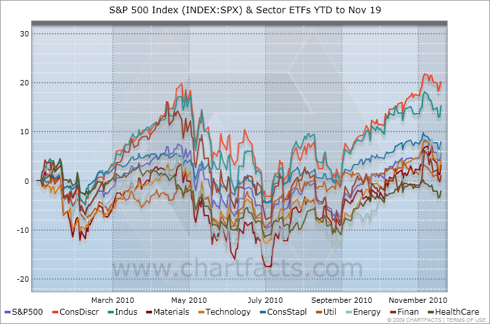 That said, underperformance through the year versus other sectors, alone, is not a reason to invest in a sector! The deployment of cash into the energy sector should be substantiated by fundamental views about which I've written quite a bit of late. If you have time (and a comfortable seat!), have a look at my comprehensive overall global markets view published earlier this week in an article entitled: "Navigating the Market's Choppy Waters."
To sum it up, I'm encouraged by a number of recent events including China's efforts to pre-empt a bubble-bursting scenario, the political will in Europe that has converged on Ireland in order to restore market confidence that the eurozone is stumbling but not self-destructing, the recent elections in the US that augur well (or at least, better) for some kind of market friendly outcome on tax policy and pushback on earmarks to focus on job-creation, the recent economic data in the US that is showing some optimistic signs, and the seemingly re-generation (pun intended) within the halls of Congress of the energy discussion regarding legislation to promote alternative fuels (yes, T. Boone Pickens was at it again this week in DC... see Bloomberg.com's "Bill to Convert Trucks to Use Natural Gas May Pass This Year, Pickens Says").
Collectively, those events have made me less patient in deploying cash and more inclined to continue building my equity exposure. As China continues to put its foot on the brakes in order to ward off an inflationary bubble, the markets are likely to continue reacting like they did this week... concerned that China's slowing means global stopping, and therefore sell off cyclical sectors in particular. If that happens, the energy sector would likely be among those that retreat on slower global growth concerns. Since, at this point, I don't share those "global stopping" fears, I'd be inclined to add to existing exposure on such pullbacks. The ETF XLE is one option, as are some of the names already in portfolio mentioned above such as Schlumberger and Devon Energy.
Disclosure: Author long XLE, Schlumberger, Weatherford, Devon Energy, Clean Energy Fuels, Hess, Petrobras, Pride, and Baker Hughes
Disclaimer: Please read and consider important information related to all communication made by Soos Global on Seeking Alpha by clicking here.