The Facts:
Eastman Chemical (NYSE:EMN) recently reported earnings for Q2 2014. While EPS beat expectations, revenue was a slight miss (I will explain why later). And while the conference call wasn't the most optimistic sounding, it certainly wasn't bad. Following the earnings report and conference call, the stock has fallen sharply lower, and I now believe Eastman Chemical is trading at a very attractive value. Here is why:
Forward P/E: 10.9
Fairly low PEG (price-to-earnings growth) ratio of 1.5
13% earnings growth over the next four quarters (8% average est. over the next five years)
11% revenue growth over the next four quarters
1.8% dividend
Buyback: $800 million of share repurchase authorization remaining from the $1 billion buyback program announced in February 2014 (according to the conference call). Considering the market pullback last week and possibly into this week, as well as the considerably lower stock price, I would assume management may step in soon to resume the repurchase of shares if they haven't already.
All product categories had increased sales in Q2 -- with the exception of specialty fluids plus intermediaries due to the reasons listed below.
Explaining the Slight Revenue miss:
The slight revenue miss ($50 million) from the Q2 2014 can be attributed to the following one-time unexpected events:
A weather related outage at the Longview, TX site in 1Q 2014
The unexpected shutdown at the Kingsport site in 2Q 2014 (which the company shortly after announced would materially affect earnings).
Aside from these two unexpected one-time events, I believe revenues would have hit estimates for Q2.
Outlook:
The outlook for Eastman Chemical is solid. CEO Mark Costa said it himself on the conference call:
We expect the economy to continue to grow. In particular, we have some favorable positions in our top 2 end markets of transportation and building, construction, where we can see better than GDP sectorial growth there, and we continue to be very excited about seeing how we're valuing up the mix in our company.
The company has a large diverse product line, and while one product may be plateauing in growth, there are others that will continue to grow at a respectable rate. On the conference call Mark was very clear that his management team is very focused on keeping costs down, hedging, and strategizing for the future. He's confident that the company deliver close to $8/sh in earnings growth in the coming year.
A Quick Look at the Technicals: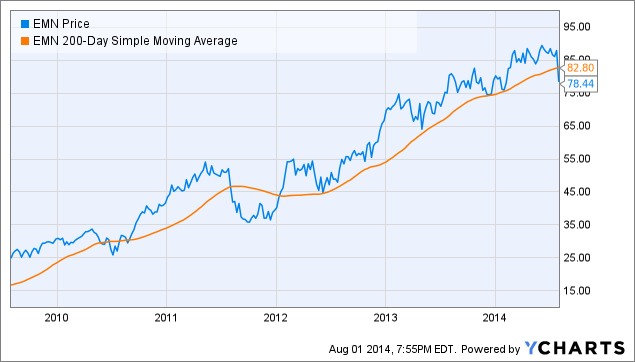 Using some light technical analysis to support what I've claimed above, notice this: Going back 10 years (there are only five visible on the chart), every time EMN has dropped below the 200-day moving average it has proven to be a good buying opportunity. I believe this time is no different.
Conclusion:
Everything considered, I think this is a compelling opportunity to add some diversity and growth to your portfolio with Eastman Chemical. At the time of writing, Eastman Chemical was trading at $79.29. Current analyst price targets range from $89 to $107.
Disclosure: The author is long EMN. The author wrote this article themselves, and it expresses their own opinions. The author is not receiving compensation for it (other than from Seeking Alpha). The author has no business relationship with any company whose stock is mentioned in this article.