A little about my Background
I'm a relatively young investor in her late 20s who is relatively new to dividend growth investing. One of my first dividend growth stocks is Bank of Nova Scotia or Scotiabank (NYSE:BNS), and I've been holding it for about 2 years.
I have only come a little way, and there's more to learn
I feel it's important to have a plan for investing. It is just as important to know one's temperament and habits. As much as I try sometimes, I still let my emotions get in my way. To understand my own behaviors, I keep track of every trade that I make. When I sell something to purchase something else, I keep track of that, too. After a period of time, say, a year, I look back and see if my decision resulted in better results. I was surprised to find that there were a few trades where I sold a holding to switch to another, only to sell that new holding to switch to another company. Now, that's over-trading.
After I categorized my holdings into core holdings, non-core holdings, and speculative holdings, I have traded less, and am less likely to sell or even trim a core holding. I'm more likely to trade away or trim a non-core holding if it becomes way overvalued. For speculative holdings or short-term plays, I might set a target sell price for quick capital gains.
Learning by Example: Adding by looking at the Yield and the Valuation
My experience with Scotiabank as one of my core holdings has been enlightening. When it first reached 20%, I told myself I was in it for the long term. I had to sit on my hands to prevent myself from selling some shares for gains. Then the price dropped by half so that only 10% of unrealized capital gains was left. At that time, I wanted to sell because I was afraid it would go down even more and I'd lose all my gains... but I held on somehow. When it went back up to having 20% unrealized gains, I trimmed some -- partly because I was afraid it'd go down again, and partly because it was my largest holding. Currently, it is sitting at 36% unrealized gains.
Now looking back, when I wanted to sell at the time half of my gains vaporized, it might very well have been a good time to buy more! Of course, at the end of the day, checking the valuations from various sites is essential. I use FAST Graphs and Morningstar. I would also take a look at the Value Line analysis when I visit the local public library, which seems to be once a quarter.
I'm choosing to display Scotiabank's data in the Canadian currency on the Toronto Stock Exchange because Canada is Scotiabank's home country, and also to avoid the mess with the foreign exchange. For example, Google Finance indicates that the dividend is $0.60 per share per quarter for NYSE:BNS, while the dividend is $0.64 for TSX:BNS.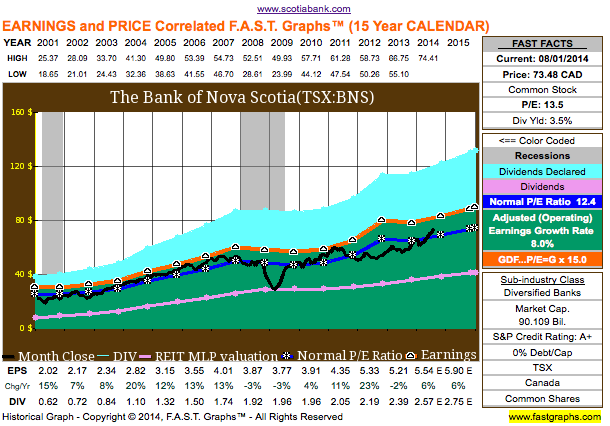 Scotiabank's price is ahead of its normal P/E ratio of 12.6, but not excessively so. So I'll continue holding my shares, but I will not add more shares here. For an investor who's looking for secure income from a high quality company in the financial sector, he or she could take another look, but don't expect excellent capital gains from this point.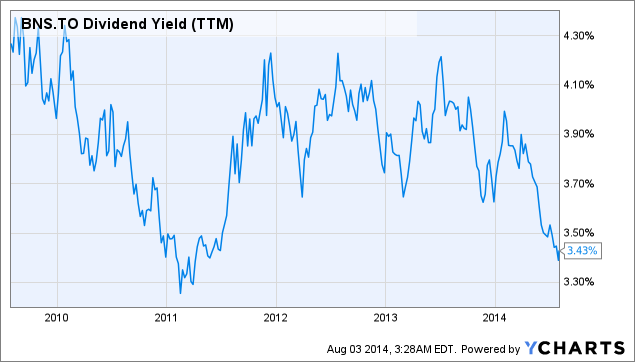 BNS Dividend Yield (TTM) data by YCharts
It makes sense to add to Scotiabank at the upper end of its yield point ~4.2%, which requires a 20% decline from the current price. With my estimated 3%-5% payout hike in Q3 2014, the required decline is reduced to 15%-17%. From personal experience, though, even adding to core holdings at 5%-10% pullbacks, with a long-term perspective, works wonders. This is especially true if the company is at fair value or at a discount.
The fair value estimate for Scotiabank is about $66. With a high quality company like BNS, I use 10% to get to its fair value range of $59 to $73.
Dealing with "Big" Unrealized Gains
It was exciting to see my first holding have an unrealized gain in the teen percentages, and later in the 20s. So far my highest record has been 50%. What made me able to hold on is partly identifying core holdings versus non-core holdings and speculative plays. I also saw other investors with holdings of unrealized gains of over 100%. And I even heard stories of over 1000% unrealized gains! These amazing gains are possible by holding a high quality company for decades whether its price or the market go up or down, while collecting a rising dividend. It sounds simple to just hold on and ignore the price (that is the unrealized gains), but it's not as easy when actually doing it.
One reason for me to hold a dividend growth company is for its rising dividend. The dividend allows me to mix with my other sources of income to buy more shares of companies priced at a good valuation. Compared to holding a growth speculative play, which doesn't pay a dividend, the dividend from a dividend growth company gives me peace of mind. While my quality core holding, Scotiabank, is growing its business and increasing its earnings, my dividend income from it and its unrealized gain can only grow larger in the long term.
Dealing with Declines from Unrealized Gains
As mentioned before, when you feel like selling, it may just be the time to add more. Before you do buy more, make sure to check the company's valuation and its future prospects. That is, is its business still doing well? Does management continue to reward shareholders with a rising payout? Does the company have too much debt?
Generally, I find dollar-cost averaging into a position is psychologically more bearable than buying in a big lump sum. Sometimes, it might even make sense to dollar-cost average up.
If you like what you've just read, consider clicking the bolded "Follow" link at the top of the page above the article title to receive an email notification when I publish a new article.
Disclosure: The author is long BNS. The author wrote this article themselves, and it expresses their own opinions. The author is not receiving compensation for it (other than from Seeking Alpha). The author has no business relationship with any company whose stock is mentioned in this article.
Additional disclosure: I'm long TSX:BNS.