Thanks mostly to a 16% rally in shares of Bespoke Premium Model Portfolio member Salesforce.com (NYSE:CRM), the application software sub industry of the S&P 500 has been having a strong day, gaining roughly 2.5%.
The chart below shows the relative strength of the group versus the S&P 500 over the last year. When the line is rising, the application software group is outperforming and vice versa when the line is declining.
As shown, investors in this group have handily outperformed the overall S&P 500 over the last year, gaining more than 35% compared to the S&P 500's rise of 9%. One trade off for the outperformance, however, is that it's been a wild ride. The group has seen sharp rallies and sharp declines.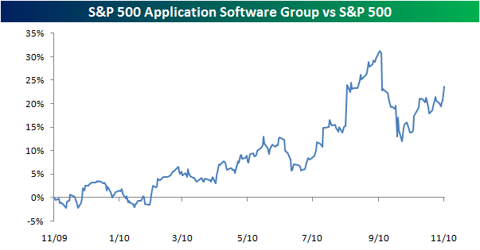 (Click to enlarge)
While large cap application software stocks have seen big ups and downs over the last year, their small and mid cap counterparts have seen similar returns without the volatility. The chart below highlights the relative strength of the application software groups (based on market cap) compared to the S&P 500.
Even after today's big jump in the large cap segment of the group, it is the mid-cap segment that has seen the greatest performance over the last year with a gain of 35.8%. The performance of the small cap segment hasn't been too far behind with a gain of 27.5%.
What is striking about the chart is that contrary to conventional wisdom, the more 'established' large cap group has seen the greatest volatility, while the less 'seasoned' small and mid cap names have been stable outperformers. For a list of the companies in each group, please click here.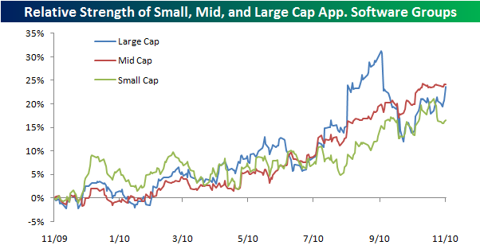 (Click to enlarge)
Disclosure: No positions