Yet another company that I found on Joel Greenblatt's Magic Formula Screener and took a look at is Liquidity Services (LQDT).
Business
I have been giving increasing weight to GlassDoor ratings of late because I have begun to appreciate the importance of employee engagement and culture to great businesses and it is a seal of approval (or disapproval) of sorts, especially for small-caps. LQDT has enough ratings for the sample size to be somewhat representative and the company got 2.6/5 stars and 52% CEO approval. In my experience, these ratings are pretty average.
The company began operations in 1999 like many other internet businesses and is an online auction marketplace for surplus and salvage assets.
I like that the company has a very distinct niche. Most things can be sold online but 'surplus and salvage assets' really narrows down to field of play. Differentiation is critical considering the heavyweights of Amazon (AMZN) and eBay (EBAY) already doing a very good job operating non-niche online marketplaces.
Network effects and user base are critical for internet businesses and the data looks pretty good. The company grew registered buyers by 10.9% in FY13 and doubled it since 2009. GMV has grown at a compounded 28% since 2006 and a better 30% since 2009. Despite that, the company still has pretty insignificant market share:
The total value of merchandise returned in the United States for 2012 was estimated to be $217 billion, up approximately 14% from $190 billion in 2010. In addition, Manfredi and Associates estimates the global market for surplus capital assets to be approximately $100 billion annually.
FY13 GMV was <$1B so less than 1% of either figure.
I really like that, despite being an internet company, it seems to be a very boring business. 'Surplus' and 'salvage' have negative connotations for most people and not just anyone can buy on LQDT's sites, which I believe contributes to the popularity of EBAY and AMZN in the investment community.
That's right- not just anyone can buy on LQDT sites. More times than not in the 10-K, the word 'buyer' is preceded by 'professional.' I also noticed the "Seller/Buyer Qualification" bullet point in the below graphic: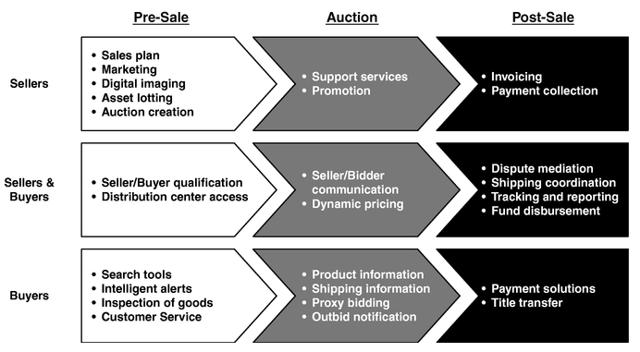 Source: FY13 10-K
The company seems to believe it is differentiated from other online marketplaces because the company's buying crowd are not regular people. I suspect that many of the purchasers of LQDT sites are sellers of refurbished goods on EBAY and AMZN. An example of the buyers being professional:
Our govliquidation.com marketplace enables selected federal government agencies to sell surplus and scrap assets. In addition to goods sold on behalf of other federal agencies, the surplus and scrap assets we sell as the exclusive contractor of the Defense Logistics Agency (NYSEMKT:DLA) Disposition Services of the U.S. Department of Defense are sold in this marketplace. To satisfy the requirements of U.S. federal government agency sellers, this marketplace incorporates additional terms and conditions of sale, such as U.S. Trade Security Controls clearance for the sale of export-controlled property.
(Emphasis added)
Buyers of DoD goods (much of what LQDT sells) must have US Trade Security Controls clearances.
It may be needless to say, but a major positive for the business is the major technology tailwinds as the world economy continues to shift online. Further, I like that the business seems to add genuine value. It seems a surprisingly sustainable business model for such a small company. From the FY13 10-K:
Traditional methods of surplus and salvage asset disposition include ad-hoc, negotiated direct sales, utilization of individual brokers or sales agents and live on-site auctions. We believe these solutions are generally highly fragmented, geographically dispersed and poorly integrated with supply chain operations.
With this background, I can understand the attractiveness of the company's value proposition to its sellers and buyers.
I noticed that for FY13, the company had 2.458M auction participants compared to 2.424M registered buyers. Averaging just over 1 auction per user, this indicates to me that LQDT buyers are not very active and so the user numbers may not be comparable to other e-commerce sites.
I like that the company offers consignment and profit-sharing transaction types to sellers in addition to traditional purchase. This is designed to align economic interests and I expect it works well.
From my brief look at one of the company's sites, liquidation.com, it didn't seem like there were many listings and they did not seem evenly geographically distributed. I looked for consumer electronics and only 1 item was being sold in the US Northeast while over 100 were listed in the Midwest.
The company has been very active on the M&A front:
GovDeals 2008
Network International 2010
TruckCenter.com 2011
Jacobs 2011
GoIndustry 2012
NESA 2012
The company has 2 major contracts with the DoD- 'Scrap' and 'Surplus.' Combined they made up 41.2% and 22% of revenue and GMV respectively in FY13. The trend is toward decreasing dependence though. In 2011 the numbers were significantly higher at 55.8% and 33.9%. The company's Surplus contract with the DoD expired recently and negotiations were prolonged and suspended at one point, but the company recently announced it had won a new 2-6 year surplus contract that will begin contributing revenue in October of FY15. In the last contract, the DoD exercised both 1 year extension options so there is a good chance this one will last the full 6 years. It should serve as a major catalyst soon before the financials pick up but the absence of the deal may cause the company's numbers to stagnate and could create a better buying opportunity in the interim.
By acquiring Jacobs in 2011, the company also secured a substantial contract with Wal-Mart (WMT) that contributed 11% of the company's GMV in FY13.
These significant relationships with WMT and the DoD introduce significant customer concentration risks, but they also are a testament to the legitimacy of the business. A small company like LQDT doing business with such giants is meaningful to me.
The company does not own any real estate. It leases a bunch of warehouses and such. I generally prefer this. This enables high ROIC but introduces operating leverage, a tradeoff a generally find favorable.
Executive compensation seems excessive. The CEO made $2M in FY13 and named execs $10.7M. That's 2.9% and 15.7% of FY13 EBIT respectively and a lot of money if you think of executive compensation as profit sharing instead of comparing it to revenue.
In general, I am not totally comfortable with LQDT's business but I think there is a lot to like.
Valuation
12 months ago, from which I draw invested capital data, the company had $57M in net cash on the balance sheet, very significant relative to the other numbers. I was not sure whether to include/exclude this from invested capital, but considering the cash balance has grown significantly in the last twelve months and the nature of the business, I decided to include it. Thus I calculated ROIC as EBIT / (Total Assets - Goodwill - Current Liabilities) and got 58.4% pre-tax. That's excellent. The average business probably does about 15%, meaning many don't even achieve that. Since I consider ROIC to be the best quantitative measure of business quality, I find this very significant.
As far as growth, the company has grown at the following compounded rates:
GMV 29% since 2006 and 30% since 2009
Registered Buyers 19.2% since 2009
EBIT 34% last 5 years
Revenue 16.3%
Cash flow 39.4%
EPS 39.1%
Of note, there's been some share dilution with share count up 16.3% over the last 5 years and the company pays no dividend.
15%+ growth at 50%+ pre-tax ROIC probably justifies a multiple of 15-20x, but the stock trades at:
EV/EBIT 5.8x
EV/Revenue .66x
EV/EBITDA 4.4x
P/E 12.7x
P/CF 9.6x
P/FCF 11.6x
EV/FCF 8.9x
I strongly suspect the stock is meaningfully discounted.
Conclusion
There is a lot to like about LQDT and the stock seems obviously cheap but I cannot help feeling a little uncomfortable about a few concerns, namely excess comp, customer concentration risks, a significant drop off in performance over the last 2 years or so, and the possibility of an industry heavyweight like AMZN or EBAY jumping into the company's niche. I am avoiding the stock for now but would not be surprised if it delivered outsized returns over the next 2 years (within which the DoD Surplus contract catalyst will be fully realized).
Disclosure: The author has no positions in any stocks mentioned, and no plans to initiate any positions within the next 72 hours. The author wrote this article themselves, and it expresses their own opinions. The author is not receiving compensation for it (other than from Seeking Alpha). The author has no business relationship with any company whose stock is mentioned in this article.