The well-known investor and asset manager James P. O'Shaughnessy suggests a winning value parameter -- Shareholder Yield -- in his impressive book "What Works on Wall Street".
According to Mr. O'Shaughnessy, shareholder yield unites a stock's dividend yield with its buyback yield to show what percentage of total cash the company is paying out to shareholders, either in the form of a cash dividend or as expended cash to repurchase its shares in the open market. The buyback yield is the percentage of one year reduction of the company's shares outstanding.
Shareholder Yield = Dividend Yield + Buyback Yield
In his book, Mr. O'Shaughnessy demonstrates that 83 years back-testing, from 1926 to 2009, have shown that companies with the highest shareholder yield have given superior return with lower downside risk.
I used Portfolio123's powerful ranking system, which allows the user to create complex formulas according to many different criteria, to rank all S&P 500 stocks that pay a dividend with higher than 2% yield according to their shareholder yield. The tables below show the first best 20 stocks according to this parameter, as of August 1, 2014.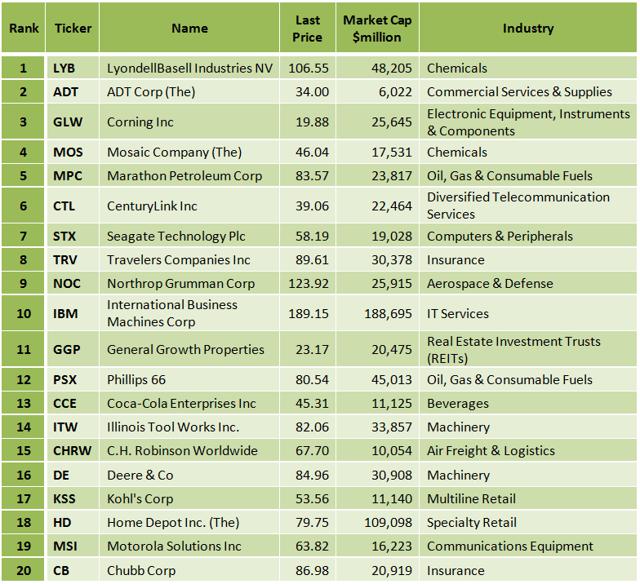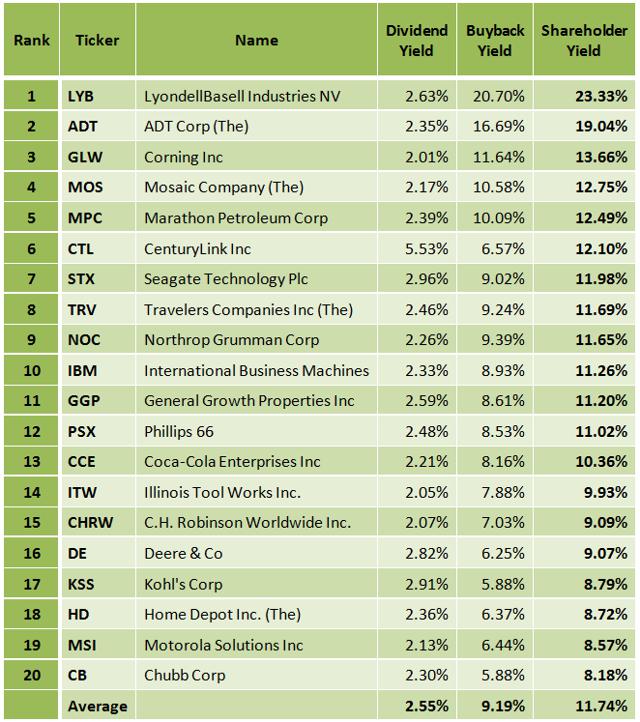 Source: Portfolio123
In this article, I will focus on the first ranked stock; LyondellBasell Industries NV (NYSE:LYB).
The Company
LyondellBasell, which came out of Chapter 11 bankruptcy in 2010, is one of the world's largest plastics, chemicals and refining companies and a member of the S&P 500 Index. With operations on five continents and sales in more than 100 countries, the company is a major global manufacturer of ethylene, polyethylene, propylene, polypropylene, propylene oxide and acetyls. LyondellBasell also is a significant producer of gasoline, diesel and fuel additives. The company operates in Americas, Europe, Asia, and internationally. LyondellBasell Industries N.V. was founded in 2005 and is based in Rotterdam, the Netherlands.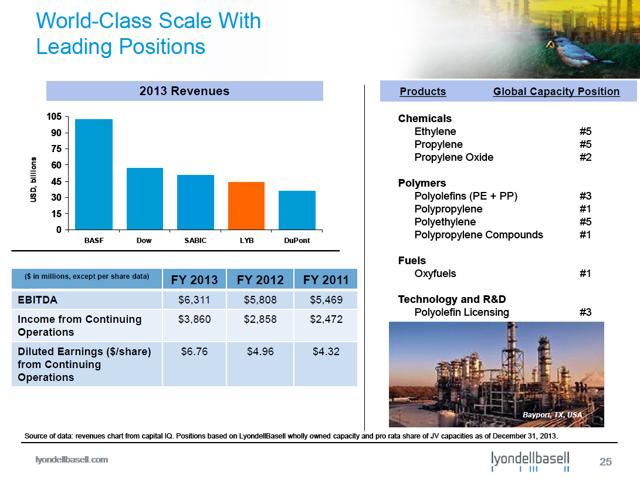 Source: Deutsche Bank Global Industrials & Basic Materials Conference
Valuation Metrics
The table below presents the valuation metrics of LYB, the data were taken from Yahoo Finance and finviz.com.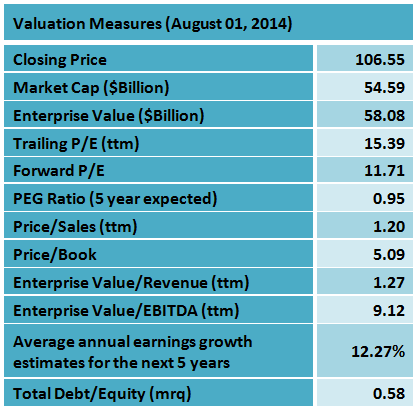 LyondellBasell's valuation metrics are very good; the trailing P/E is at 15.39, and the Enterprise Value/EBITDA ratio is very low at 9.12. According Yahoo Finance, LYB's next financial year forward P/E is very low at 11.71, and the average annual earnings growth estimates for the next five years is high at 12.27%; these give a very low PEG ratio of 0.95. The PEG Ratio -- price/earnings to growth ratio is a widely used indicator of a stock's potential value. It is favored by many investors over the P/E ratio because it also accounts for growth. A lower PEG means that the stock is more undervalued.
Latest Quarter Results
On July 25, LyondellBasell reported its second-quarter 2014 financial results, which beat EPS expectations by $0.30 (15.6%) and beat analysts' estimates on revenues.
Comparisons with the prior quarter and second quarter 2013 are shown below:

Second-Quarter Highlights
Record quarterly EBITDA of $1.94 billion
Record diluted earnings per share of $2.22; income from continuing operations of $1.17 billion
Solid results in all segments, with O&P Americas segment approaching EBITDA of $1 billion
Completed initial 10% share repurchase and initiated purchases under second 10% authorization; repurchased approximately 19 million shares during the quarter
In the report, Jim Gallogly, LyondellBasell Chief Executive Officer said:
We had record earnings this quarter of $2.22 per share, while our EBITDA approached $2 billion. Importantly, every segment contributed to this achievement. Of particular note was the strength in our Olefins and Polyolefins- Americas segment which generated nearly $1 billion of EBITDA even while we were performing significant scheduled maintenance at our La Porte ethylene site.
Dividend and Share Repurchase
LyondellBasell has been paying dividends since May 2011. The forward annual dividend yield is at 2.63%, and the payout ratio is only 31.5%.
Since the company generates lots of cash, and the payout ratio is low, there is a good chance that the company will raise its dividend payment.
As a result of the strong quarterly earnings, the company repurchased approximately 19 million of its shares during the second quarter, completing the initial 10 percent share repurchase authorization. LyondellBasell also initiated repurchases under the second 10 percent authorization.
Competitors
A comparison of key fundamental data between LyondellBasell and its main competitors is shown in the table below.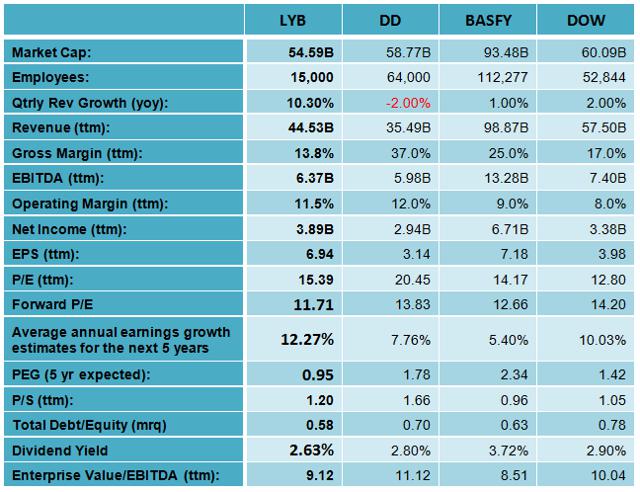 LyondellBasell has the lowest PEG ratio and the strongest earnings growth prospects among the stocks in the group, and it also has a slightly lower debt-to-equity ratio.
Technical Analysis
The charts below give some technical analysis information.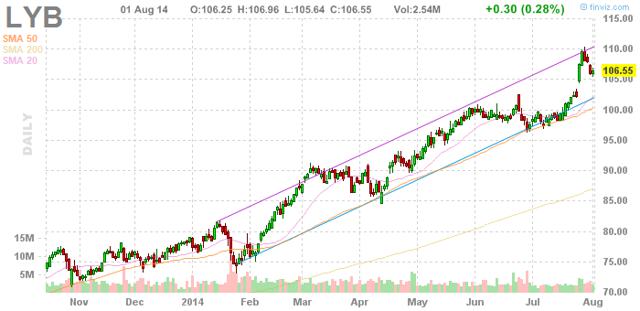 Chart: finviz.com
The LYB stock price is 4.57% above its 20-day simple moving average, 6.35% above its 50-day simple moving average and 22.62% above its 200-day simple moving average. That indicates a strong uptrend.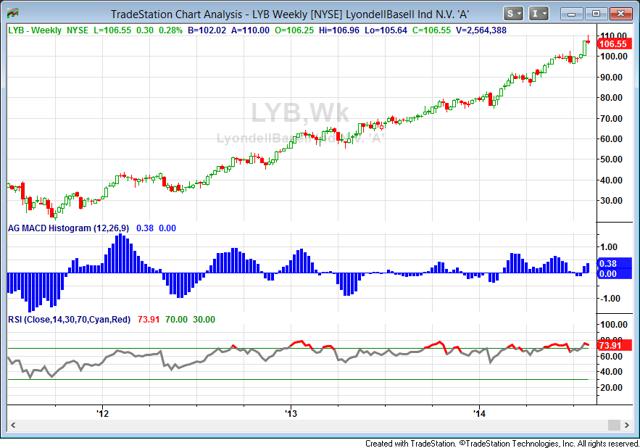 Chart: TradeStation Group, Inc.
The weekly MACD histogram, a particularly valuable indicator by technicians, is at 0.38 and ascending, which is a bullish signal (a rising MACD histogram and crossing the zero line from below is considered an extremely bullish signal). The RSI oscillator is at 73.91, which indicates overbought conditions.
Analyst Opinion
Many analysts are covering the stock, and most of them recommend it. Among the nineteen analysts, four rate it as a Strong Buy, eleven rate it as a Buy and four analysts rate it as a Hold.
TipRanks is a website that ranks experts (analysts and bloggers) according to their performance. According to TipRanks, among the analysts covering LYB stock there are only four analysts who have the four or five star rating. All of them recommend the stock.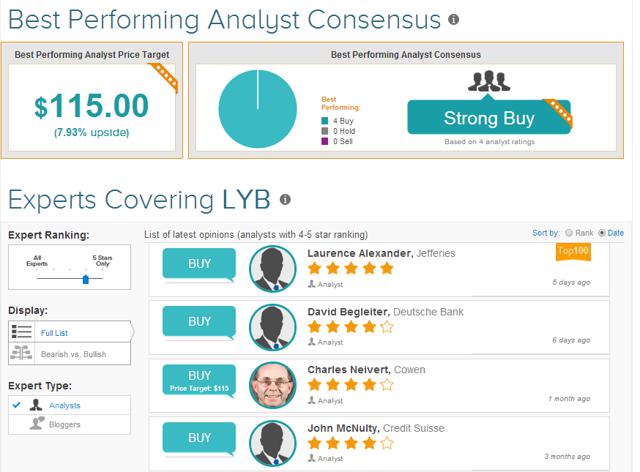 Source: TipRanks
Major Developments
According to LyondellBasell, during the first weeks of the third quarter, industry conditions have been similar to the second quarter environment. U.S. oil, natural gas, and natural gas liquids production remain strong. Together these support margins in its Olefins and Polyolefins -- Americas, Intermediates and Derivatives, and Refining segments. However, LYB's results in the next quarter will be negatively impacted by the delayed start-up of its La Porte ethylene plant.
LyondellBasell has benefited from the shale gas boom as ethane, a bi-product of natural gas, prices have been reduced due to a drop in natural gas prices. Ethylene, which is produced from ethane, is one of the basic building blocks for many chemicals and polymers. The emergence of low-cost natural gas and NGLs produced from shale formations in the United States has created an advantage for all North American ethylene producers. In contrast, when ethylene is produced using naphtha or other crude-based feedstocks priced in relation to oil, production costs have been high. As a result, LyondellBasell is executing its expansion projects to leverage the U.S. natural gas liquids advantage. The company expects olefins in North America to continue to gain from strong margins created by cost-advantaged natural gas liquids. Furthermore, LyondellBasell restarted its methanol plant at Channelview, Texas, in fourth-quarter 2013 to benefit from low-cost natural gas from shale formations. The facility had been out of operation since 2004 as a result of rising natural gas costs. The restart of the methanol facility represents the first in a number of U.S. Gulf Coast projects to leverage the natural gas price advantage. This project along with the company's other major projects will bring in new capacity at considerably lower cost than building new facilities.
LYB's stock has performed very well in the last years. In fact, its relative strength index (RSI) technical indicator is indicating overbought conditions. Since the start of the year, LYB stock has gained 32.7% while the S&P 500 index has risen 4.2%, and the Nasdaq Composite Index has also increased 4.2%. Moreover, since the beginning of 2012, LYB stock has gained an astounding 258.3%, while the S&P 500 index has increased 53.1%, and the Nasdaq Composite Index has risen 67.1%. Nevertheless, considering its excellent valuation metrics and strong earnings growth prospects, the stock, in my opinion, is still cheap.
Conclusion
LyondellBasell will continue to benefit from low-cost natural gas and NGLs produced from shale formations in the United States. LyondellBasell has compelling valuation metrics and strong earnings growth prospects. The company is generating strong free cash flows and returns value to its shareholders by stock buyback and dividend payments. All these factors lead me to the conclusion that LYB stock still has room to move up. Furthermore, the generous dividend represents a nice income.
Disclosure: The author has no positions in any stocks mentioned, and no plans to initiate any positions within the next 72 hours. The author wrote this article themselves, and it expresses their own opinions. The author is not receiving compensation for it (other than from Seeking Alpha). The author has no business relationship with any company whose stock is mentioned in this article.