As the market has reached all time highs, it has become quite challenging to uncover stocks with further significant upside. In such markets, one needs to be more concerned about the downside risks which accompany with buying at all time highs. Needles to say, the task at hand requires one to do very detailed due diligence to make sure that there are solid catalysts for future price appreciation and a well-defined bottom exists. After weeks of research to identify a bargain with significant upside, Endocyte, Inc. (NASDAQ:ECYT) has convinced me that it provides the most favorable risk/reward rationale.
Company Overview
Endocyte is a biopharmaceutical company developing targeted therapies for the treatment of cancer and inflammatory diseases. They use their proprietary technology to create novel small molecule drug conjugates, or SMDCs, and companion imaging agents. These imaging agents allow them to obtain real-time images of tumors anywhere in the body that express the target for that particular SMDC, which eventually helps to identify the patients who are most likely to respond to the treatment. Their SMDCs actively target receptors that are over-expressed on diseased cells, relative to healthy cells.
This targeted approach allows cancer drugs, which are too toxic to be administered in their untargeted form, to be delivered to cancer cells while healthy cells are spared. As a result of their precision guided targeting technology, Endocyte can afford to use cancer drugs that are known to be thousands of times more active and toxic than traditional cancer cell-killing drugs without adversely impacting the patient's safety. Another competitive advantage of Endocyte is that they have developed a system which allows them to conjugate multiple drug payloads (cancer drugs), thus offering the potential to simultaneously disrupt multiple pathways within cancer cells, forming a novel strategy for addressing drug resistance.
Targeting malignant cells while leaving out healthy ones is the holy grail of cancer research, because it enables the treatment of patients with highly active drugs at greater doses, delivered more frequently, and over longer periods of time than would be possible with the untargeted drugs alone. Endocyte is also developing companion imaging agents for each of their SMDCs that are designed to identify the patients whose disease over-expresses the target of the therapy and who are therefore more likely to benefit from treatment. Before diving into the details of my investment thesis on Endocyte, a review of the recent events and how they tie into the risk and reward side of the thesis would be helpful.
Recent Events
By looking at the 12-month stock price chart of Endocyte, one can clearly see the sharp spike in late March and the drop that happened in early May. The spike was driven by the announcement about the positive results from the Phase 2b lung cancer trial, which showed that the study met the primary endpoint for the combination of vintafolide and docetaxel in recurrent non-small cell lung cancer (NSCLC) patients. Vintafolide is Endocyte's investigational conjugate and docetaxel is an FDA-approved treatment for lung cancer. The study compared combination arm (vintafolide and docetaxel) against the control arm (docetaxel only). The data showed that risk of disease worsening or death was reduced by 25% for patients treated with the vintafolide/docetaxel combination versus docetaxel alone. Further results from this ongoing trial will become available later this year on overall survival rate. This positive announcement resulted in the share price spiking from $15 to $28, as investors saw this as the first validation of Endocyte's SMDC technology.
Following the spike in share price, Endocyte completed a secondary offering of 5,175,000 shares of its common stock to raise $102 million in early April. Thanks to this timely offering Endocyte increased its cash reserves to $233 million. The significance of this amount of cash becomes clear when one considers the fact that Endocyte has only 41 million shares outstanding, which results in $5.7 cash per share. This is an important metric to consider, because cash per share usually provides the absolute bottom in a stock's decline path.
As Endocyte has been running multiple trials for various cancers, bad news came early May from the Phase 3 trial (PROCEED) in ovarian cancer. On May 3rd, the Data Safety Monitoring Board (DSMB) of the PROCEED trial completed a pre-specified, interim futility analysis and recommended that the trial be stopped because vintafolide did not demonstrate efficacy on the pre-specified outcome of progression free survival in patients with ovarian cancer. Endocyte's stock price dropped from $17.4 to $6.6, as investors panicked and sold their shares right above the cash per share level, which essentially values the rest of the ongoing trials in breast, prostate and lung cancers and Endocyte's SMDC platform at almost zero. This is despite the fact that Endocyte's other cancer trials either use completely different compounds or different chemotherapeutic drug combinations of the same compound used in the ovarian cancer trial. I refer interested readers to another excellent article published by Seeking Alpha to better understand why failure in one trial may have limited implications on other trials. This is where Endocyte becomes a rare opportunity in terms of very favorable risk/reward with significant upside potential.
Risk versus Reward Analysis
Risk and reward of a stock are concepts that are relative to the share price. As of this writing, Endocyte is trading mostly between $6 and $7 per share, which greatly limits the downside risk with its very high cash per share level. After reporting unexpectedly good progress in its Q2 earnings conference call on July 29th, Endocyte shares jumped from $6.1 to $7.1 in the next trading day, but it gave up most of its gains as part of the sharp market correction coming into August.
As mentioned before, Endocyte reported positive Phase 2b results in late March from its lung cancer trial, which showed that the combination arm met the primary end point of progression free survival. Further results from this study regarding overall survival will become available in late September. Based on the totality of results, including response rate, overall survival, progression free survival, and duration of response, Endocyte will determine whether to progress lung cancer trials into Phase 3. If this trial's results come in favorably then the share price can easily spike to above $10, possibly closer to $20, as this will be seen as a validation of the SMDC technology. On the other hand, if results show that there is not sufficient evidence to progress to a Phase 3 trial in lung cancer, then investors should expect a pull back to mid $5s, where cash per share serves as the absolute bottom, in which case the stock can recover slowly as they progress trials in other cancer indications.
Although no failure in a Phase 3 trial can be considered good, we need to make a distinction between failures that are lethal to the development program versus those that are handicaps, which has the potential to be solved and pursued again. After Phase 3 trial in ovarian cancer was stopped in early May, investors punished Endocyte by selling their shares right above cash levels as if the whole SMDC platform has been proven useless. This is an over-reaction for the following reasons:
DSMB recommended that PROCEED trial be stopped for lack of significant efficacy. The silver lining is that the DSMB did not identify any safety concerns for the patients enrolled in the trial. Safety issues are much more lethal to a drug development program than efficacy related ones.
Endocyte reported that lack of efficacy in the PROCEED trial was driven by unexpectedly good results in the control arm of the trial, whereas the test arm replicated the efficacy that was seen in the previous Phase 2 study. Good results in control arm may have quite a few reasons such as those patients getting more effective other treatments, small sample sizes, etc., which usually calls for a better statistical test design to remove the placebo effect so that the efficacy seen in test arm can reach statistical significance.
In the PROCEED trials, Endocyte used its chemical compound called vintafolide, which is one of the compounds designed using its SMDC platform. It is well known that the failure of a given compound in one cancer indication doesn't automatically mean failure in all other cancer indications. That's why Endocyte is pursuing the same compound with a different chemotherapeutic drug in lung cancer, advanced solid tumors, and triple negative breast cancer.
In addition to the vintafolide compound, Endocyte has more potent compounds designed using their SMDC platform. For example, Endocyte's EC1456 compound has tubulysin as its drug payload, which is at least 100 times more potent than vintafolide.
Re-Pursuing Ovarian Cancer: A Blockbuster Opportunity
Noting that Endocyte's share price dropped from $17 to $6 on news of lack of efficacy in their Phase 3 ovarian cancer trial, one can see how important the ovarian cancer opportunity is for Endocyte. After listening to both Q1 and Q2 conference calls, I believe that Endocyte has exactly this in mind among their medium-term goals. During the Q1 conference call, the CEO mentioned that they have the ability to target ovarian cancer cells with their targeting technology, so he thinks that if the active drug is having difficulty in killing the cancer cell, it must be a warhead issue rather than anything. A different and more potent warhead may easily push the efficacy significantly above the control arm.
Endocyte has been developing other compounds using their SMDC technology. One of them is called EC1456 which uses a warhead (tubulysin) that is at least 100 times more potent than the one used in the ovarian cancer trial. Endocyte reported encouraging news about the progress of this compound in their Q2 conference call, where the CEO mentioned that EC1456 trial has completed two cohorts with no safety issues and they would start the third cohort in August. This third cohort will be very important as the dose will be escalated to levels used in the ovarian cancer trial. If safety is still maintained at this dose, despite tubulysin being at least 100 times more potent, then hopes about a new study which can use EC1456 in ovarian cancer may quickly become a reality. Such a progress can bring a partnership opportunity with a big Pharma company whose expertise may speed things up in Phase 2 and 3 studies in ovarian cancer.
Remaining Trials
In addition to the Phase 2 trial in lung cancer and potential trials in ovarian cancer using a more potent warhead, Endocyte has several other candidates. Phase 1 trial for prostate cancer is just starting following the clearance from the FDA. During the Q2 conference call, the CEO mentioned that they may have an update on prostate cancer trials by the next earnings conference call.
Note that EC1456 uses the very potent tubulysin warhead targeting any cancer that over expresses folate receptor. If Phase 1 studies produce favorable results on EC1456, then the following cancer types, which over expresses folate receptor, can be targeted: ovarian, lung, kidney, endometrial, liver, colorectal, and breast. I believe that Endocyte is pushing hard to target the folate receptor with a very potent warhead, because this receptor is over expressed in many cancer types with significant market potential. During the Q2 earnings conference call, most analyst questions were related to EC1456, which is further evidence that this compound holds the key to an incredible market potential involving many cancer types.
During the clinical development program of an imaging agent, Endocyte unintentionally discovered that their imaging agent had strong uptake in regions of chronic inflammatory diseases such as rheumatoid arthritis. Results were so promising that Endocyte started preclinical work for chronic inflammatory diseases. In those preclinical models of rheumatoid arthritis, Endocyte's compound (EC1669) resulted in significant reduction in inflammation and prevention of bone destruction that often accompanies these diseases. They observed in preclinical models that EC1669 was safe and reduced inflammation more than the most commonly prescribed anti-inflammatory agent. Portion of the arthritis market that can be targeted with Endocyte's technology is $13.5 billion, according to Endocyte's latest 10-K. Since these are pre-clinical studies, investors don't seem to take this massive market opportunity in their valuation of Endocyte.
There are quite a few other indications that Endocyte is working on, which are too early in their developmental stage. These can be seen in the below pipeline chart. Interested readers can read more on those indications from the latest 10-K filing.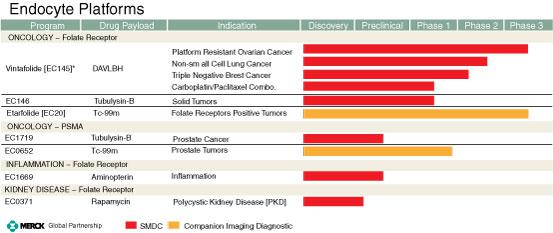 Source: Endocyte, Inc. 2014 10-K Filing
Analyst Opinion
Following the Q2 earnings conference call, Chardan Capital affirmed Endocyte at "buy" with a price target of $15. One highlight from Chardan Capital's buy rating underscores why the downside risk in Endocyte is limited: "It ended 2Q14 with ~$219.2MM in cash & equivalents, which should be sufficient to fund operations into at least 2H15 according to our projections. Management guided the cash position at YE14 of ~$200MM and spending in 2H14 to decline significantly with costs of Phase III PROCEED trial already booked and the wrapping up of the Phase II TARGET trial".
When it comes to biotech investing, constant secondary offerings and cash burn are two of the biggest risks, but Endocyte management has mentioned that their cash burn will decline in the remainder of the year and they expect to have $200 million at year end, which eliminates the risk of dilution at least for the rest of 2014. Separately, RBC Capital set their price target for Endocyte at $20 in a research note on May 5th with an "outperform" rating. Brean Capital set their price target for Endocyte at $22 with a "buy" rating on the stock. Finally, Citigroup set a "neutral" rating with $8 price target on the stock. Average price target by the nine analysts covering the stock is $13, which further suggests potential undervaluation based on professional consensus.
Conclusion
Endocyte has been trading at overly depressed levels following the news of lack of significant efficacy in their ovarian cancer trial. Since then the stock has been trading just above cash, which accounts for 85% of Endocyte's market capitalization. This creates an asymmetric risk/reward opportunity, as the downside risks are capped by very high cash levels, while many ongoing cancer trials at Phase 2, Phase 1, and some in pre-clinical studies provide significant upside opportunity.
Disclosure: The author is long ECYT. The author wrote this article themselves, and it expresses their own opinions. The author is not receiving compensation for it (other than from Seeking Alpha). The author has no business relationship with any company whose stock is mentioned in this article.
Additional disclosure: Please read additional disclaimer in my bio.