America's favorite stimulant has been picking up momentum and may be set for another bull market. While coffee is still far from its 2011 peak, the commodity has been appreciating quickly in the past year. The iPathDow Jones-UBS Coffee Subindex Total Return ETN (NYSEARCA:JO) is up a remarkable 48.50%. Expected global shortages, growing demand from emerging markets, and long-term climate change may help bolster prices for the roasted seed.
An Introduction to Growing Coffee
The coffee industry is massive. Over 1.6 billion cups of coffee are drunk every day. The entire coffee industry is worth over $100 billion, making it the second most valuable commodity after oil, and employs 25 million farmers. An additional 100 million people are involved with the processing, packaging, distribution, and retail of coffee.
There are two major species of the coffee plant that are cultivated today. Arabica coffee accounts for 75-80% of world production and is grown largely in South America. Arabica has grown in popularity as the plants beans have been favored by Starbucks (NASDAQ:SBUX), Dunkin' Donuts (NASDAQ:DNKN), and premium coffee brands. Arabica coffee is also the underlying asset used in ICE futures contracts, in which JO is invested. Arabica plants are rather pernicious and are best commercially grown in high elevations.
Accounting for 20% of the world production, is Robusta coffee, a lower quality variety found in your Folgers instant coffee and strong espresso. Robusta coffee plants are primarily grown in Vietnam along with Indonesia and India. This variety traditionally trades at a 70% discount to Arabica as its coffee beans are much stronger and more bitter. Robusta is also cheaper to produce as it is less prone to the diseases that ravish Arabica crops. Additionally, the plant produces 2-3 pounds of green coffee (unroasted) per year, double the amount that Arabica yields. Interestingly, Kraft (KRFT), Nestle (OTCPK:NSRGY), J.M. Smucker (NYSE: SJM) and Sara Lee (NYSE:HSH) make up for more than 50% of Robusta coffee purchases. These four companies therefore have a large influence on Robusta's price.
The 34-year high futures prices in 2011 propelled farmers worldwide to expand their production and plant more coffee shrubs. This may create a longstanding glut in the market, as growing coffee is a long-term investment. The typical coffee tree has a lifespan of 40 years - some plants have lived more than a century. Coffee trees typically take 3 to 5 years to produce coffee berries. This being said, coffee planted following the high prices of 2011 should soon be adding to global production levels. Analysts at Zacks Equity Research believe a boost in production could halt recent gains in their tracks; however futures markets may have already priced in this probable eventuality as prices subsequently halved after the 2011 run.
The world's top coffee producer is Brazil, a country that grows an astounding 5.61 billion pounds of coffee (primarily the Arabica variety). Vietnam comes in second place, producing 1.98 billion pounds of Robusta coffee. Colombia, Indonesia, Ethiopia, and India are also major producers. With production concentrated in a few key countries and the development of new crops a slow and risky task, investors in coffee tend to keep a close eye on the aforementioned countries. For instance, the 2011 coffee rally is often attributed to poor production output figures from both Brazil and Colombia.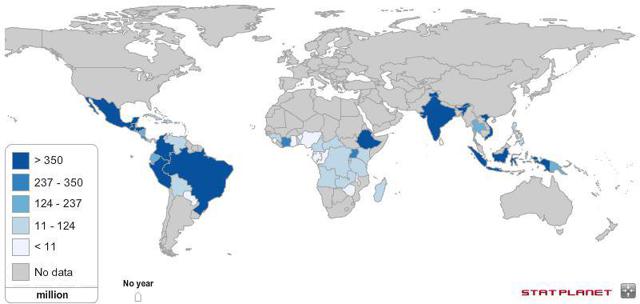 This map highlights the world's top coffee growing nations by # of pounds produced annually. Data by the International Coffee Organization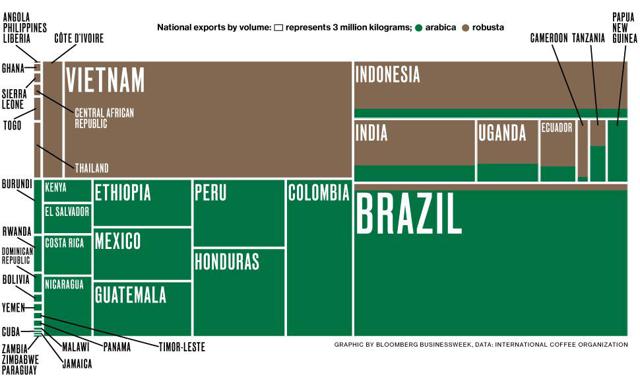 This graphic found in Bloomberg Businessweek helps provide insights to both the volume of coffee exports and the Arabica/Robusta breakdown.
Coffee's Future
Looking forward, coffee bulls appear to have the upper hand. Estimates published recently by Brazil's National Coffee Council point to a production decline of 20% due to a grave drought. In addition, the Wall Street Journal reports that "rains now in Brazil's coffee-growing areas could trigger early flowering of the coffee trees, which would mean an even weaker coffee harvest next year". Due to this possible poor harvest, Sterling Smith, a futures specialist at Citigroup, is predicting coffee prices to double by 2016.
There are also growing concerns that climate change may create long-term effects on the price of coffee. A report from the Intergovernmental Panel on Climate Change says that coffee "production would decrease considerably with increases of temperature of only 2 - 2.5C". Recent production drops in Central America have been blamed on climate change and scientific studies support this hypothesis. While one may be skeptical of these academic (read liberal) reports, Starbucks along with a number of other large corporations have been active in petitioning for climate change preparedness. As such, if coffee Armageddon does happen, a new, higher price floor for coffee will likely be made.
International efforts to curtail deforestation may also inadvertently bolster coffee prices as farmers face mounting resistance to unsustainable slash and burn. Once grown on small farms in the shade, coffee is increasingly grown on large industrial farms that wreak havoc to local habitats.
Taking a Look at Starbucks
The increasing price of coffee could put strains on companies such as Starbucks who are obviously large buyers of the commodity. The company currently works with over 300,000 farms in over 30 countries. In fact Starbucks purchases annually more than half a billion pounds of green beans, close to 3% of the world's supply. As iPath's JO increases Starbucks' bottom-line could be hurt as the rise of price would either need to be taken from margins or more likely passed onto consumers. In the past few years, Starbucks has sought to have greater control over its supply chain, though the company insists that it is not trying to achieve vertical integration. In 2013, Starbucks acquired a 240-hectare plantation in Costa Rica that will serve as a base for experimenting with new varieties of beans. The company has also been increasing involvement in Yunnan China through its "Farmer Support Center", where it hopes to cultivate Chinese coffee production for growing local consumption.
Starbucks is betting big on growing demand from China and other emerging markets. The company first expanded to mainland China in 1999, establishing a store in Beijing. Now Starbucks plans to have 1,500 stores in China by 2015. The iconic Starbucks paper cup has quickly developed into a fashion accessory and can be frequently seen in the hip neighborhoods of Shanghai and Beijing. At one point, Starbucks even had a controversial store within the Forbidden City that was closed in 2007 after protests. Caffeine deprived Beijingers must now walk a block from the historic site to quench their craving.
As global demand rises, Starbucks has positioned itself well to capture international profits. Nevertheless, the company may have oversaturated the U.S. market. One must only remember 2008, when Starbucks hit the headlines by closing 5% of its U.S. stores due to the poor economic conditions. New competition from higher quality instant coffee makers like Keurig Green Mountain (NASDAQ:GMCR) may put a dent in the coffee store's profits.
Growing Consumption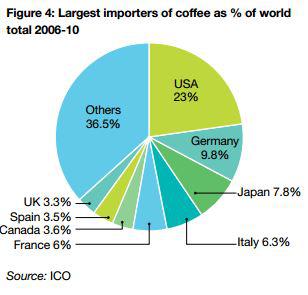 While demand is picking up in emerging markets, coffee is still very much a Western habit. It is estimated that 100 million Americans drink coffee daily. Consequently, the United States is the world's single top importing nation, followed by Germany, Japan, and Italy. According to the International Coffee Organization, the European Union imports around 2/3rds of coffee.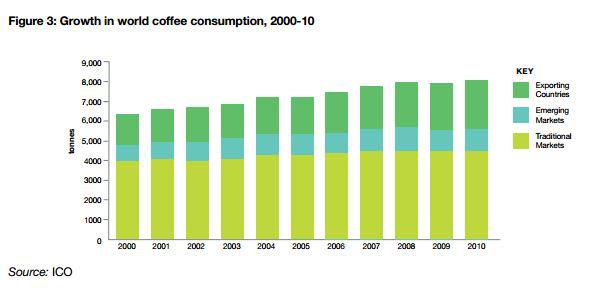 The growth in worldwide coffee consumption has been propelled by increased consumption in exporting countries. In contrast, growth in traditional Western markets has leveled off in the past decade. Nevertheless, looking back over the past 40 years, consumption has doubled.
JO Fund Quick Facts:
Inception Date: 06/24/2008
Total Assets: $91.6m
1-Year Performance: +56.71%
5-Year Performance: -7.27%
Expense ratio: 0.75%
20-Day Volume Average: 20,910
Caveat Emptor
The iPathDow Jones-UBS Coffee Subindex Total Return ETN uses futures contracts on coffee to track the commodity's price. As with many other commodities, coffee's performance is largely uncorrelated with the global equity market. As the 1972-2014 historical graph of ICE futures below shows, coffee has always been volatile and is therefore not an investment for the light hearted.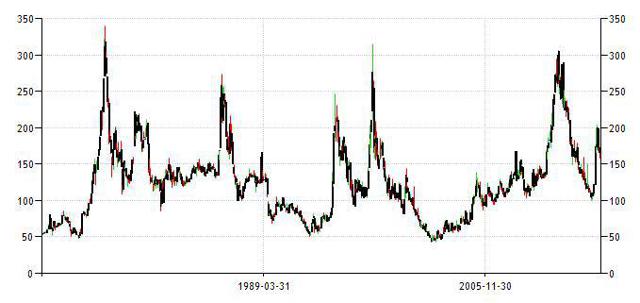 Graph created by Trading Economics.
Some investors may come across a smaller coffee fund, the iPath Pure Beta Coffee ETN (NYSEARCA:CAFE) that is up 46.28% in the past year. CAFE also tracks coffee futures but is structured to reduce the effects of contango and backwardation that JO faces. Yet, with only $8.6m in net assets, CAFE's low volume may create unnecessary problems. With the fast moving climate of commodity trading, the last thing an investor wants to deal with is waiting for an order to be filled.
Other risks lie within the structure of exchange traded notes -ETNs- that provide easy access to coffee. Both JO and CAFE are ETNs and are therefore subject to increased credit risk from the fund's issuer. I recommend reading more about an ETN's risks in this article by Charles Schwab.
Summary
In both the short and long term, coffee appears to be a strong investment. For those betting on the adverse effects of Brazil's drought and more climate-induced shortages, JO should continue to perform well.
As consumption from emerging markets grows, an investment in Starbucks should also provide good returns. Nevertheless, all coffee investors should take heed of the possibly disastrous effects of increasing global temperatures as areas for growing coffee already are limited. Again, long-term average prices may find a new price floor in the upcoming years.
Disclosure: The author has no positions in any stocks mentioned, but may initiate a long position in JO over the next 72 hours. The author wrote this article themselves, and it expresses their own opinions. The author is not receiving compensation for it (other than from Seeking Alpha). The author has no business relationship with any company whose stock is mentioned in this article.