Conventional wisdom is that risk based assets as the main engine of portfolio growth. While this remains true in the long run, recent history has caused us to question some of the concepts we thought sacrosanct.

We present here a very simple investment strategy -- pick the top seven bond managers and own the top performing bond fund which you review on a monthly basis (or quarterly if you prefer).

Every year you review the list of top performers and you update your list of funds to maintain only the top performers in your list. We will call this Best of Bonds (BoB).

Currently, the top seven we use are:
| | |
| --- | --- |
| Bond Fund | Ticker |
| PIMCO Total Return | |
| TCW Total Return Bond | |
| Western Asset Core Bond | |
| Metropolitan West Total Return Bond | |
| Loomis Sayles Bond | |
| Dodge & Cox Income | |
| FPA New Income | |

Every month we score the funds and select the best fund to buy.

We now compare this with a Five asset class SIB (Simpler is Better) that has index funds for five different asset classes (fixed income is 40% of the portfolio and the rest are risk based assets) and is an ideal benchmarking vehicle.
click to enlarge






Portfolio Performance Comparison

So BoB delivers very reasonable returns over the period -- comparable with a five asset class portfolio using tactical asset allocation.

The benefit is going to be peace of mind -- or lack of volatility.

Comparison of Drawdown ratios between 5SIB TAA and BoB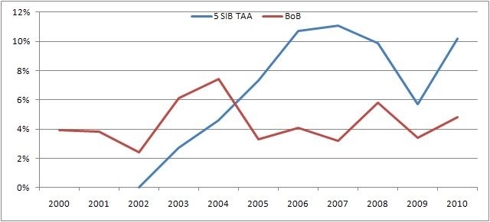 This comparison of the drawdown ratios over the last decade between the SIB and BoB shows that BoB is going to be easier to live with.

We can also look at the BoB's transaction history





Compared to the Five SIB History





We can see from this that there has been less trading activity -- making it a lazier portfolio and easier to manage. Of course, this is not guaranteed going forward.

Note that this is a simple strategy, but it does not follow the classical diversification of risk based and fixed income assets.

In conclusion, BoB is a simple strategy that delivers good returns with very low volatility.

In the next article we will look into the bond fund that is currently being held in this portfolio and compare it with the bond trends that track the movement of different bond styles.

Disclosure: No positions