Last week, data-visualization firm Tableau (NYSE:DATA) reported its Q2'14 financial results, beating EPS and revenue expectations. Tableau reported a record high quarterly revenue of $90.7 million which is almost $11 million above analysts' consensus and a Q2 2014 non-GAAP EPS of $0.05, which is $0.09 higher than analysts' consensus. As can be seen in chart 1 below, excellent Q2'14 results did not have an impact on Tableau's stock, which plunged almost 4 percent the day after the earnings release. A possible explanation for the drop in Tableau's price is the correction that all big-data software vendors have experienced lately. In an earlier article, I presented my theory about the high correlation among big-data software vendors, and chart 1 (describing year-to-date stock prices for leading big-data vendors) reaffirms that theory.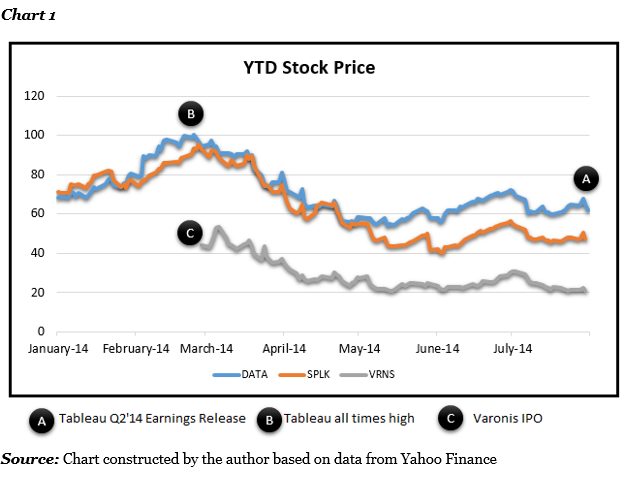 In the Q2'14 earnings release, Tableau presented an increase in licensing and maintenance revenues that drove a total revenue increase of 21 percent from Q1'14 and 82 percent above Q2'13. Three factors drive the revenue increase:
Higher number of new customers - 2,200 new customers in Q2'14 brings the total number of customers to 21,000, which is 56 percent higher than in Q2'13. The higher number of new customers is reflected in the increase of revenues from new licenses that increased 25 percent compared to Q1'14 and 76 percent compared to Q2'13.
Higher number of transactions over $100,000 - 157 such transactions were recorded in Q2'14, a 96% increase compared to Q2'13.
Slightly higher revenues are generated outside of the US. International revenues in Q2'14 account for 22% of total revenues, 2 points higher than 2013 international revenues.
Tableau released version 8.2 which allows Tableau Desktop and Tableau Public to run on a Mac and adds the story-points feature. Even though increased operating expenses resulting from international growth and robust product development impact operating income, an increase in revenues slightly offset that and kept operating income at a low $4M level. The company raised its total revenues guidance for 2014 from a range of $340M-$350M to a range of $366M-$372M, which reflects a 59% increase over 2013 entire-year revenues.
The company is extremely liquid with $627M in cash, $702M in total current assets, and only $118M in current liabilities. The high current ratio and cash to current liabilities ratio could allow the company to engage in M&A activity in the near future or further invest in global expansion and future product development. Tableau's cash flow trend is positive, and the company tripled the amount of cash generated by operating activities compared to the same period last year.
A day after the earnings release, the eight investment firms covering Tableau maintained either buy or outperform ratings with a price target that reflects a 30% upside in average over the next year. As shown in chart 2 below, Tableau's stock price completed a 38% drop since its all-time high in February of $100, and investment firms do not believe the stock price will return to this level.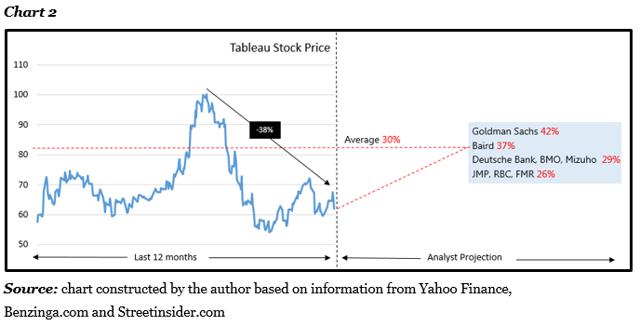 As mentioned earlier, Tableau is very focused on US revenue, and around 80% of the company's revenues originate in the United States. The company opened its European office in 2010 and its APAC office in 2011. However, the company could not generate more than roughly 20% of its total revenue from international customers. Tableau's large pile of cash and the need to increase its global presence can encourage the company to look for acquisitions in APAC and EMEA. The move of CEO Christian Chabot to London highlights the importance of global expansion to the company and could accelerate efforts for acquisition to support worldwide operations. Such an acquisition could unlock Tableau's potential in new markets and increase revenues further beyond the Q2'14 level.
Conclusions
Tableau reported good Q2'14 financial results, beating analysts' consensus of EPS and revenues for the fifth time in a row since it went public. Even though the company increased its number of customers, its number of high-value transactions, its total revenue and its stock dropped 38% in the last six months. Tableau's proven ability to generate revenues and meet the market's expectations, together with its high cash balance and international expansion plans, makes Tableau a good long-term investment.
Disclosure: The author has no positions in any stocks mentioned, and no plans to initiate any positions within the next 72 hours. The author wrote this article themselves, and it expresses their own opinions. The author is not receiving compensation for it (other than from Seeking Alpha). The author has no business relationship with any company whose stock is mentioned in this article.
Additional disclosure: Information provided in this article is for informational purposes only and should not be regarded as investment advice or a recommendation regarding any particular security or course of action. This information is the writer's personal opinion about the companies mentioned in the article. Investors should conduct their own due diligence and consult with a registered financial adviser before making any investment decision. Lior Ronen and Finro Financial Consulting and Analysis are not registered financial advisers and shall not have any liability for any damages of any kind whatsoever relating to this material. By accepting this material, you acknowledge, understand and accept the foregoing.