Heading into earnings on Aug. 6, investors are probably wondering what to do with shares of Twenty-First Century Fox (NASDAQ:FOXA). Currently, the entertainment giant's shares are trading 10% off their 52-week high but 11% above the company's 52-week low, which suggests that Mr. Market is, at best, cautiously optimistic about the business's upcoming release. Moving forward, should investors consider picking up Twenty-First Century Fox, or would rivals like The Walt Disney Company (NYSE:DIS) or Comcast (NASDAQ:CMCSA) make for better long-term plays?
Analysts have high expectations!
In spite of Mr. Market's current estimate of the business's worth, analysts have high expectations for Twenty-First Century Fox at the moment. For the quarter, the company is expected to report revenue of $7.95 billion, a respectable 10% jump compared to the $7.21 billion management reported the same quarter a year earlier. Although the company's revenue growth over the past three years can be attributed to all of its operating segments, the biggest driver this quarter will likely be its Cable Network Programming segment.
| | | |
| --- | --- | --- |
| | Last Year's | Forecasted |
| Revenue | $7.21 billion | $7.95 billion |
| Earnings per Share | $0.31 | $0.39 |
From a profit standpoint, analysts anticipate even better results. For the quarter, Twenty-First Century Fox is expected to register earnings per share of $0.39, a whopping 26% jump compared to the $0.31 management reported for the fourth quarter of its 2013 fiscal year. If this forecast comes to fruition, it will be due, in part, to the company's rising revenue, but must also be chalked up to a drop in some of its core costs.
How does Twenty-First Century Fox look compared to its peers?
The past three years have been pretty kind to entertainment companies. Between 2011 and 2013, Twenty-First Century Fox's revenue popped up 14% from $24.2 billion to $27.7 billion. According to its most recent annual report, this rise in revenue was mostly due to the company's Cable Network Programming segment, which saw sales shoot up 33% from $2.7 billion to $3.4 billion.
Over a similar three-year timeframe, rival Disney reported a more modest 10% increase in revenue. Between 2011 and 2013, the company's top line rose from $40.9 billion to $45 billion. Like Twenty-First Century Fox, Disney's improved sales were mostly attributable to one of its segments, but unlike Twenty-First Century Fox, its main contributor to growth was its second-largest segment. Over the past three years, Disney's Parks and Resorts segment saw revenue skyrocket 19% from $11.8 billion to $14.1 billion.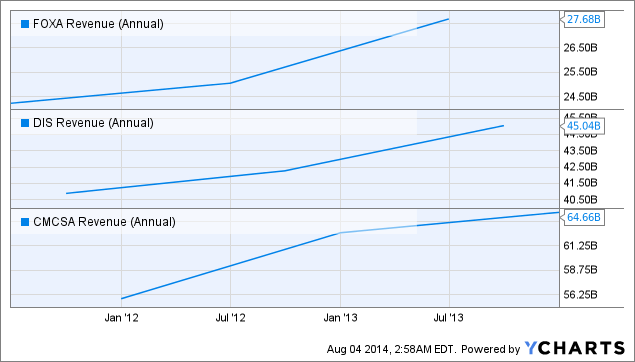 FOXA Revenue (Annual) data by YCharts
Of the three, the only business to outperform Twenty-First Century Fox's top line growth in recent years has been Comcast, a rival and business partner (the latter through its joint ownership of Hulu with its peers) of the company. Over the past three fiscal years, Comcast's revenue leapt 16% from $55.8 billion to $64.7 billion. Although it wasn't the business's fastest-growing operations, Comcast's Cable Communications segment added the most growth to the company during this timeframe, increasing revenue 12% from $37.2 billion to $41.8 billion.
Earnings troubles -sigh-
While revenue is pretty clear-cut, profits are a bit more challenging to understand. Between 2011 and 2013, Twenty-First Century Fox's net income soared 159% from $2.7 billion to $7.1 billion, far higher than Disney's 28% improvement from $4.8 billion to $6.1 billion and better still than Comcast's 64% rise from $4.2 billion to $6.8 billion. At first glance, it might be tempting to take this for granted and conclude that the company's bottom line growth is vastly superior to its peers, but this would be a mistake.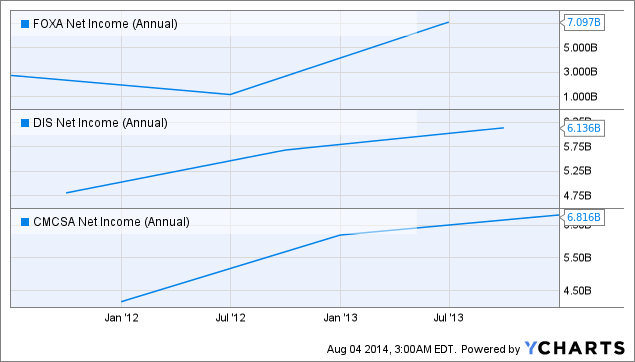 FOXA Net Income (Annual) data by YCharts
You see, in 2013, Twenty-First Century Fox had some anomalies that positively impacted its profitability. During the year, management reported gains from what it calls "Other, net" in the amount of $3.8 billion. If this were a normal part of the enterprise, there wouldn't be a problem, but the fact of the matter is that these gains stemmed not from the company's core operations but were, instead, due to gains from its equity holdings.
That year, management decided to acquire an additional 5% stake in its Sky Deutschland business, increasing its ownership in the enterprise to 55%. In doing so, Twenty-First Century Fox was required to revalue its piece of the business to fair value, increasing its equity value in the company by $2.1 billion.
| | | | |
| --- | --- | --- | --- |
| (billions of dollars) | 2013 | 2012 | 2011 |
| Other, net | $3.76 | $0.07 | -$0.03 |
| Sky Deutschland | $2.07 | | |
| NDS Sale | $1.45 | | |
| Miscellaneous | $0.24 | $0.07 | -$0.03 |
| Tax Rate | 19.35% | 24.51% | 21.72% |
| Pre-Tax Income | $4.98 | $3.32 | $2.45 |
| Discontinued Operations | $0.28 | -$2.00 | $0.44 |
| Adjusted Net Income | $3.73 | $3.18 | $2.32 |
Another big contributor to this anomaly was the company's sale of its ownership in NDS in Jul. 2012. In exchange for the 49% ownership transfer, Twenty-First Century Fox recorded a gain of $1.4 billion. Excluding all of the business's differences in 2013 (and using a pro rata portion for its minority interest) and taking out changes from discontinued operations, its net income would have risen a more modest 61%% from $2.3 billion to $3.7 billion.
Takeaway
As earnings approach, investors have a right to be nervous about Twenty-First Century Fox, if only because the bar has been set high for the business this quarter. Irrespective of whether the company does or does not achieve these targets, however, investors should keep a close eye on it.
Even after accounting for one-time earnings, the company's net income has shot up in recent years, with revenue accompanying it. Admittedly, Comcast has fared better in both of these categories, while Disney has lagged, but for investors wanting to get in on a smaller entertainment company with strong growth prospects, Twenty-First Century Fox might make for the ideal prospect.
Disclosure: The author has no positions in any stocks mentioned, and no plans to initiate any positions within the next 72 hours. The author wrote this article themselves, and it expresses their own opinions. The author is not receiving compensation for it (other than from Seeking Alpha). The author has no business relationship with any company whose stock is mentioned in this article.