TimberWest Forest Products (OTC:TMWEF $4.11; TWF-UN.TO) is a Canadian timber company overlooked by most timber investors as being too small, too leveraged, and too financially frail. This perception is where the opportunities lie for patient unit holders. With some timber companies now trading at mid-cycle valuations, TMWEF offers intriguing speculative potential at its current relatively deep value share price.
With the shift in Chinese log imports away from Russia, TMWEF has been a direct recipient of higher volumes at improved pricing. The transition of international timber suppliers to North American firms is a trend that will keep the company afloat and allow it to regain its footing, with an improvement in US markets being the catalyst for much higher harvests, prices, and performance.
Most timber company conference calls and 3rd qtr earnings reports referred to the Asian export trend as critical for continued price and volume improvement. TMWEF received a greater percentage of its recent quarterly sales and profits from exports than most of its competitors, making the company more leveraged to this under-appreciated shift in basic material suppliers.
I have written a series of articles on SA concerning this export trend in the timber sector, found here and here.
For the first nine months of this year, 36% of TMWEF revenues were generated domestically in Canada, 60% from exports to Asia, and only 4% from the USA. US shipments accounted for upwards of 20% of revenues prior to the housing collapse. The three largest Asia markets are China, Japan and South Korea. As a percentage of revenues, TMWEF has high exposure to Asian opportunities, dovetailing into opportunities for investors to leverage a Chinese and Asian demand-driven timber position.
TimberWest is based in Vancouver, BC and is the largest private timber landholder in Western Canada. Most Canadian timberland and cutting rights are leased from the government, and TMWEF utilizes both assets. For example, y-t-d TimberWest harvest has been 0.5 million cubic meters (cm) from company lands versus 1.8 million cm from public lands. Sustainable harvest from company land is estimated at 2.5 million cm a year, representing plenty of added timber availability for future demand. The majority of harvested species is Douglas Fir, and offers a higher grade desirability for both logs and finished lumber.
Real estate sales are an important part of all timber company profits. TMWEF has identified about 133,000 acres, out of its base of 971,000 acres, which should be offered as higher and better use (HBU) over time. As with most of its timber brethren, HBU sales have been slow, with an expected gradual improvement over the next year or so. It is estimated TMWEF could provide 25% of all land needed for future development on Vancouver Island.
Investors in TimberWest receive a "stapled unit" consisting of one common share and one note maturing in 2038 with a value at maturity of C$8.98. The note carries a variable interest rate set by the company of between 2% and 12% annually, with the option of paying-in-kind (PIK) when the interest rate is set at 2%, using additional stapled units rather than distributing cash. Interest payable can be deferred up to 18 months, and the company has taken advantage of these features to a) set the current interest rate at 2%, b) defer 2009 and 2010 interest payments, and c) satisfy interest payable by PIK. Quarterly payments deferred in 2009 are beginning to be paid to unit holders, with the first received last month.
Of significance will be the April 2011 distribution of a 12% annualized payment that was due Jan '09 plus a 2% interest payment due Oct 09, for a total of $0.315/shr. This payment represents a 6.5% distribution yield based on today's market price. Added to the balance of 2011 at a 2.0% PIK yield, unit holders could see total stapled note PIK payments of $0.45 a share next year, for a current yield on capital of around 10.9%. At some point in the future, the company will make up the payment due in the rears to become current, and the deferred payments equal about $0.50 per share.
The balance sheet is heavily weighted towards investor debt rather than bank debt. At the height of the credit crunch, management floated a $200 million convertible (to stapled units at $3.50) subordinated debenture issue and repaid bank debt with the proceeds. The company currently has a revolving credit line of $220 million of which $92 million has been drawn. In addition, investors hold $890 million in stapled unit notes. There are currently 93 million units out, but that number is growing with the addition of 57 million units from the convertible debentures and about 8 million units a year from the PIK program.
One area of concern is a statement by management on pg 12 of its recent quarterly filings. It seems management will be evaluating the appropriateness of its stapled unit structure to its ongoing business. It is the note structure and ongoing interest payments, albeit currently paid in PIK, that draws investor attention and further alterations to this structure could have a negative effect on share valuations.
Currently trading at $4.11, TMWEF stapled units are priced at a 54% discount to the face value of the note of $8.98. In addition, book value is estimated at between $8 and $11 per share. As the timber market continues to improve in 2011 and 2012, and the company ships higher volumes to Asia, distributable cash flow will turn positive after being negative for the past two years. With better operating performance will come higher unit prices, a $6 to $7 price target should be achievable with patience.
Relative to other timber companies, TMWEF unit price has performed middle of the road over the past 2 years, but substantially underperfomed over the past 12 months. It gets pretty ugly reviewing the 5 year chart. With the economic slowdown and its devastating effect on TimberWest, unit prices collapsed from $14 in 2007 to $3 in 2009. Below are 1-yr, 2-yr, and 5-yr charts with comparisons to other timber companies:
1-yr
click to enlarge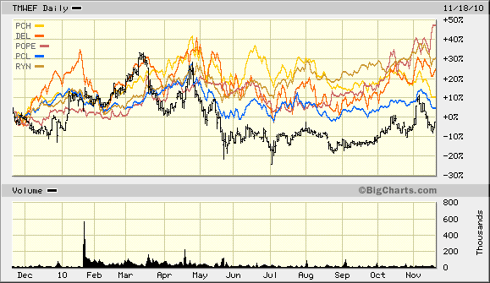 2-yr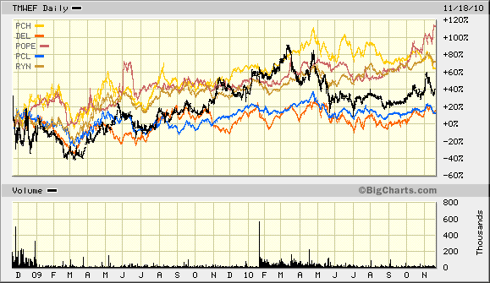 5-yr.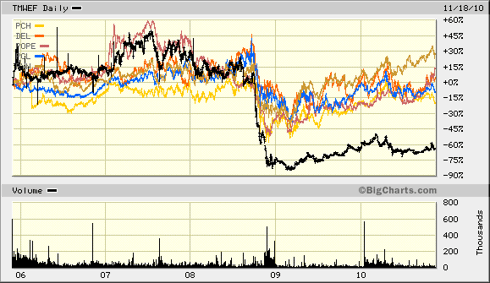 Timber is a cyclical business and should be bought when prices are low, activity is weak, but a serious prospect for improving fundamentals should be at hand. Judging by the performance of most timber companies over the past year, TMWEF has not taken part of the nice rally in share prices. Although being a laggard over the past few years, TMWEF should start playing catch-up with the sector and outperform on a relative basis. I was a shareholder from 2004 to 2007, and re-established a position in 2009.
As always, investors should conduct their own due diligence, should develop their own understanding of these potential opportunities, and should determine how it may fit their current financial situation.
Disclosure: Long TMWEF.PK