Last month, Chipotle (NYSE:CMG) surprised investors as their second quarter earnings for fiscal 2014 beat expectations, after announcing plans to raise prices for the first time in three years in April. Revenues for the chain jumped 28.6% to $1.05 billion as net income surged 25.5% to $110.3 million. What shocked the market most, though, was that same-restaurant sales were up 17.3% for the quarter due to increased traffic and the nationwide implementation of higher menu prices.
In contrast to Chipotle, McDonald's (NYSE:MCD) disappointed again on earnings. Revenues were up 1% to $7.18 billion, but net income fell 1% to $1.39 billion. Same-restaurant sales were flat for the chain globally, while sliding another 1.5% in the U.S.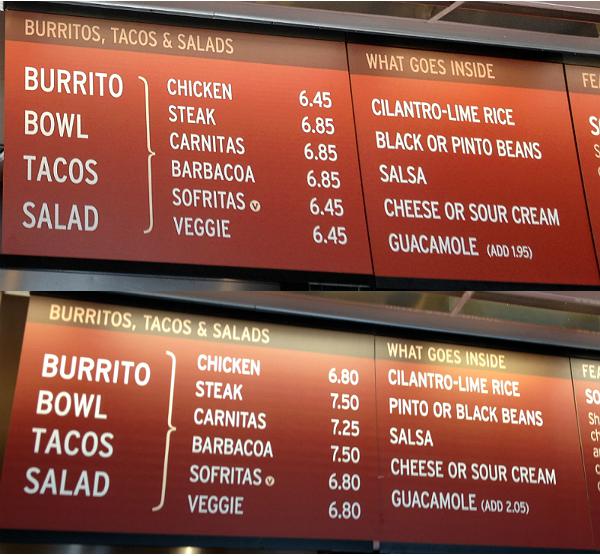 Source: Photos taken by the author.

Did Chipotle Customers Really Say "Yes" to Higher Prices?
If we look at the company's recent earnings, Chipotle customers delivered a big "yes" to higher prices. However, if we dig deeper, that might not be completely true. During the conference call, the company stated that there was some noticeable trading down from steak to chicken among customers during the quarter. This is mainly because steak prices increased by 9% on average nationwide, while chicken prices went up just 5%.
Chipotle also received help from competitors that are dropping the ball within the quick serve restaurant space. McDonald's was one of a few fast food chains that were involved in the China meat supplier controversy at the end of July.
What makes matters worse for McDonald's in particular is that after first telling the public they were dropping Shanghai Husi Food Co. -- the meat company involved in the incident -- as a supplier, they then announced they were staying with them. This conflicts with the stance McDonald's CEO Don Thompson took during the conference call about becoming a "more trusted and respected brand."
Additionally, the economy has had a helping hand in Chipotle's accelerating success. In a down economy, where people are avoiding full-service restaurants due to them raising prices, people are trading down by upgrading their fast food and quick serve restaurant choices to places like Chipotle. Full-service restaurants typically keep only four cents of every dollar spent by a customer. That's due to overhead costs, higher rent costs, and larger payrolls. Because of this, Chipotle will always be able to undercut most full-service restaurants, despite food prices rising for all restaurant companies.
Potential Threats in Chipotle's Future
The next big question to consider for Chipotle is what happens if or when they need to raise prices even higher. A recent report by SpenDifference states that 93% of restaurant chains plan to raise prices during the second half of this year. Even though Chipotle has already initiated price increases earlier this year, there is nothing stopping them from raising them further if commodity prices continue to go up.
The other two main threats in Chipotle's future are Jack in the Box's (NASDAQ:JACK) Qdoba and the recently gone public El Pollo Loco (NASDAQ:LOCO). Qdoba has been catching up to Chipotle among customers, beating them out in a May 2014 poll and later coming in right behind Chipotle in a Consumer Reports survey. El Pollo Loco may be the bigger threat when it comes to menu prices, though. The average check at the chain is about $5.83.
Both Qdoba and El Pollo Loco are growing quickly, too. Last quarter, Qdoba saw same-restaurant sales climb 7.0%, while El Pollo Loco has had positive same-restaurant sales growth in 11 straight quarters. Chipotle has 1,681 total restaurants, while Qdoba and El Pollo Loco have over 600 and over 400, respectively.
Conclusion
Chipotle is currently trading near all-time highs at more than $680 a share. Its P/E ratio of nearly 60 indicates that the market is optimistic on their future growth, despite Chipotle having to raise menu prices earlier this year. However, right now there isn't much competition in the way to prevent Chipotle from going even higher -- even with a more expensive menu.
Qdoba and El Pollo Loco are still in the early stages of growth and could become more serious threats to Chipotle as they each expand their footprint across the U.S. When it comes to deciding which company to invest in, it should be noted that despite Qdoba's recent success, they are still a relatively small part of Jack in the Box restaurant-count wise. If McDonald's can fix their issues, they may be able to have an impact on Jack in the Box locations and could negatively impact Jack in the Box stock down the road.
El Pollo Loco, on the other hand, has jumped nearly 60% since its end-of-July IPO. It may be best to wait until they deliver their first earnings as a public company before getting in now.
Disclosure: The author has no positions in any stocks mentioned, and no plans to initiate any positions within the next 72 hours. The author wrote this article themselves, and it expresses their own opinions. The author is not receiving compensation for it (other than from Seeking Alpha). The author has no business relationship with any company whose stock is mentioned in this article.